In mid-April 2022, I intend to buy land in the countryside of Dak Lak, so I asked my mother to ask for a piece of land near my house. That land is located in the front of the concrete road, the land owner quoted a price of 1.75 billion for 125m2. Worth mentioning, less than 6 months ago the owner of the land offered to sell the same land for more than 1.2 billion but no one bought it.
The reason given by both my mother and the landowner was "fever" of the land. Looking up the land situation in Dak Lak in recent times, it is easy to see "sensational" information such as the land increased by hundreds of millions in a day, the land registration office is overloaded because of the dizzying increase in records. nearly 1000 sets today…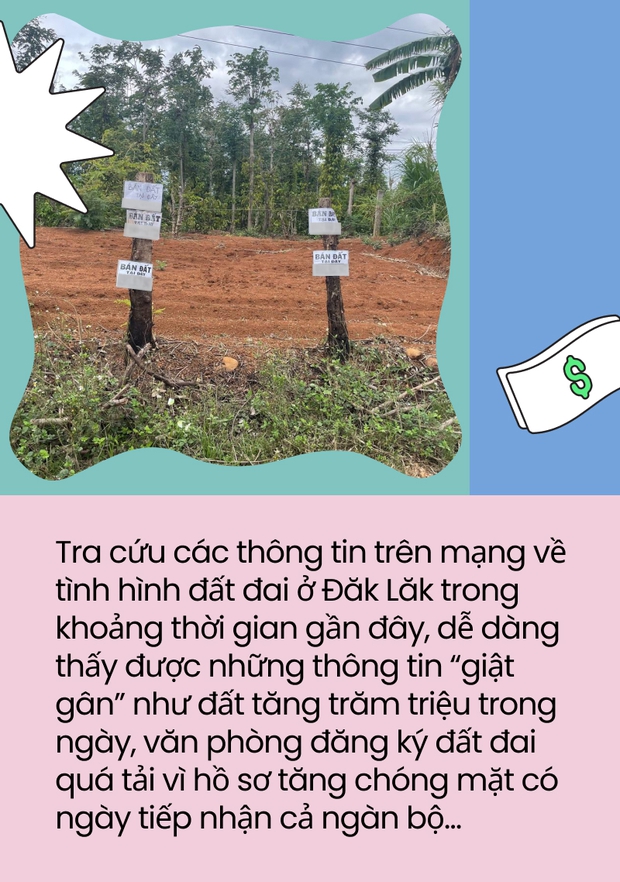 Still stunned by these numbers, I have received more news of lightning from my mother "The landowner found himself taking too long to close and sold it to someone else for 1.9 billion". Up to the time the land owner sold the land, I had only asked the price for 1 week. The price of land has gone up like this, is it soulless?
On the occasion of returning to my hometown, I was curious as to why the land increased so quickly, I also hooked up with some brokers to go see the land and learn more about this "fever" of this land. Who knows, this is an opportunity for me to get rich?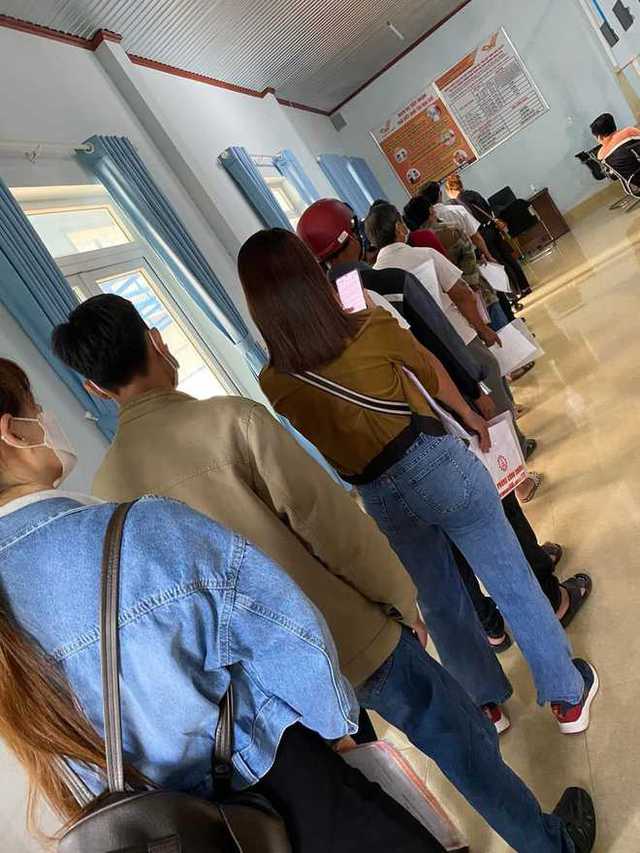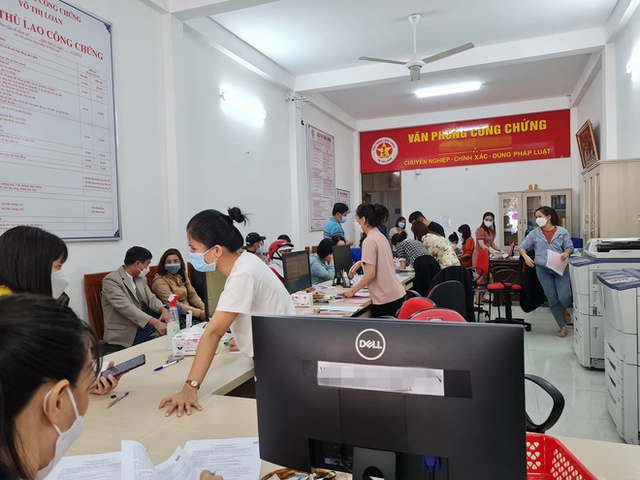 Notary offices, where land procedures are handled, are always packed with people in Dak Lak
People, people, and families quit their jobs to go to land brokers – surfing investment also earns a few tens, hundreds of millions/piece
After a few calls, I also made an appointment with a realtor named T (35 years old) to take me to see the land.
Different from taking each person to see each piece as in the past, T gave me a time and place to gather and always informed that we would go to see the land in groups. The route and the viewing area are also decided by T, not according to the needs of any guest. If you like it, go, if not, wait for another broker. That's all.
Our land viewing session started at 8 am and mainly moved around the central districts of Dak Lak – TP. Buon Ma Thuot. My initial impression when "hunting" land was that everywhere I went, each piece of land had to have a bunch of sale signs plugged with phone numbers. On the road, it is also easy to see many groups going to see the land gathered, some people ride motorbikes, some people hit cars. The scene was quite cheerful and bustling, but everyone's faces were thoughtful and thoughtful.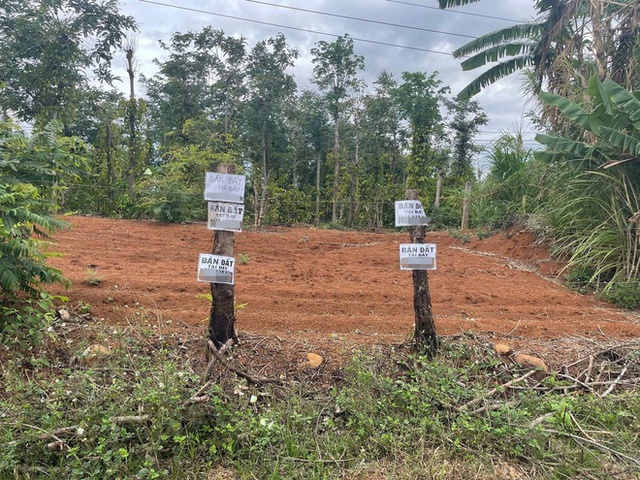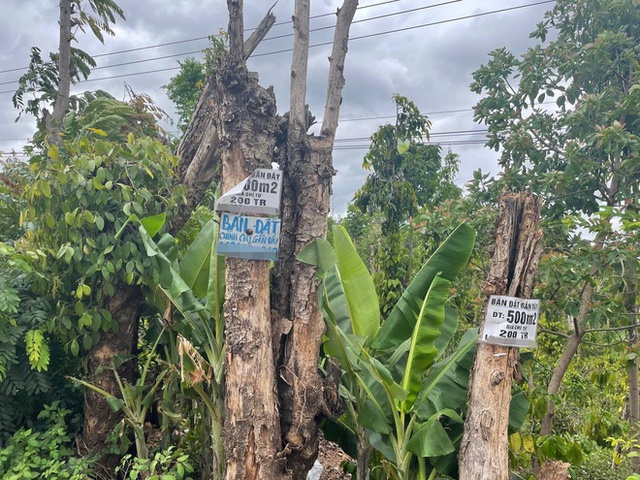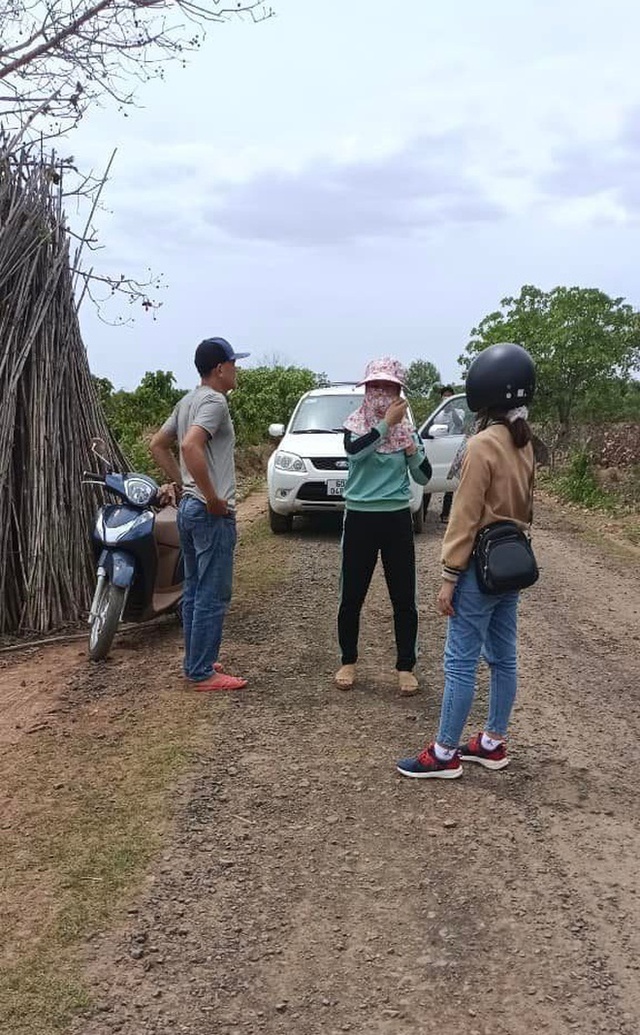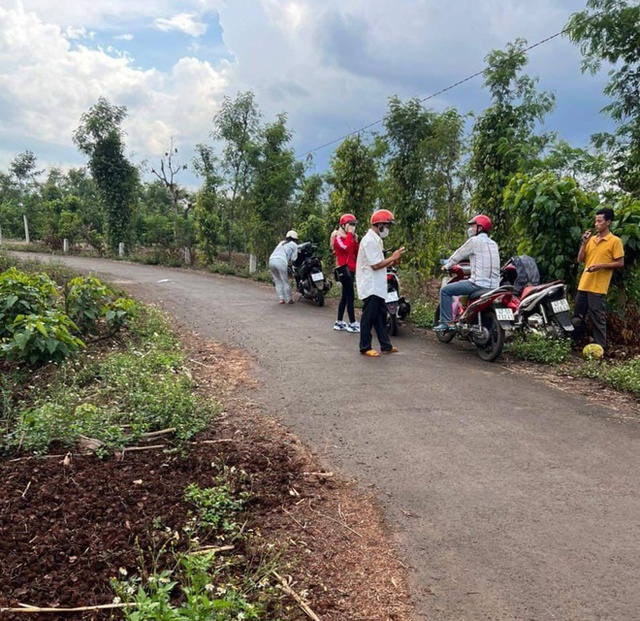 All the provincial roads around the city. Buon Ma Thuot is easy to meet groups going to see land, land sale signs
The plots of land we went to see were both agricultural and residential, with prices ranging from a few hundred million to several billion depending on the area and area. The form of viewing is that T will lead small groups of 3-4 people to watch, if you don't like it, then go out, the next group in, and so on until there are no people.
Taking advantage of the break, waiting for lunch to continue, I "befriended", asked about T. As it turned out, T was originally a contract teacher. During the period affected by the epidemic, her income was almost nonexistent.
After the 2022 Chinese New Year, invited by her high school friends, she also started working as a real estate broker to earn more. Very soon, she sold the first piece through a friend's referral and pocketed 2 million for this sale. Having money quickly and without much effort, T became passionate about brokerage. Up to the present time, T does not remember how much land she has sold, only knows that the amount of commission she has earned has reached several hundred million. T's plan is to continue to accumulate more money and buy himself a piece of land in the downtown area.
"Normally, for each piece of land sold, I will receive 2-5% commission. This amount depends on whether the broker works directly with the land owner and the customer. If it is introduced by someone else, through the intermediary. If you take a lot of steps, you will have to 'cut the blood' and divide the words, so there won't be much left.
Just imagine, if I used to be a good teacher, I could only earn a few million a month by selling land, I could earn 4-50 million a month. So much money, who is not greedy? Neighbors around my house from teachers, nurses, doctors, students to workers, the lady selling iced tea, the lady selling lottery tickets are all selling land." – T shared.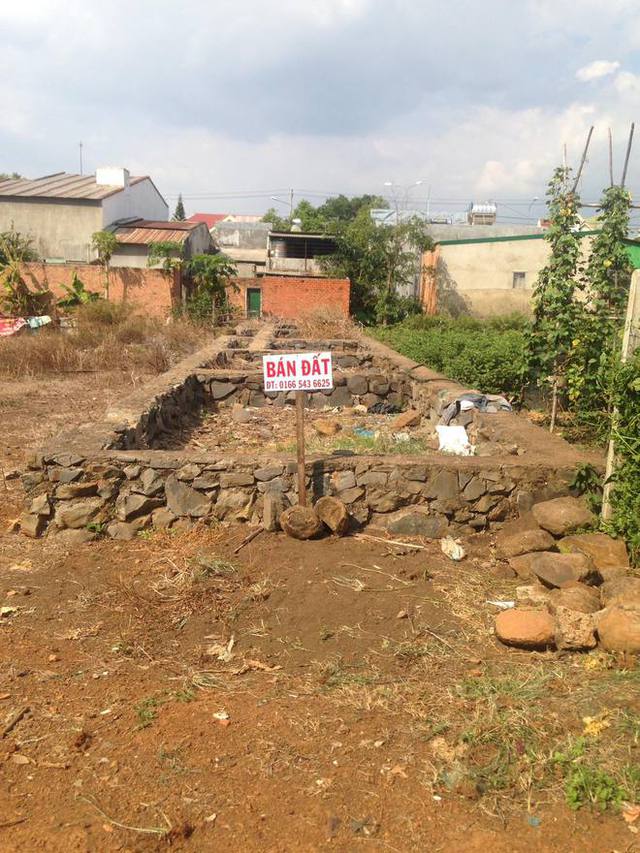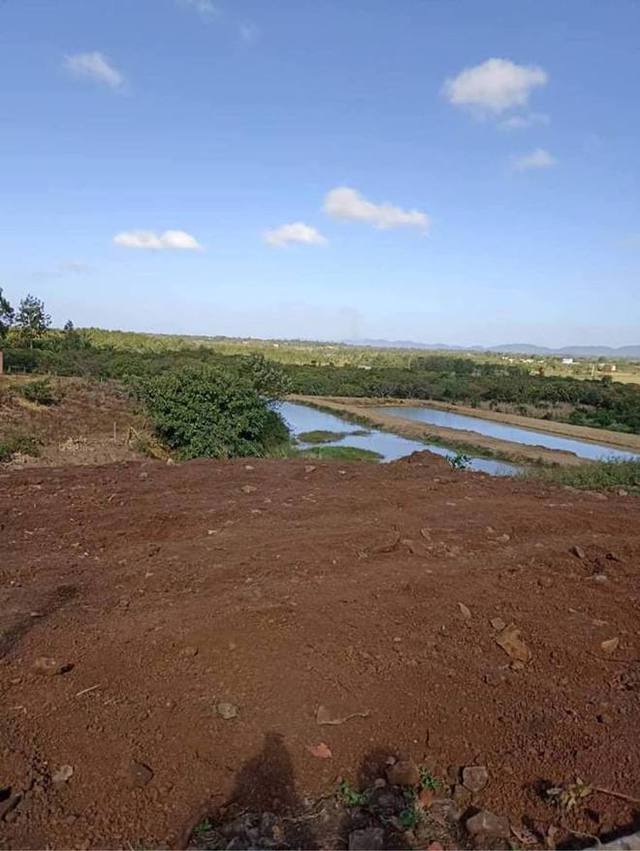 In the group that went to see the land with me, there was a girl named M. Lan la got acquainted and asked me to know that M was not a "starter" who bought land for the first time like me, but a genuine "land hunter".
"Since Tet, I have earned more than 2 billion thanks to that land 'fever'. My way of making money is following a broker, going to see lots far away from the center of Buon Ma Thuot city such as Buon Ho and Buon Don districts. … and stake lots for 300-800 million and then put them up for sale.
If I had staked these plots of land, I would only have to deposit 10-20% of the value, so it wouldn't cost me much. While waiting for the documents to be processed and the name changed, I would look for another term and sell it for a profit of a few tens of millions. / Piece. If not, I'll just go down to make other money to sell later. With these buyout pieces, it takes more than 100 million profit to think about selling. Dak Lak land is not available to buy now, let alone afraid, loss" – M shared.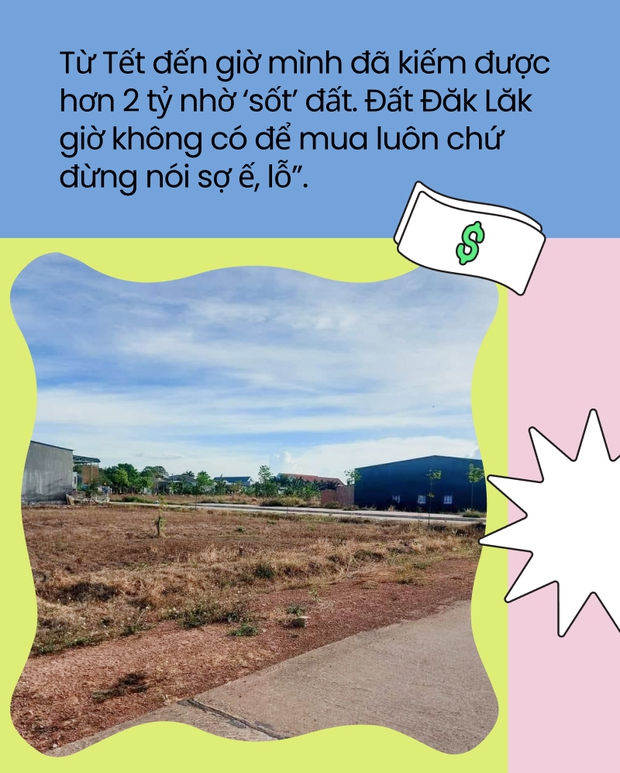 To prove that buying land at this level is only profitable, there is no way to lose, M also told me a story about her recent "hunting" of land. Specifically, there was a guy named B who surfed, "profit" was 60 million after only 30 minutes. The reason is that not long after Mr. B staked the land for 320 million, another person wanted to buy it. After negotiating, the two sides decided to transfer for 380 million.
After talking with me, M also quickly locked up 2 adjacent lots with a total of 60m2 for 640 million and then left because he was busy "going to another place to see the next land".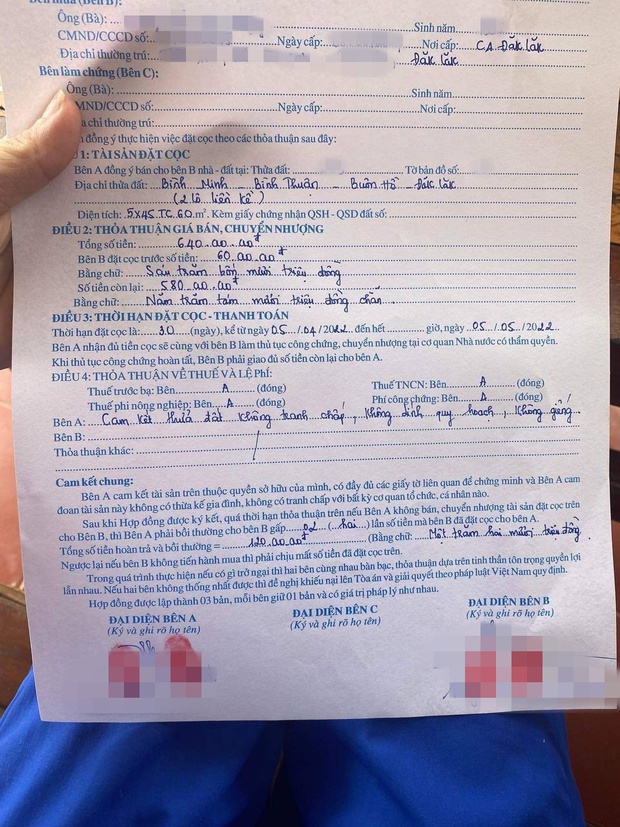 As a genuine land "hunter", M takes a quick look – closes the beautiful plots
Our trip ended at 3pm, saw 6 plots of land with lots of plots and stakes. Among the people who went to see the land, there were many people who had already secured a plot for themselves, the rest also asked T about the next area to see as well as the areas where they are looking to buy land but source not found.
Land prices are crazy, there is a "virtual" risk – why are people still rushing to buy?
Not only Dak Lak or the Central Highlands region, the situation of rapidly increasing land prices is still happening in many areas around the country. Along with that, the information about the land stork blowing the price, planting fake stakes planning to cheat … are rife. However, the number of people buying land is still increasing steadily without any sign of decreasing. Why is that?
The first reason can be mentioned is due to the demand for housing and investment of the people.
After the pandemic period, many people have been intending to leave the city to live, causing the demand to buy land in the suburbs also increase, pushing the price of land many times.
On the other hand, in the midst of a volatile economic situation, erratic gold and silver prices, and stocks "collapsed" continuously – in the eyes of many people, land is the most "reliable" investment channel. At least, this is also a tangible asset that can be owned and can generate short-term and long-term profits, never afraid of losses.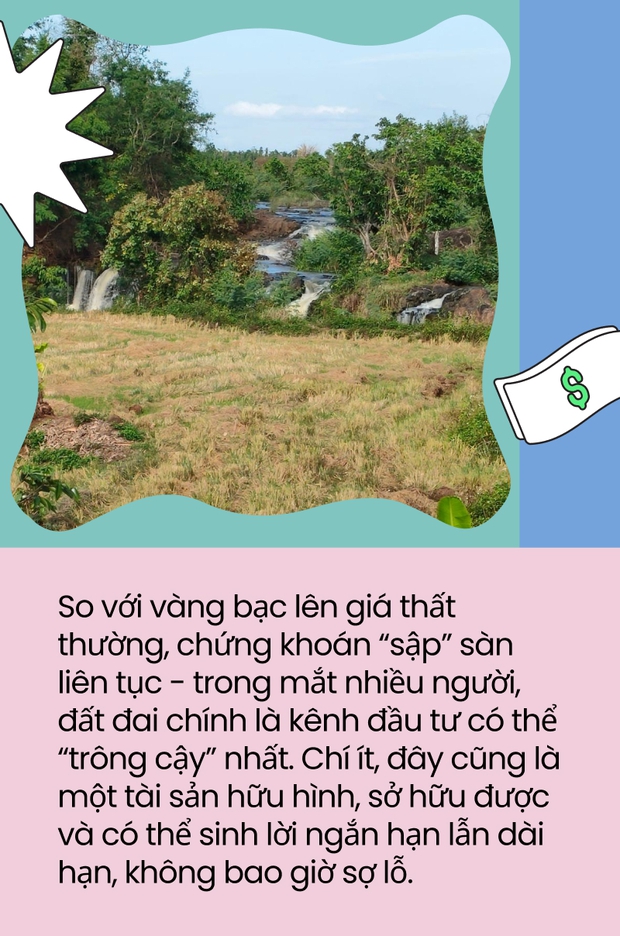 Next, it is due to the government's regulations on planning and renovating rural infrastructure.
As in Dak Lak, since there is information on planning and expanding the belt road connecting the Central Highlands provinces, no more than 1 billion can not dream of buying land close to the frontage in these areas. On the other hand, information about the big companies rushing to invest, build hospitals and monumental eco-tourism areas also contribute to pushing the price of land in Dak Lak which is already higher.
Finally, FOMO and the herd effect cannot be ignored.
Just like people and families turn to real estate brokers, so is land ownership. The constant price increase information, seeing people buying and selling land at high prices, pocketing tens of millions, hundreds of millions of dollars, inspired many people to join this land "fever" even with capital. cheat or not. The proof is that one of the land buyers confided in me: "Now the bank interest is not as high as selling the land, if you don't have money, you can borrow money to buy it – you won't be able to save money anyway".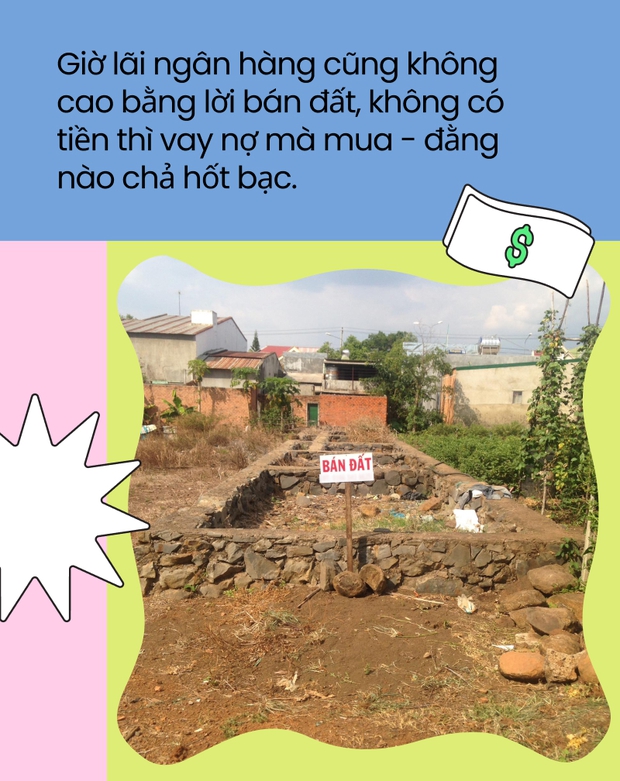 ***
Land "fever" is indeed an opportunity to make billions quickly, but it also comes with a lot of risks. The only advice is to always be a savvy investor. Know how to select sources to listen to accurate planning information, do not put 100% trust in the broker, no matter how satisfied you are, do not rush to find out first. That way, you won't get bogged down in virtual "fevers", surfing in the wrong place or being scammed about paperwork.
As for me, after a few days of going to see the land, I also liked a few pieces but did not buy any. I'm not an investment player, know enough about real estate and don't dare to risk and put down such a large amount of money, so I have to give up. Maybe I'll buy a piece of land in the future too – but probably not during the time when the "fever" effect is as strong as this.
https://kenh14.vn/kiem-tien-ty-nho-moi-gioi-san-dat-vung-ven-nhung-chuyen-gio-moi-ke-20220511091946412.chn
You are reading the article
New stories to tell

at
Blogtuan.info
– Source:
cafebiz.vn
– Read the original article
here