Giải trí
Pu Luong unspoiled paradise – Travel
Pu Luong is a land of majestic natural beauty that is still very unspoiled but also very poetic and idyllic with peaceful terraced fields on stilts.
Where is Pu Luong?
Pu Luong is 130km northwest of Thanh Hoa city, 20km from Canh Nang town (Ba Thuoc district), 180km from Hanoi in the northwest direction.
Pu Luong or its full name is Pu Luong National Nature Reserve, located in the area of ​​2 districts of Ba Thuoc and Quan Hoa of Thanh Hoa province. Simply put, Pu Luong is known as the Northwest of the North Central region. To be clear, everything in Pu Luong is still a land in the Northwest, so from the landscape, culture, life, cuisine or everything, you will feel no different from the Northwest.
Chain travel Ecologically in Pu Luong, there are many villages scattered in 4 communes Thanh Lam, Thanh Son, Co Lung, Lung Cao, Ba Thuoc district, Thanh Hoa province.
Enjoy! Lie still, breathe and return to Nature. Pu Luong is not for those who like luxury travel and crowded places. A land of majestic natural beauty is still very unspoiled but also very poetic and idyllic with peaceful terraced fields next to the stilt houses of the ethnic villages living here. Pu Luong is completely suitable for those who want to relax, experience tourism, community tourism and eco-tourism to nature. The beauty of the natural scenery and the life here leaves in me many impressions and a peaceful feeling that I want to return.
How to get to Pu Luong?
It sounds like the forest is far away, but it's actually a bit difficult to go for those who have never been. There are many ways to get here, so there will be many transportation options for you.
Going to Pu Luong by bus
Option 1: If traveling by bus from Hanoi, you can pick up the bus at Giap Bat, Nuoc Ngam or My Dinh wharf. The popular bus route to Pu Luong is Hanoi – Ba Thuoc – Thanh Hoa with a fare of about 120,000 VND/person. The bus will return to Canh Nang town (Ba Thuoc, Thanh Hoa). Then you can take a taxi or motorbike taxi to move to Pu Luong about 20km. Remember to negotiate the price first.
Option 2: Take the resort's private bus, this is probably the easiest. You just need to find, contact and book the resort in Pu Luong. Most areas now have buses to pick up and drop off passengers in Hanoi, so it's extremely convenient.
Going to Pu Luong by private car
This passage is new. There are 4 roads leading to Pu Luong from Hanoi.
Bow #1: Easiest to go!
Hanoi – Xuan Mai – Ho Chi Minh Trail – Cam Thuy district (Thanh Hoa province) – Canh Nang town Ba Thuoc – Pu Luong. This is easy, just follow GG Map.
Bow No. 2:
Hanoi – Xuan Mai – Hoa Binh – National Highway 6 – At the intersection of Lo market, Tan Lac district, turn right to Lung Van, Lung Cam – Sang Lung Cao – Son Ba Muoi – Pu Luong. This bow is not for weak, inexperienced riders.
Palace number 3:
Hanoi – Xuan Mai – Hoa Binh – National Highway 6 – Mai Chau town – Phu Le Quan Hoa – Pu Luong. This bow is good because it can be combined with Mai Chau.
Ray 4:
This bow is omitted because it is only for those who buy sugar.
Hanoi – National Highway 1- Thanh Hoa- Ba Thuoc – Pu Luong.
When is the best time to go to Pu Luong?
Because the climate here is cool and green all year round, you can go anytime. However, to say the rice color looks much better. There are 2 rice crops a year. Beautiful start from the beginning of May to the end of June – and from the beginning of August to the end of September.
Where?
Pu Luong has only a few famous resorts counted on the fingertips, such as Pu Luong retreat, Pu Luong Eco Garden, Pu Luong Nature Home,… most of them have a view of hunting clouds and swimming pools. However, on peak occasions or room fires.
This time, I booked urgently, but luckily at Pu Luong Retreat, there are still rooms. The quality is quite great, the standard room is very close to nature. Just no TV for each crime. As for how beautiful it is, you can see the photos clearly.
The prices of these resorts only range from 1 million to 3 million per room.
The rest here have about 40 small homestays on stilts, the price is also very cheap. For this, please find GG to get contact information
Eat what?
In Pu Luong you will have no choice but to eat right at the resort or homestay you are staying at. Because outside, there are no restaurants.
Eating here is also cheap depending on what you order. The most expensive thing is probably Co Lung duck.
Co Lung duck is a famous dish and a specialty of this region, you should enjoy it with ethnic dishes such as stone snails, stream fish, and bamboo shoots.
The day before, I ate grilled duck with honey for 460k but got 1 plate for 2 people to eat. However, this is the most expensive dish, but eating western food here is cheap.
What to play in Pu Luong?
If you have time, you should explore more of the following points:
Kho Muong – Bat Cave
Kho Muong is an unspoiled valley in the buffer zone of Pu Luong Nature Reserve, where the White Thai have settled and lived for a long time. An important highlight of Kho Muong village is Kho Muong Cave, also known as Bat Cave – a mysterious cave that is forgotten in the middle of that area still sleeping. The entrance to the cave is a craggy dirt road covered with forest trees. From the outside, Bat Cave is only about 100m wide, but the cave is more than 2.5km wide, with many nooks and crannies deep in the ground. The cave is very beautiful and worth going.
From here you can also move to 4 other Muong villages namely Ban Bon, Thanh Cong, Cao Hoong and Ban Kit to learn the distinct cultural features of this place.
Don village – Pu Luong's symbol of water
The tourist center of Pu Luong, home to the area's most beautiful rice terraces and the widest range of accommodation options.
Water rod or water wheel – a symbol of agricultural civilization for a while.
Son – Ba – Muoi: Sapa of the North Central region
The road is for those who like to conquer difficult roads. People traveling without knowing it is a shortcoming. But usually few people go from Pu Luong up here, but mostly people will go from Hoa Binh side to be much more convenient.
Ban Hieu – Thac Hieu
Hieu village and Hieu waterfall in Co Lung commune are for those who like water, like to bathe in streams. A special thing is that Co Lung duck here is famous for its delicious taste.
Pu Luong Peak
An attractive trekking path for trekkers only. Pu Luong is the name of the Thai people, meaning the highest mountain in the region, Pu Luong peak is over 1,700m high and is only for adventurous tourists.
Pho Don market
When traveling to Pu Luong, visitors should not miss the opportunity to participate in the Pho Don market which takes place every Thursday and Sunday. This is a trading market not only for goods, but also for meeting and exchanging cultures of ethnic minorities: Kinh, Thai, Muong, etc. The products here are mainly self-sufficient and when brought to the market. sold, people can also use items of equivalent value in exchange for what they want. The market is located on the way to Hieu village.
Expense
In general, going to Pu Luong is only afraid of being far, but everything is cheaper for me than in other areas. I go 2N1D book combo 1700k/person at the resort, have a round-trip shuttle from Hanoi, free 1 breakfast + 1 lunch on arrival. The shift was both difficult and urgent, on Saturday afternoon, I decided to find and book a room, fortunately, Trang Thuy Nguyen took care of me with enthusiasm, so I was able to book a room after only 1 hour.
Including dinner, lunch the next day and car rental to go to the village, snack money for all is about 2500k / person.
Cons and Notes:
– The evenings here are a bit sad, so everyone should buy some snacks and a little beer and then sit and listen to the crickets and chill together!
– Should bring more portable speakers to listen to music for coffee because there is no TV here.
– Everything else for me is very comfortable and ok.
Wish you have a great experience in Pu Luong with so deep pictures!
See pictures in Pu Luong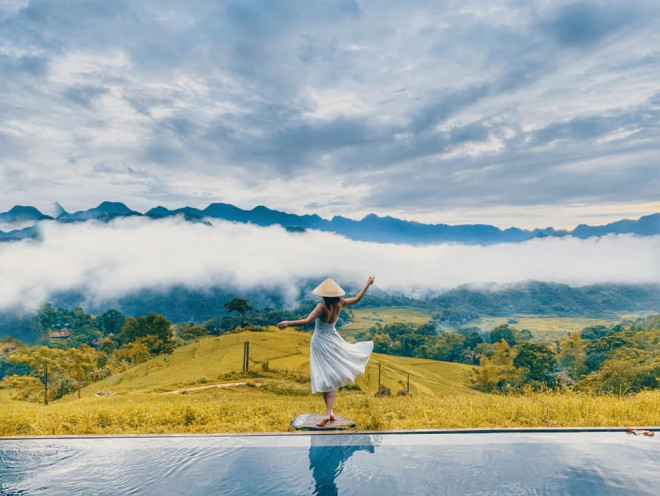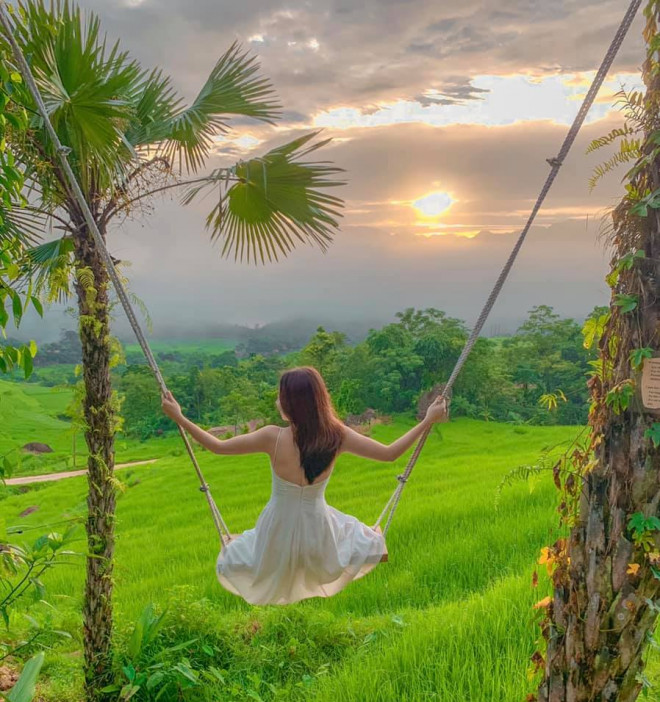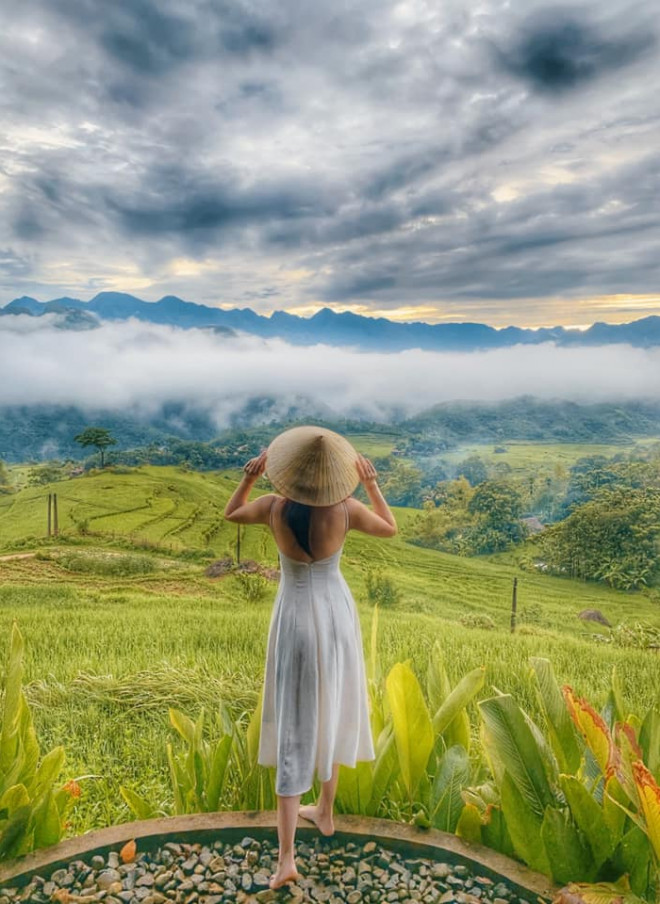 You are reading the article
Pu Luong unspoiled paradise – Travel

at
Blogtuan.info
– Source:
24h.com.vn
– Read the original article
here