Thế Giới
QUICK READING May 14: President Putin warned Finland that it was 'wrong' to abandon neutrality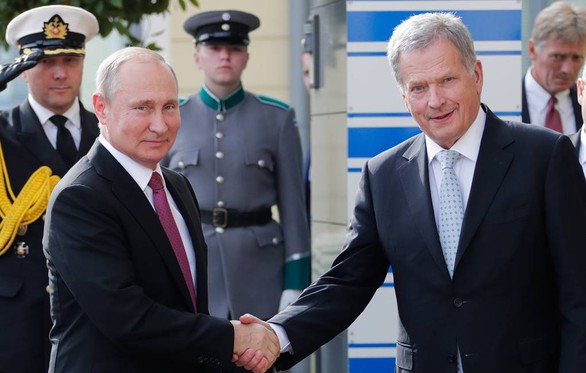 Finnish President Sauli Niinisto in a meeting with Russian President Vladimir Putin – Photo: TASS
* On May 13, Finnish President Sauli Niinisto said he would talk by phone with Russian President Vladimir Putin to discuss Helsinki's plan to join NATO. He affirmed that the country will "not delay" applying to join NATO.
According to a statement from the Kremlin after the talks between the two leaders, "Vladimir Putin emphasized that ending the traditional policy of military neutrality would be a mistake because there is no threat to security." of Finland".
* On May 14, the foreign ministers of the world's leading industrialized countries (G7) ended the meeting after 3 working days at Weissenhaus, Schleswig-Holstein state of Germany. The joint statement issued at the conference emphasized food security, support for Ukraine as well as a unified stance towards Russia regarding the current situation in Ukraine.
The joint statement of the G7 foreign ministers called for an end to the conflict in Ukraine, affirming that they will maintain their support for the sovereignty and territorial integrity of Ukraine and other countries. The G7 also emphasized that it will continue to provide military and defense assistance to Ukraine as long as necessary.
* After the conflict in Ukraine, Finland and Sweden considered measures to ensure national security, including the intention of joining NATO. On May 12, Finnish President Sauli Niinisto and Prime Minister Sanna Marin said that the country will "not delay" applying to join NATO, marking an important policy shift for the country, which has followed the line. this neutral.
Russia believes that Finland's membership of NATO poses a threat to Moscow's national security and has warned of retaliation. In an interview with RIA Novosti news agency on May 14, Russian Deputy Foreign Minister Alexander Grushko affirmed that Moscow does not take a hostile position against Finland and Sweden. However, he warned that if NATO deploys nuclear weapons near Russia's borders, Moscow will take appropriate countermeasures.
It is expected that on May 15, Finland and Sweden will make a decision on whether to apply to join this military alliance or not.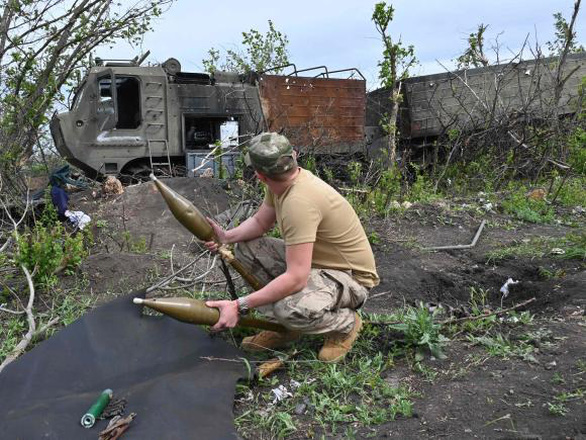 The image is believed to be a destroyed Russian military vehicle in Mala Rogan, west of Kharkov, where the Ukrainian army claims to have repelled the Russian forces – Photo: AFP
* On May 13, the White House said US President Joe Biden had a discussion lasting more than half an hour with his Finnish counterpart Sauli Niinisto and Swedish Prime Minister Magdalena Andersson about the two Nordic countries' intention to become members of this US-led military alliance.
* On May 13, Italian Foreign Minister Luigi Di Maio said: It fully supports Finland and Sweden's membership of NATO. According to the Vietnam News Agency correspondent in Rome, speaking to reporters, Foreign Minister Di Maio affirmed that Italy would be delighted to welcome the two Nordic countries to join this alliance.
* The head of Ukraine's military intelligence service, Major General Kyrylo Budanov, predicts hostilities will last until the end of 2022. However, according to him, the turning point will come from mid-August, but did not specify what that. , according to radio Sky News.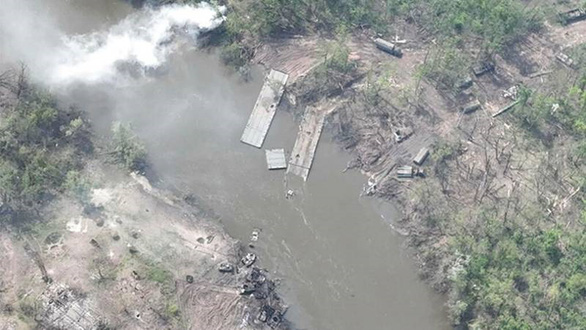 The pontoon bridge over the River Siversky Donets, eastern Ukraine collapsed – Photo: AP
* May 13, US Defense Secretary Lloyd Austin calls for an immediate ceasefire in Ukraine when he spoke by phone with his Russian counterpart Sergei Shoigu for the first time since Moscow launched a special military operation in Ukraine.
According to Reuters news agency, the Pentagon said that Minister Austin had repeatedly tried to talk to Shoigu over the past nearly three months, but Moscow officials did not appear to be interested. During the call, which lasted about an hour, Mr. Austin emphasized the importance of maintaining lines of communication.
Meanwhile, the Tass news agency quoted the Russian Defense Ministry as saying that the phone call took place "on the initiative of the US side". "Issues on the topic of international security were discussed, including the situation in Ukraine," the Russian Defense Ministry said.
Washington and Moscow have established a hotline since Russia launched the operation in Ukraine, to avoid miscalculations or unwanted clashes.
* The government of the "Republic of South Ossetia" – a breakaway region of the Republic of Georgia, announced that it would hold a referendum on July 17. about joining Russia.
A statement released on the evening of May 13 said that Anatoly Bibilov, who called himself the "president" of South Ossetia, had signed a decree on holding the referendum. The statement also said that this represents the historical aspirations of the people of the area bordering the Russian Federation.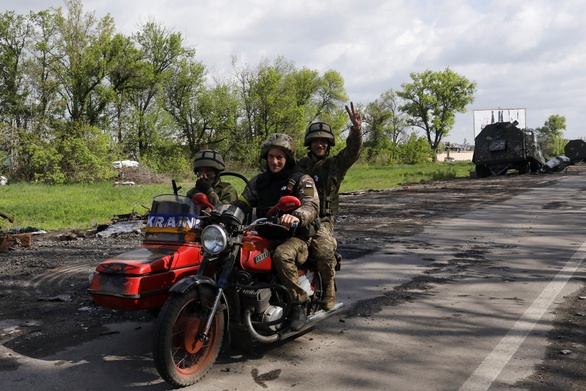 Ukrainian forces in the city of Kharkov on May 13 – Photo: REUTERS
* A video released by the Ukrainian military on May 13 shows Ukrainian forces destroying a Russian-made pontoon bridge over the River Siversky Donets, in eastern Ukraine. The Ukrainian army drove Russian forces out of the city of Kharkov.
Reuters reporter confirmed Ukraine now controls an area extending to the River Siversky Donets, about 40km to the east, including the city of Kharkov. Even so, Russia still bombed the villages north of the city.
Kharkov is the second largest city in Ukraine. It is the administrative center of Kharkov Oblast. KYharkov has about 1.4 million people, just 40km from the Russian border, was one of the targets first attacked by Russia on February 24, 2022. Kharkov is the residence of a large number of Vietnamese in Ukraine (about 3,000 – 5,000 people) because it is a good trading area.
The British side also confirmed that Ukraine prevented Russian troops from crossing the River Siversky Donets. Images from the video above show several burning military vehicles near a submerged pontoon bridge, and many damaged or abandoned vehicles, including tanks, nearby. Reuters could not verify the information or the time or location in the video.
* On May 13, the statistical agency Rosstat published data showing that Russia's annual inflation rate in April jumped to 17.8%a record high within two decades.
According to Rosstat, food prices, a major concern for low-income Russians, increased by an average of 20.5% in April compared with the same period last year. Some foods had strong price increases such as fruits and vegetables (33%), pasta (29.6%), butter (26.1%).
The Central Bank of Russia forecasts that inflation for the whole of 2022 may reach 23% before gradually decreasing next year and returning to 4% in 2024.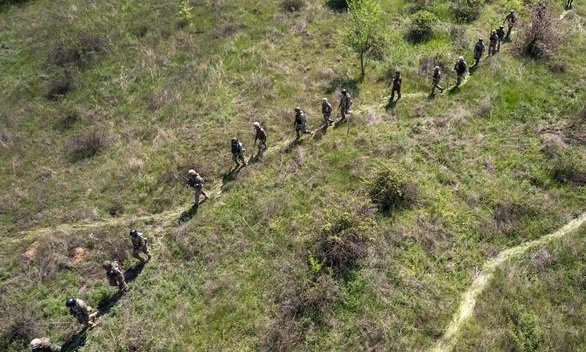 Ukrainian infantrymen during an exercise near the city of Kryvyi Rih, Ukraine – Photo: GETTY IMAGES
* The UK Ministry of Defense says Russia is concentrating its military efforts near Severodonetsk and Iziumwhile trying to break through to Sloviansk and Kramatorsk to complete control of Ukraine's Donbass industrial region, according to Reuters.
Russian-backed separatists say they have captured the Zarya Chemical Plant near Severodonetsk.
Meanwhile, south of the port city of Mariupol, Russia continues to bomb the Azovstal Metallurgical Plant, the last fortress of the Ukrainian army in this city.
* The RIA news agency quoted the Russian Defense Ministry as saying that the Russian air force attacked an weapons depot in the Kharkov region, Ukraine on May 13.
* Subsidiary of Russian energy group Inter RAO announced that it will stop exporting electricity to Finland from May 14 because payment has not been received in May, according to Reuters.
Fingrid, the operator of Finland's electricity transmission network, said stopping electricity imports from Russia did not threaten the country's market. "It is possible to make up the shortfall by importing more from Sweden and partly from domestic production," said Fingrid vice president Reimy Paivinen.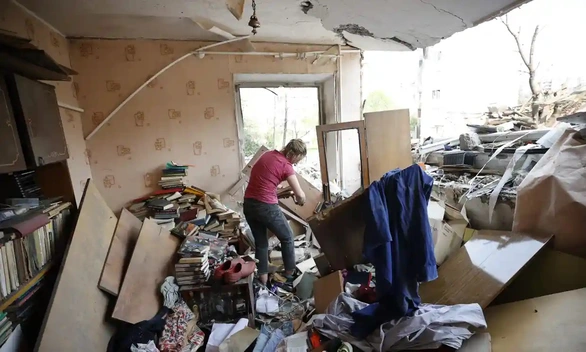 A woman tries to clean a house hit by a bomb in the city of Chernihiv, Ukraine – Photo: GETTY IMAGES
* In an online post on May 13, according to AFP news agency, Ukraine's Deputy Prime Minister Iryna Vereshchuk said Ukraine was conducting "very difficult" negotiations with Russia on sending Ukrainian troops entrenched outside the Azovstal Metallurgical Plant, but did not give details.
* May 13, Ukraine's First Deputy Prime Minister Yulia Svyrydenko announced that Ukraine had signed contracts to import 300,000 tons of diesel and 120,000 tons of gasoline. to meet consumption demand in May as Russia targeted its fuel infrastructure, according to Reuters. Russia has destroyed 27 fuel depots and the Kremenchuk Oil Refinery in central Ukraine since Moscow launched a special military operation on February 24.
You are reading the article
QUICK READING May 14: President Putin warned Finland that it was 'wrong' to abandon neutrality

at
Blogtuan.info
– Source:
tuoitre.vn
– Read the original article
here