Business
The reaction of the real estate market after the "tightening" orders

In recent years, these areas have spread over 1,000 square meters of land, which has been divided into small plots with an area of ​​60-90 square meters. These are products created by real estate speculators.
From the period of 2019 – 2020, areas such as Dong Truc, Binh Yen, Tien Xuan, and Tan Xa communes of Thach That; Son Dong and Co Dong communes of Son Tay town,… Nuoc Nuoc large and small cars led the delegation into the village to see the land; The peak price ranges from 14-25 million VND/m2.
In fact, due to the combination of brokerage and real estate speculation, the price of this type of land subdivision has skyrocketed. Faced with this situation, many localities have widely issued documents "tightening" to separate land parcels. For example, recently, the Hanoi Department of Natural Resources and Environment requested relevant agencies to suspend the settlement of procedures for the division of agricultural land, land parcels including residential and agricultural land, and non-agricultural land plots. agriculture without residential land; only receive and handle administrative procedures related to the division of land parcels, land parcel consolidation for residential land parcels, ensuring the conditions for land parcel separation or consolidation in accordance with current law.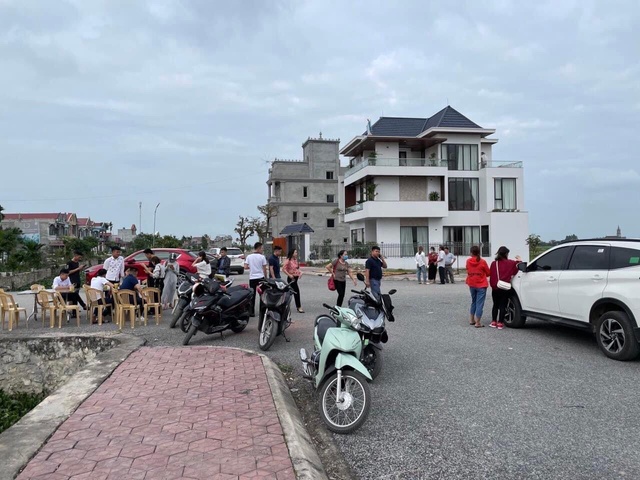 And yet, recently, the State Bank has required strict control of credit in potentially risky areas, including real estate business. Therefore, some commercial banks have moved to "tighten" lending and stop lending to the real estate sector.
After the direction of the State Bank of Vietnam, banks such as Sacombank, Techcombank, etc. have taken action to tighten and direct cash flow into production, agriculture, import and export, supporting industries, small and medium enterprises. , enterprises applying high technology and high value-added trade and service industries such as export, service, logistics…
After the "tightening" orders, the real estate market had the first reaction. Many areas now only see an increase in selling volume, buying in is very rare, even many investors have started to cut losses slightly.

In Thach That area, only about 9/2021, the price in this area is still hot, even land in the village road costs up to nearly 20 million VND/m2. Specifically, the land plots in the lane where cars can be moved range from 12-18 million VND/m2. The land plots in better locations cost from 20-25 million VND/m2. The land plots in the main road location are priced at 30 – 45 million VND/m2. However, after the tightening orders were implemented, the market here has cooled down, there is no longer the scene of cars flocking here to view and trade.
For example, a residential land lot of 300m2 in Binh Yen commune, Hoa Lac. 12m frontage, big road, 2m sidewalk, offering 12 million VND/m2. Also in this commune, a land lot of 65m2 is offered for sale at 700 million VND, equivalent to 10.7 million VND/m2. Similarly in Son Dong commune, a land lot of 80m2 is offered for sale for VND9.5 million/m2.
Offering a plot of land to cut losses, Mr. Nguyen Hung (Thanh Xuan) shared that at the end of last year, everywhere he saw real estate sales, taking profits of several hundred million dong. There are 400 million available in the house, so he is determined to follow his friends to Hoa Lac to invest in the hope of making a profit. Looking at the land in many places, he finally "fixed" a plot of land of more than 70m2 in Binh Yen commune (Thach That) for more than 1.2 billion VND, equivalent to 18 million VND/m2.
But since then, the interest has not been found, only know that each month, I manage to pay the bank nearly 30 million dong, both principal and interest. So he decided to sell at a loss to pay off the bank debt.
Mr. Hieu – a longtime broker in Son Tay, Thach That (Hanoi) said that these two areas are mainly self-divided land. Therefore, after the "order" to tighten the lot separation, there is no longer a scene of cars following each other to see, buy and sell land. There was even a situation of selling "stop loss" from investors who bought back before. However, the stop loss comes from only a few cases, so it is not representative of the entire regional market.
"If in the past, investors with financial potential were looking to buy a large piece of land and then split the plot and sell it, now there are no people to buy it anymore, because the order to tighten plots to separate agricultural land plots was implemented. Transactions from after the Lunar New Year to now have also been quiet. If there is, it is just a land transaction of the people, but I have not had any transactions this month, and this land is almost illiquid," said Mr. Hieu.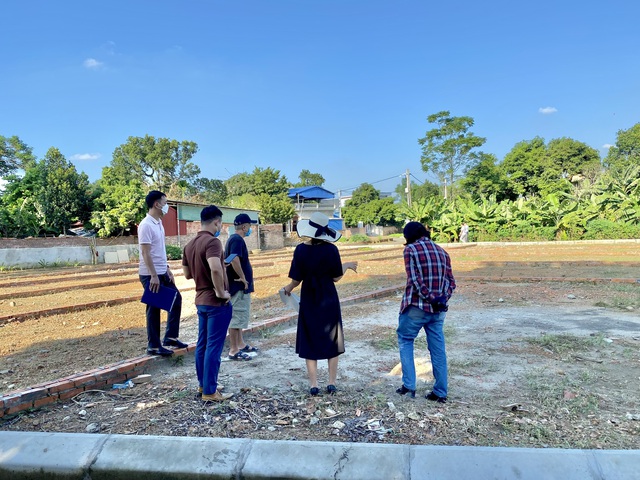 This broker added that the move of banks wanting to "tighten" credit into real estate has also affected the psychology of speculation. "Buying large land definitely requires a large amount of money, not all investors are available but must use leverage. After the split is completed, speculators create waves to exit the goods, then the excitement and liquidity is strong. At present, speculation is also dormant, and the market is volatile. If investors buy back but also take out a bank loan, they are now forced to cut their losses to cover, partly worried that bank interest rates will increase, so they sell soon," said Mr. Hieu.
In the area of ​​Thanh Tri and Thanh Oai, Mr. Nguyen Tung – the owner of the real estate transaction office in the area said that this whole month, the number of people looking to sell is a lot, and the buyers are very few.
"This whole month, my whole office has exactly 1 successful transaction. Many people use financial leverage, so they are afraid that banks will raise interest rates, so they also take advantage of selling early to be able to get the same price as the purchase price. For a long time, they do not know how the market will change, because in the past few years. The market has grown too hot. There are still people asking, but can't go to the transaction because now investors are still not confident to put money down but are still waiting for more," Tung said.
This broker also said that the land auctioneers in Thanh Oai won before but paid too high a price of more than 40 million VND/m2, while the price in the area only fluctuated about 18-25 million VND. Currently the owners are also struggling to sell for a long time but still no one buys.

After the tightening orders were implemented, the real estate market had a certain reaction when liquidity was low in many places, and the market also began to show signs of cooling down. Mr. Nguyen Ngoc Hieu, Head of Market Research, Batdongsan.com.vn, said that in the first quarter of 2022, the interest in land plots in Hanoi decreased in some districts of Dong Anh (25%), Gia Lam (14%) and some western areas decreased slightly such as Thach That, Quoc Oai,…
"This decline, in my opinion, is influenced by the fact that Hanoi stops subdivision of plots for sale. However, this is a short-term effect, reducing market heat of the Government. Looking at the driving force behind the development of the residential land market in Hanoi and the surrounding provinces in the North, we find that: firstly, the demand for investment in hoarding assets of the Northern people is large; second, the development of infrastructure promotes this area to develop. Therefore, in the short term, this impact will reduce the temperature of the Hanoi real estate market a bit," said Mr. Hieu.
According to Mr. Nguyen Chi Thanh – Standing Vice Chairman of the Vietnam Real Estate Brokers Association, the suspension of the settlement of procedures related to the division of agricultural land, land parcels including residential and agricultural land, Non-agricultural land plots without residential land will prevent the collection of mixed and widespread land, subdivision, and sale against the intended use. As for the cases of subdivision and division of parcels for the right purposes, it is not prohibited at all, so it is not affected by recent decisions.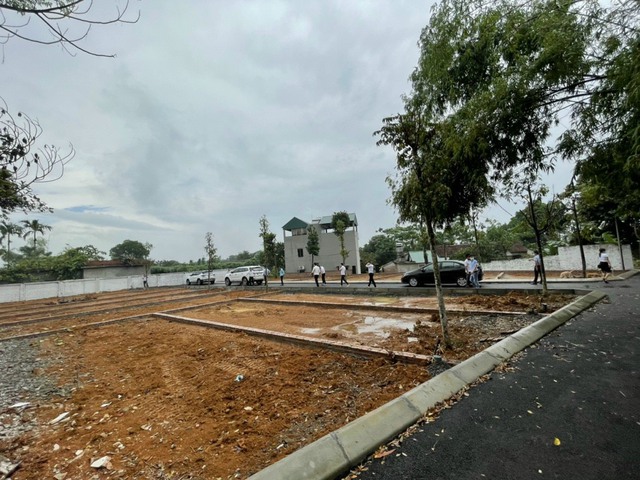 Talking about the impact of banks "tightening" real estate credit, Mr. Matthew Powell, Director of Savills Hanoi, shared: "Price pressure and high inflation rate while credit is tightened may be possible. will slow down the real estate market in the short term."
Dr. Nguyen Tri Hieu – economist said that the signal of restricting real estate lending warns of the risk of cooling down of the real estate market. The basic land fever situation can be controlled by tightening credit. But from an investment perspective, the group using leverage will not be able to continue to reduce money. Demand will decrease. Even real home buyers have difficulty because they cannot access capital to buy houses. On the other hand, the tightening of credit to real estate also warns the risk of rising lending interest rates. The corollary of the interest rate hike is that many investors, unable to withstand the interest rate pressure, will be able to sell at a loss.
"Accordingly, the tightening of credit in real estate will create a big shock to the market. This will happen, because of the "tightening" of money sources, of course, the transaction volume will decrease. However, it must be affirmed that, tightening Credit is essential and there is no need to worry because of the credit squeeze that causes a real estate bubble," said Dr. Hieu commented.
https://cafef.vn/phan-ung-cua-thi-truong-bat-dong-san-sau-cac-lenh-siet-20220513153927324.chn
You are reading the article
The reaction of the real estate market after the "tightening" orders

at
Blogtuan.info
– Source:
cafebiz.vn
– Read the original article
here