Tin
Woman wakes up with no legs: I'm embarrassed because of my mother's words
After a terrible event 10 years ago, Ms. Le Thi Pha Ly (SN 1983) got up from the unspeakable pain.
"Every time I'm close to death, I think about my mom and my family."
"Sometimes, I just want to die. I wonder what in the world do I do when my family is miserable like that. My mother goes to collect bottles, lives in a makeshift house." Li said and wiped her tears.
Those are the lines of thought 10 years ago, when she had a terrible incident of losing her legs.
In 2012, Ms. Ly and her husband grew up Ho Chi Minh City work as a worker at a noodle factory. While the couple was riding a motorbike on Tan Ky – Tan Quy street, they collided with a truck.
After the terrible crash, both were swept under the car, Ly and her husband were crushed. After being taken to the hospital, the doctor performed an amputation of the leg and gave first aid.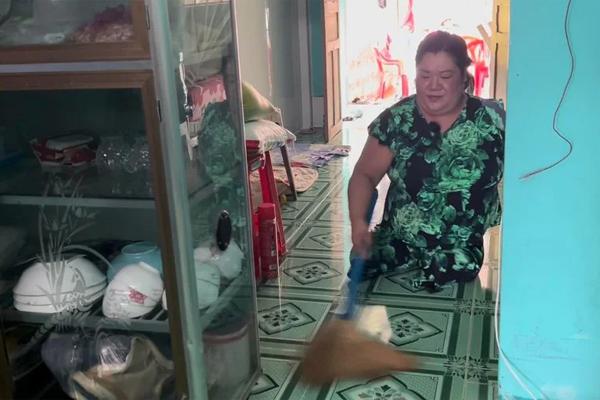 After the incident, she learned to walk and move with her legs half amputated.
Ms. Ly recalls painful memories: "I was unconscious for 3 days, can't remember how I fell. When I opened my eyes, I found myself lying in the hospital, my legs were numb. Due to stomach damage after being unconscious for many days, I couldn't stop vomiting. vomiting.
I just told Trang (husband's stepdaughter – PV), see if you can help lift your aunt's leg, why is it so painful and numb. Trang hesitated and then replied: Auntie, I don't have legs to lift anymore…
I looked down in shock at the bottom of my body, one side cut above the pillow, the other between the pillow. My spirit fell from that moment."
After the accident, both Ms. Ly and her husband had to learn to live life People with disabilities.
"When I first came home, I was extremely disappointed because I didn't think there would be a day when I would become so useless. I couldn't sit on my own, many times I fell backwards. I also fell after eating, I also fell when I went to the toilet. ..
My mother then put me on the bed, blocking the pillow around to let me slowly get used to life without legs.
In the midst of great suffering, I just wanted to die. However, every time I am close to death, I think of my mother and my family. My mother said that, after the accident, I was still alive.
Mom does not have much money but will do everything to support me, for me to rely on. Thinking back on those words, I struggled to move on with my life." Ms. Ly said.
Go through the pain
At the age of 19, Ly got married and had one child. After her husband died early, she decided to go one step further with the man in the neighborhood.
Accident Horror in 2012 caused both of them to lose their legs. "After that, because we didn't get along, we went our separate ways," Mrs. Ly said choked.
After being run over by a truck carrying corrugated iron, Ly was haunted for a long time. Every day, my mother often took Ly to the street to comfort her. As soon as she saw the truck coming, she would panic and ask to hide in the curb.
Memories were dragged away tens of meters, under the car left indescribable pain in her. Gradually, she learned to adjust to her new life. Currently, she can move quite quickly, clean, sweep the house, cook…
Sister confided: "Because my legs were crushed and lost my work capacity, I was compensated with some money. Since then, I built a house to cover the rain and sun. The hardest days were when I came home from the hospital. , there is no place to live, my mother and I have to stay temporarily behind the summer.
Although she suffered enough, she never complained half a word. Old age, health has declined over time, but she still sells lottery tickets, each day from 50,000-80,000 VND to help mother and daughter live each day.
I remember last year, when she was hit by a car, people ran over to help, panicking, praying for my mother to be okay. Because they know, my mother is still raising me at home. This year, I am 40 years old, my mother is still as worried as when I was a child."
Occasionally, Ms. Ly still takes things home to peel, she is paid 5,000 dong for each kilogram. For her, this amount is not large, but it is both pride and effort.
That, when she has no legs, she still works with her hands, helping her mother who takes care of her from childhood to adulthood.
According to the Fatherland
You are reading the article
Woman wakes up with no legs: I'm embarrassed because of my mother's words

at
Blogtuan.info
– Source:
2sao.vn
– Read the original article
here