Khỏe - Đẹp
10-year-old baby has to wear an colostomy for colorectal cancer: Doctor warns of signs to remember
Rectal cancer is a common disease in the gastrointestinal tract common in the country. The disease is getting younger and younger, even a 10-year-old child has been diagnosed with this disease.
At K hospital, a 12-year-old patient, NNT, has had 2 years of treatment for colorectal cancer. Baby T. is wearing an artificial anus.
According to the baby's father, when he saw that he had severe abdominal pain, the family sent him to the doctor. At the hospital, the doctor said that the baby had a bowel obstruction, so he was transferred to K Hospital. As a result, the baby had a bowel obstruction caused by a colorectal tumor. The doctor had to remove the tumor and create an artificial anus.
No one in the family thought that the young child had a malignant cancer thought only in adults.
In addition to T, 43-year-old Mr. Nguyet Van C. from Hai Duong also had colorectal cancer. Mr. C. said that he had been constipated for a long time, but he himself had never gone to a doctor because he thought it was a normal sign. He lives with constipation. When apples are too much, drink lettuce leaves or eat a lot of sweet potatoes. When he had blood in his stool, he felt like he was always going to have to poop, so he went to check. The colonoscopy doctor said he had a tumor and suspected cancer.
Mr. C. went to Hanoi to check again with the hope that it was a benign tumor. The results of his pathology showed that he had stage 3 colon cancer. Mr. C. regretted that he did not go for a health check earlier. If detected at an earlier stage, the treatment is easier, less expensive and highly effective.
In the same room with Mr. C, there are many colorectal cancer patients who do not know the disease until they lose weight, have bloody stools, and have abdominal pain before it is too late to go to the doctor.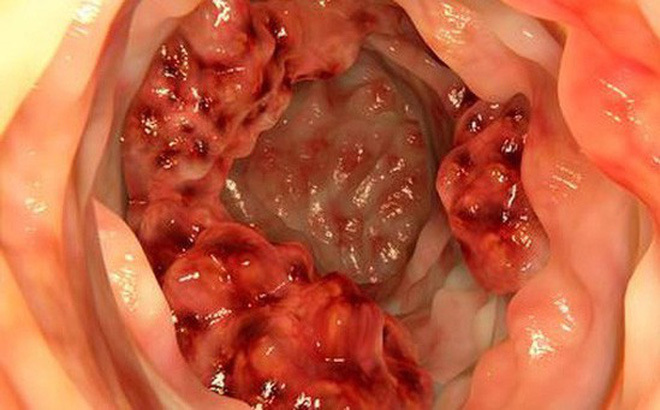 Illustrated photo.
Associate Professor Nguyen Anh Tuan – Head of Gastrointestinal Surgery Department of 108 Central Military Hospital said that colorectal cancer ranks 4th among malignancies. In Vietnam, colorectal cancer ranks 5th among hundreds of cancers, behind liver cancer and stomach cancer in the gastrointestinal tract.
Colorectal cancer factors have great differences in the incidence of countries around the world. It has been found that one of the pathogenesis of colorectal and rectal cancers is prolonged fecal retention typically in constipated patients.
Constipation is caused by a lifestyle of eating a lot of animal protein, low in fiber, leading to constipation, causing toxins from feces to contact the lining of the digestive tract for too long, causing damage to the lining of the colon.
Colorectal cancer is associated with genetic factors, it is classified as a family disease.
Manifestations of colorectal cancer, in the early stages, there are no specific symptoms. The most common symptom is bloody stools, later the patient has stimulated defecation many times but no stools but only mucus blood.
If you see systemic symptoms such as anemia, loss of appetite, weight loss, you need to pay attention to see a doctor soon.
Cancer is a malignant disease, which is often confused with hemorrhoids.
If colorectal cancer is left untreated, the tumor grows, invades nearby organs and causes intestinal obstruction, causing massive bleeding and rupture of the tumor causing generalized peritonitis. If not treated in time, the patient will deteriorate, debilitate, metastasize and die.
Currently treating colorectal cancer, Associate Professor Tuan said that he uses many different methods of surgery, chemotherapy, radiation therapy, and immunotherapy. In particular, preoperative radiotherapy and chemotherapy also help patients reduce the risk of recurrence. In addition, the method of laparoscopic colectomy from the anus up is also very effective in reducing the risk of having to bring an artificial anus for the patient.
To prevent disease, Associate Professor Tuan said that you should create healthy eating habits, eat lots of green vegetables and fruits. You should exercise regularly to increase metabolism and limit constipation. In addition, maintaining the habit of checking health, it is recommended to have a colonoscopy after the age of 40 to screen for colorectal cancer.
Khanh Chi
You are reading the article
10-year-old baby has to wear an colostomy for colorectal cancer: Doctor warns of signs to remember

at
Blogtuan.info
– Source:
infonet.vietnamnet.vn
– Read the original article
here