Giáo dục
Life Style
An essay describing a primary school student's grandmother appeared, but why is this woman… "strange"
The 8x, 9x generations must still know by heart the writings describing grandparents, almost like one, with white hair, a gentle face like a fairy, a mouth full of betel nut chewing. However, in the 4.0 era, the new image of grandparents also gradually appeared in the essays of primary school students.
With an honest, innocent look, the grandparents in the children's eyes are more modern, even more "playable". Nowadays, the image of stylishly dressed women over 50 is no longer strange; Many people have become grandmothers but very young. So it's not surprising that we sometimes come across grandmothers depicted as little more than a teenager.
For example, recently, on a social network, there was an essay by an elementary school student about his grandmother. Not only was this student stunned by the use of silly words like "raise" her grandmother, but this student also honestly told all her "bad habits". Fortunately, the last sentence was able to save her grandmother's feelings for her to be less disappointed.
This student wrote: "My family has a grandmother who sits and surfs Facebook all day. She talks to her on the phone every day for up to 3 hours. One day she was too busy doing business to turn off the stove, so the whole pot burned. Her skin was wrinkled. Her teeth were white. , yellow or black. She also sometimes teaches me to study. I love my grandmother very much."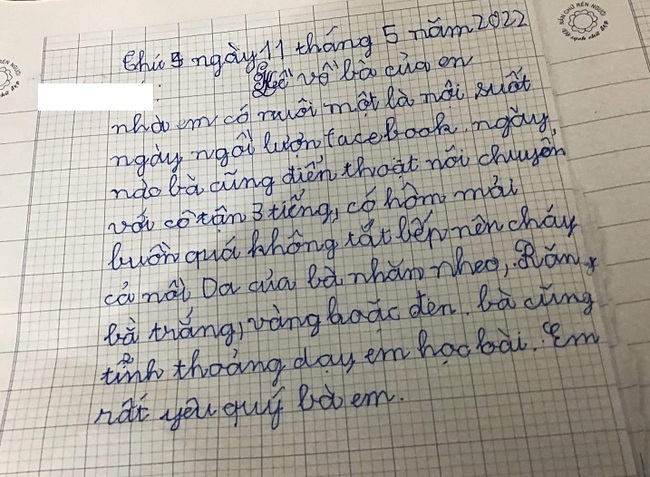 Previously, an essay by a 2nd grader named Khanh Linh was shared on the forum with the title "What do you think about the present-day student essay describing grandmother" that attracted the attention of many members. . In addition to the beautiful, clean and neat handwriting, the content of the article makes many people love it more because it describes the grandmother, but it is very young and healthy.
"In my family, the person I love and respect the most is my grandmother. My grandmother's name is Thu. My grandmother is 56 years old this year. Although my grandmother is old, her skin is still white and smooth. Her hair is still black and clear. She loves to walk and eat braised fish.. Every night, when she comes home from school, she often cooks delicious food, takes a bath for me to go out. In the evening, she pats my back to help me fall asleep. Grandma is happy and happy, I often squeeze her shoulder and back, study well and obey her."
In the article, the image of a woman with wrinkled skin and silver hair like a model has been replaced by a grandmother with smooth black hair and smooth white skin.
In fact, literature is life, what happens in everyday life. Therefore, it is very encouraging for students to express their thoughts and views. Currently, the way of teaching and learning is gradually shifting towards promoting students' abilities, limiting the passive following of model texts.
Sample writing is just a tool, a means to help students practice skills. The student's learning product obtained after having the skill is individual creation, not the stereotype, imitation exactly like the prototype. A good essay should therefore be a combination of telling, truthfully describing and embedding their real feelings in it, not copying sample essays to run after scores.
Each student is an individual, with their own creativity, emotions and abilities, and teachers need to respect that creativity and individuality on the basis of meeting the goals of developing learners' competencies.
https://afamily.vn/xuat-hien-bai-van-ta-ba-noi-cua-hoc-sinh-tieu-hoc-nhung-sao-ba-nay-la-lam-rang-co-nhung- 3-mau-cau-dau-doc-done-for-choang-20220513180606199.chn
You are reading the article
An essay describing a primary school student's grandmother appeared, but why is this woman… "strange"

at
Blogtuan.info
– Source:
Afamily.vn
– Read the original article
here