Business
Customers 'hold their breath' to experience a special feeling
At first, everyone stopped
During 8 years in the hair industry, the most daring experiment of Mr. Nguyen Trong Giau (living in Cu Chi district, Ho Chi Minh City) was cutting his hair… by fire.
He said, "In 2016, I knew about this special method, but it only appeared on stages for people to perform. It was I who brought it closer to people when performing. at some events.
This interesting haircut made me tinker with it, fascinate and crave experimentation. Initially, I held glue and lighter with two hands. Then, I found it too inconvenient, so I fixed the lighter to the glue bottle. When I opened the shop and brought this service in, everyone stopped.
First, people are afraid of fire when they hear about it, who dares to give their hair a try. Second, people are concerned that fire will burn their hair and damage it."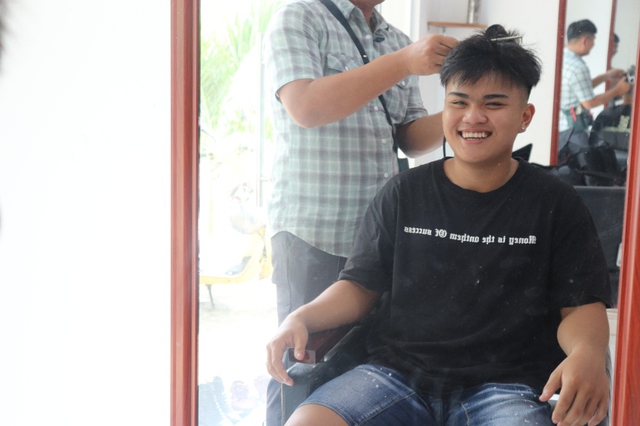 Many young people come to experience fire haircut
Before cutting hair, guests will be applied a layer of protective talcum powder to avoid causing scalp burns. For long-haired female guests, the hair shaft will be covered with a layer of foil. After shaping the hair form, Mr. Giau will use a lighter to burn off the frizzy, split ends and "trimmed" as he wants.
Mr. Giau shared: "After washing my hair, the curled hair burned by the fire will fall off on its own, leaving a smooth, healthy layer of hair. At first, many people didn't understand how I did it, they commented that I was "crazy". , monstrous." Even, some comments that my method is dangerous, will cause burns.
For me, the safety of my clients is paramount. Therefore, I always explain to them how to do it, how the hair will be covered with water, talcum powder, how to trim to give them peace of mind."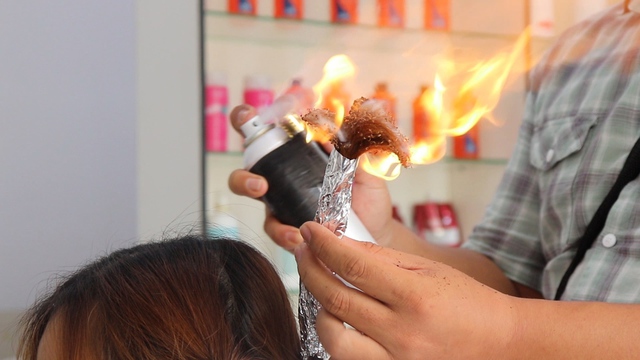 Female hair is wrapped in foil before burning
Before "getting out of the job", he had many times of tinkering, studying and experiencing many failures: Burned hands, damaged hair, unable to control the path of fire…
Mr. Giau confided: "In the past, I used to try many jobs, but only the hair profession was the one that I stayed the longest. This is both a passion and something that motivates me to create and develop day by day. Therefore, I always encourage myself to try."
Guests must have a "strong mentality"
Currently, Mr. Giau's hair salon still maintains the service of cutting hair with ordinary scissors. However, recently, the fire "haircut" service has become more known and loved by young people.
According to customers, while burning will be a little uncomfortable by the smell of burning hair. However, the "finished product" is very satisfied and satisfied.
"Customers must have a "strong mentality" to be able to sit still. A normal haircut only takes about 10 minutes, but a fire cut is 30 minutes. At the same time, the price of a fire haircut is also high. slightly better, about 90,000 VND", said Mr. Giau.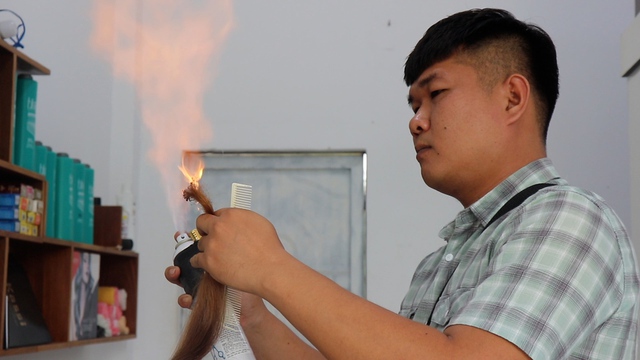 Mr. Giau had to go through many trials
Not only male customers, female customers also come to Mr. Giau's shop very crowded. However, with heavily chemically treated hair, the owner of the salon does not encourage customers to try this form because the fire will easily damage and damage the hair.
When the form of "fire haircut" became known to many people on social networks, besides the praise, Mr. Giau also received many critical comments.
"For those who curse me, I can only quietly let it go. Because, it is necessary to go to the salon and understand the safety of this form, then they dare to try the experience, give their hair for themselves. Instead of forever I'm sad because people don't understand me, I choose to spend my time learning new things", Mr. Giau confided.
Currently, his shop has more young people coming. With a kit including a box of talcum powder, "lighter" glue, and spray, he gave birth to a lot of beautiful hair. The path of the "smooth" fire, without damaging the scalp, a new experience… is what makes this form so popular.
https://soha.vn/tiem-cat-toc-bang-lua-doc-nhat-vo-nhi-khach-hang-nin-tho-trai-nghiem-cam-giac-dac-biet-20220513165328208.htm
You are reading the article
Customers 'hold their breath' to experience a special feeling

at
Blogtuan.info
– Source:
cafebiz.vn
– Read the original article
here