Business
From 20 motorbike taxi drivers to Indonesia's 10 billion dollar startup
With a population of more than 10 million, the Indonesian capital Jakarta is one of the busiest and most frequently congested cities in the world. People here often take ojek (motorbike taxi) to travel short distances. Taxis and ride-hailing services such as Uber and Grab are also available, which are safer than ojek but slower and more expensive. That leads to fierce competition here. While Uber and Grab provide convenient services, customers who want to go fast rely mainly on ojek, despite the higher risks and uncertain quality. It seems that people are stuck between comfort and safety.
Solving the chaos on the streets of Indonesia
That's when Gojek entered the market with a mission to improve "the well-being and livelihood of the Indonesian people". According to the Indonesian government, traffic jams in Jakarta cost about 5 billion USD a year. Founder Nadiem Makarim himself often takes motorbike taxis and understands the difficulties of drivers when waiting for customers. On the contrary, people take a long time to call a motorbike taxi.
In 2010, Nadiem Makarim and Andre Soelistyo set up a care center to connect customers with drivers. At that time, they only had 10 employees and 20 ojek drivers. Unlike two rivals Grab and Uber, which only operate in the taxi market, Gojek exploits the motorbike taxi segment thanks to its understanding of the local market. If a customer calls, they will review the list of drivers and find a suitable driver to pick up the passenger. Despite its relatively rudimentary operation, Gojek makes getting around in Jakarta easy. As technology advances, so does the Gojek platform. In 2015, the company launched its own application with a set of 3 services and has continuously diversified since then.
Gojek was born to eliminate the bargaining stage between drivers and passengers. Thanks to a modern algorithm, the application helps passengers know the fare before booking a car. Gojek also reduces service uncertainty by recruiting experienced drivers and training them to ensure safe driving. In addition, the company integrates driver verification and vehicle tracking systems, adding a layer of security to the service. Therefore, passengers feel more secure when traveling by Gojek compared to traditional ojek. In the event of an accident, Gojek will be responsible.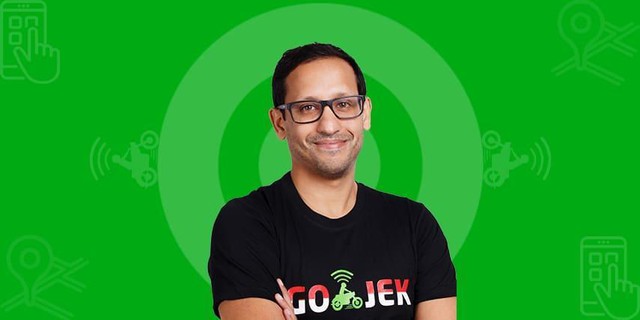 Gojek Co-Founder Nadiem Makarim
When Gojek started offering online food ordering in 2015, sellers and shareholders were skeptical. Are motorbike taxi drivers reliable enough to deliver food? How is the quality and safety of the food? Even so, Gojek still decided to launch GoFood as planned. Mr. Soelistyo admitted it was not an easy choice. "If we hadn't followed our instincts, the service would have been discontinued. However, we are convinced that if they trust others, they will be able to do more things that they have not been able to do."
Build Super App
Gojek is no longer a simple ride-hailing software like before but is now a Super App, providing about 20 services on one platform, from motorbike taxis to massages and on-demand beauty treatments. In fact, GoFood is the first step in Gojek's ambition to become a super app. It aligns with the mission of minimizing the hassles of customers' lives, making each transaction more efficient. In 2014, Gojek partnered with taxi company Blue Bird to expand its Go-Car service. In 2017, the company entered the fintech field through the Go-Pay e-wallet, helping users pay both directly and online or withdraw money at ATMs of partner banks.
With the Super App, Gojek can develop an ecosystem of sellers, buyers and drivers. Many small and medium-sized businesses (SMEs) take advantage of Gojek's platform to do business and reach a wider customer base, while drivers have better incomes and improve lives. Gojek is serving over 170 million users with a network of over 2 million drivers and half a million merchants in Southeast Asia.
Gojek believes that technology can provide solutions to a nation's most pressing problems. Startup recorded explosive growth and was the first startup to become unicorn (tech unicorn) after only 4 years and decacorn (unicorn valued at over 10 billion USD) in 2019 of Indonesia. The company receives investment from many big names such as Google, Tencent or the largest enterprises in the country.
With huge capital, Gojek can expand the market beyond its home country of Indonesia and also gain many achievements abroad. To avoid repeating the same mistakes as rivals when entering foreign markets, Gojek carefully plans and leaves local divisions to choose whether to use the parent company's brand name. For example, in Vietnam, they use Go-Viet and in Thailand it is Get. (Now, though, it's all about Gojek.) Branches operate independently of the parent company, cooperate with domestic partners and make business plans around the needs of users here.
Gojek activates an entrepreneurial ecosystem when playing a similar role to eBay, Etsy or Amazon in other countries. They create a platform for sellers to reach customers, develop new skills, and increase profits. Before Gojek, ojek drivers usually only looked for passengers in the vicinity and the income was not high. Today, they can use the application to serve customers in a larger area or do other jobs such as food delivery, delivery. They do not need to use cash but use digital payments or online banking.
Gojek views the driver as a client file. They do not directly employ drivers but purchase accident insurance and safe driving training. Meanwhile, the Go-Food service helps restaurants not need to rent an expensive street space to sell food. The online food delivery model allows them to save money and still get more customers within 25km of their kitchen. According to Gojek, small businesses that join the Go-Food network see an average increase in sales of 350%.
In May 2021, Gojek announced the merger with Tokopedia, becoming GoTo corporation and preparing to list dual on the New York and Jakarta stock exchanges. Andre Soelistyo assumes the position of CEO of GoTo. The friendship between the founders of Gojek and Tokopedia made the deal a reality. The two companies started working together in 2015 to promote e-commerce delivery with a team of Gojek drivers.
You are reading the article
From 20 motorbike taxi drivers to Indonesia's 10 billion dollar startup

at
Blogtuan.info
– Source:
cafebiz.vn
– Read the original article
here