Business
IFC poured 52 million USD into a large livestock corporation in Vietnam and the story of sustainable farming from happy pigs
Mr. David John Whitehead – Chairman of the Board of Directors of Mavin Group. Photo: Duong Trieu.
The International Finance Corporation (IFC) and the IFC Emerging Asia Fund under IFC Asset Management have just announced to pour US$52 million into the Group JSC. Mavin – one of the 5 largest livestock companies in Vietnam – in the form of common shares.
Specifically, IFC's investment will support Mavin to develop 3 pig farms including:
– A 62-hectare farm in K'Bang district, Gia Lai province;
– 100 ha farm in Anh Son district, Nghe An province;
– 45 ha farm in Cao Lanh district, Dong Thap province.
In addition to financial support, IFC will also advise and support Mavin Group to pioneer in improving animal welfare conditions, including implementing and applying the pig farming model in groups, helping to improve information raising standards in Vietnam, meeting and matching European standards on animal welfare.
"We will develop a group housing model on Mavin's farms that meets international animal welfare standards. With the support of IFC, we believe that Mavin will be one of the first companies in Vietnam to apply pig farming in groups, contributing to replicating the livestock model that meets animal welfare standards throughout the world. branch", said Mr. David John Whitehead – Chairman of the Board of Directors of Mavin Group – said.
Vietnam's pig industry is still mainly a small, household model, where farmers raise pigs according to the experience left by their ancestors.
Sharing with us, Mr. David said that the weakest point of Vietnam's livestock industry is still sticking to the traditional pig raising model, mainly raising pigs in small and household establishments, where farmers People learn from their grandparents and parents from their parenting experiences, but have little access to outside knowledge.
"Therefore, they do not know how to prevent and deal with epidemics, nor do they know the required market standards on security, food safety as well as biosecurity. When there is an epidemic problem, or a crisis, it will often cause a break in the production chain", Mr. David acknowledged.
"We know that in Vietnam, half of pork is produced by small scale models," Mr. Daryll Dong, Acting Country Director of IFC in Vietnam, Cambodia and Laos – said.
"This form of small-scale livestock production certainly cannot meet good hygiene and biosecurity standards – which can only be obtained if it is multiplied into large livestock models. The challenge here is small-scale livestock production. Therefore, it also brings great risks to Vietnam's food safety, because we know most of the protein sources in the meals of Vietnamese people. Nam comes from pork".
According to the Ministry of Agriculture and Rural Development, Vietnam's agricultural sector does not have many large enterprises. In terms of quantity, agricultural enterprises account for a very small proportion. According to statistics, Vietnam currently has 14,400 enterprises investing in agriculture out of a total of 800,000 enterprises in the market.
Sustainable farming from happy pigs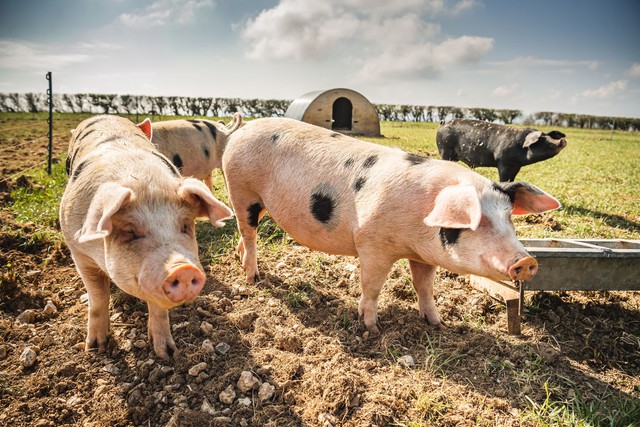 One of the problems with the small pig farming model is that when raised in small cages in small establishments, pigs will not be very happy when there is no place to run, jump and exercise. If raised in groups in large cages, pigs can move freely, run and jump, will be "happy".
"When pigs are happier, the quality of pork will be better, and consumers will benefit more, while farmers will better handle waste and environmental problems.", said Mr. David.
Mavin was established in 2004, starting from a small animal feed factory in Hung Yen. With a small number of workers, old production lines, the dream of completing the value chain from farm to table (Farm to Table) seemed impossible, President Mavin recalled.
"I first discussed the possibility of bilateral cooperation with Kyle Kelhofer, then IFC Country Director for Vietnam, Cambodia, and Laos, in December 2020. At that time, we talked not much about financing options, but more about co-branded consulting services, and possibilities for cooperation in agricultural development in Vietnam."
"As we discussed further, we realized we had an opportunity to develop the livestock industry, techniques to combat African swine fever and modern farming practices including animal welfare and animal husbandry. group raising sows", shared Mr. David.
With the support of IFC, by 2025, Mavin's breeding pig herd is expected to increase to 7,500 pigs (GGP) and grandparents (GP), reaching a total of 15,600 pigs; The size of the broodstock (PS) herd increased to 72,000 heads, reaching a total of 87,400 heads. The increase in the number of breeding herds as above will increase the scale of commercial pig farms three times, reaching about 150 farms, increasing Mavin's supply capacity to the market to about 900,000 pigs per year. .
"The investment in Mavin is part of IFC's joint crisis response effort to African Swine Fever, a rapidly spreading and deadly swine fever that poses a serious risk to food security, particularly in a country like Vietnam, where pork is the main source of animal protein", said Mr. Daryll Dong, IFC's Acting Country Director for Vietnam, Cambodia and Laos.
Currently, Mavin has 2,600 employees, operating self-contained in the fields of animal feed processing (Mavin Feed), animal husbandry (Mavin Farm), food processing (Mavin Foods) and veterinary medicine production (Mavin Vet). ). Mavin's closed chain operation is an advantage that helps the Group optimize production costs and strictly control biosecurity.
https://cafebiz.vn/ifc-rot-52-trieu-usd-vao-mot-tap-doan-chan-nuoi-lon-tai-viet-nam-va-cau-chuyen-nen-chan-nuoi- ben-vung-tu-nhung-chu-pig-vu-ve-2022051512064989.chn
You are reading the article
IFC poured 52 million USD into a large livestock corporation in Vietnam and the story of sustainable farming from happy pigs

at
Blogtuan.info
– Source:
cafebiz.vn
– Read the original article
here