Walking exercise on Long Bien Bridge on the morning of May 15, Nhat Minh, 27, an office worker suddenly saw lifebuoys along the bridge, facing the Red River. On each buoy is written the words "lifebuoy, don't take".
"I was very curious and after finding out that not only Long Bien, other bridges in Hanoi crossing the Red River such as Thang Long, Nhat Tan, Chuong Duong, Vinh Tuy and Thanh Tri, are also equipped with lifebuoys. life, with the hope of helping drowning victims," ​​Nhat Minh said.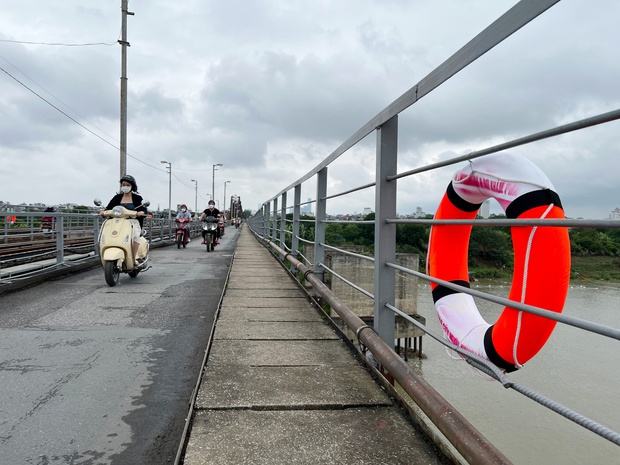 Lifebuoy on Long Bien Bridge
Clip: Lifebuoys appear on bridges in Hanoi
"Lifebuoy, don't take"

Mr. Nguyen Ngoc Khanh, 35 years old, team leader of the Discovery Swimming Club, said the activity of hanging lifebuoys on bridges over the Red River in Hanoi is a small part of the program "Love the River". Hong" started by him in April.
The group plans to hang hundreds of lifebuoys on bridges running along the Red River in 6 provinces and cities from Lao Cai to Thai Binh.
In Hanoi, from the morning of May 14, a group of 20 people, mainly the parents of children in Khanh's free swimming lessons, divided into groups and went to each bridge to hang lifebuoys. Members either walk or ride motorbikes, depending on the size of each bridge, working from morning to night.
To fix the buoy, the group used steel wire and twisted it into the bridge's wall, directing the buoy to the Red River.
"We have hung a total of 33 lifebuoys at 6 bridges in Hanoi, on average there are 5-6 of them," Khanh said.
With the words "lifebuoy, don't take", he hopes that if someone intends to steal a lifebuoy, when they read this line, they will think again. Each lifebuoy is not of great value, only 100,000 VND/piece, but it can save a life.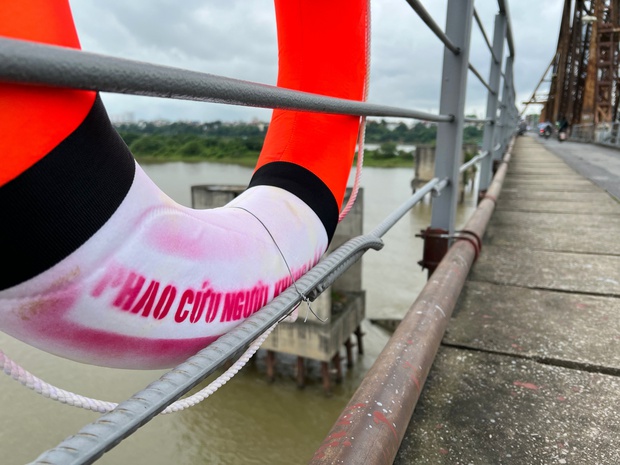 The words "cannon save people, don't take" is printed on each lifebuoy
Before that, from May 6 to 8, the Discovery Swimming Club hung lifebuoys and organized programs to teach swimming, familiarity with the river, rescue and rescue, in 3 provinces of Lao Cai, Yen Bai and Tuyen Quang, received positive support from the community.
"When we brought buoys to hang on the bridges and held swimming lessons, people were surprised, saying that so far a lot of people have found death by jumping," Khanh recalled.
In the city. Yen Bai, the group experienced swimming 3km in the middle of the Red River, from Yen Bai bridge to Bach Lam bridge. When they got ashore, people exclaimed "Aren't you afraid? This bridge used to have 4-5 people commit suicide", making Mr. Khanh startled.
When he walked along Yen Bai bridge to hang a lifebuoy, he accidentally saw a neatly folded notebook, next to it was a slipper. When opened to read, the group knew it was a debt book.
"When people are under life pressure, come to the end and have no one to share, often find death and waste a long life ahead", Khanh said that is the reason, the group decided to hang up. Floating on bridges, can in many cases be the last resort for those who made a mistake to cling and return to life.
Ha Van Cuong, 24 years old, living in Lao Cai, joined the Discovery Swimming Club 3-4 months ago, after once by chance with a friend went swimming in the Red River.
Like other members, he supports hanging lifebuoys on the bridge, hoping to be an indirect means of helping drowning people who want to save drowning victims.
"Especially, this time is in the rainy season, there are many unfortunate people on the river and there are people who lose faith in life and think foolishly," said Cuong.
Talking to us, a ward leader of Long Bien district said that he had caught a group of volunteers hanging a lifebuoy on Long Bien bridge. According to this position, hanging buoys on the bridge is related to urban civilization. If safety is ensured, someone is on duty when there is a bad situation, and then releases a lifebuoy, then that is a beautiful action.
"However, we also need further testing and verification," the leader said.
Lifebuoys on Chuong Duong Bridge, fixed with steel wire
From the "missing death" to the mission for the community
Nguyen Ngoc Khanh founded the Discovery Swimming Club after a "missing death" due to drowning nearly 4 years ago. Recalling, in 2018, he followed the group Long-distance swim to a hydroelectric lake in Thanh Hoa. After 15 minutes in the water, it started to get dark, the members got used to it, so they quickly swam straight to the finish line, but he was confused, forced to take off his glasses and swim with his head up to shape.
Endurance decreased, body contractions appeared, Khanh began to fear, telling himself "up to 9 parts will die".
"While my limbs were staggered and waved, I discovered the white lifebuoy of a swimmer first, so I quickly grabbed it and swam to the shore. At that time, the astral soul turned back, the pale, white face was gone. a drop of blood," Khanh said.
After that "missing death", he was determined to practice swimming professionally and methodically to protect himself. In 2019, he sought out experienced coaches to hone his technique and level. Initially, he chose to swim in rivers and lakes with close distances from 10km to 20-30km.
In early 2020, Mr. Khanh founded the Discovery Swimming Club with the aim of "bringing the Red River closer to everyone", satisfying the passion for swimming with people with similar interests. The club often practices in the Red River, lake, sea… organizes many swimming pools up to 40-50km long. Besides, the members also went to exchange and connect with fellow enthusiasts in Vinh, Quy Nhon, Ho Chi Minh City.
"We swam across the bridges, from morning to night. There were swimming trips from 10pm to 5am, together to welcome the dawn," he said.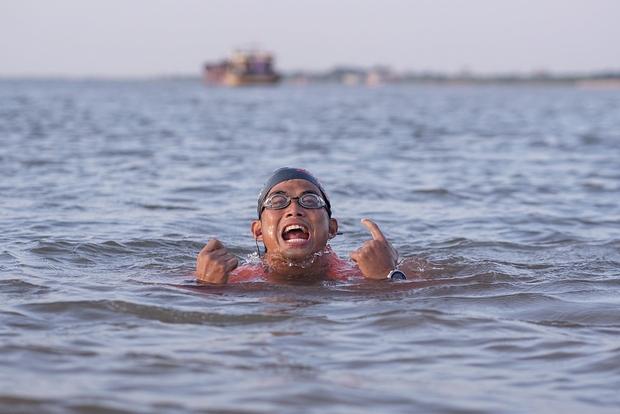 Mr. Nguyen Ngoc Khanh, captain of the Discovery Swimming Club (Photo: Provided by the character)
In November 2020, Mr. Khanh came up with a "fierce" idea, swimming 200km on the Red River, starting from Long Bien Bridge (Hanoi) to the destination of Ba Lat estuary (Thai Binh). In the 3-day journey, there were 5 members participating, but only 2 people completed the goal, Mr. Khanh and another friend.
"I have organized swimming competitions called 'Red River Warriors', which will take place in Hoa Binh in June, bringing together many athletes from many countries and even Vietnam." he shared.
In April 2022, one night, Mr. Khanh thought about the mission of the Discovery Swimming Club. After 3 years of operation, now has more than 4,000 members, besides satisfying his passion for swimming, he wants to contribute to the community through practical knowledge.
He posted a photo on his personal Facebook page, calling on people to act for the community through the program "Love of the Red River". After one night, 50 volunteers signed up to participate. It was this enthusiastic support that motivated him to carry out the program.
Lifebuoys on Vinh Tuy Bridge
"Red River Love" is expected to last 10 weeks, with activities: free swimming lessons for children in 6 provinces and cities along the Red River; disseminate correct knowledge about swimming; first aid skills; understand drowning rescue; hanging lifebuoys on the bridge;…
"Summer is coming, I am very sad when I read information about children drowning. We need to equip ourselves and our loved ones with basic skills, especially swimming. Young people and parents please appreciate it. the spirit of drowning prevention, the correct definition of swimming to avoid unfortunate situations," Khanh said.
https://kenh14.vn/33-chiec-phao-cuu-sinh-xuat-hien-tren-cac-cay-cau-o-ha-noi-va-cau-chuyen-y-nghia-dang-sau- 2022051518094206.chn
You are reading the article
Lifebuoy on Hanoi Bridge

at
Blogtuan.info
– Source:
Kenh14.Vn
– Read the original article
here