Not only famous for the songs "Mother's heart", "Father's love", singer Ngoc Son is also known as an extremely filial son. For Ngoc Son, his parents are everything, and his body doesn't even care. His mission, his fate as predetermined – born to be filial to the one who gave birth.
"My mission is to be born to honor my parents"
When it comes to Ngoc Son, in addition to life-long songs about sacred motherhood, what the audience cannot help but think about is his filial piety to the birth. When you heard that compliment, when your mother was still alive and when she was gone forever, what was the difference in your feelings?
When my father died, I was not prepared for the departure of my parents, so at that time, I "closed" myself, for several years not going to sing. I'm sad, not interested in dancing on stage.
I love my father, I love my mother so much, so much so that I think that if my parents died, I would surely die and not be able to live. It's a natural feeling in my flesh and blood. Each person has a mission, but I think my mission is to be born to pay filial piety to my parents.
Before my mother passed away, I took her everywhere for treatment. I dedicate all my assets to my mother, just wish her a happy and healthy life. Even if my body doesn't care, property is just a small matter.
My mother passed away while Covid raged, everyone was at home. I was in great pain, crying for days and nights. But thinking back, looking around, there are so many people who have lost their fathers, mothers, and more miserable situations. I want to share with others, but I am afraid that others will share against me, so I tell myself to be strong and overcome everything.
I write music, practice sports to bring people positive energy and also use that as positive energy for me. But really, everyone has pain. However, now that I've recovered and have a huge responsibility, the time I spend with my parents, the time I spend with my extended family, flying around performing.
At the time of his mother's death, he was an F1 who had to isolate, not being close to his mother at the last moment. Did you hear your mother's last words?
I couldn't hear anything. Mom left, I don't care at all. In this life, I can take care of my mother completely until the day she lies down, I'm happy, full of filial piety. For a long time, I didn't go on TV because I took care of my mother. I'm the only one left to take care of my mother, because each of my brothers and sisters has their own place.
Are you tormented because when your mother died, I couldn't be with you?
I was in pain, it still hurts to this day. When I lay down at night thinking about my mother, I still shed tears. Honestly, the pain of losing my mother still hurts in my heart, but when I think about that pain, I think of my extended family. There are many people who have also lost their father and mother like me, so they have to be more steadfast to overcome everything.
For decades of singing, no matter how much money he made, he gave it to his mother to keep it. The property is also in the mother's name. When his mother died, he had nothing left in his hand…
Nicknamed "child Buddha", not interested in material possessions
What is it that your mother always taught you when you were alive?
I love you enough. A mother's love is enough for a child to grow up and mature. At home, people call me "buddhist child", not knowing what resistance is. Honestly, when I was a kid, I wanted to become a monk. I'm so gentle, I can't touch anyone. Not to mention, half of the paternal family is a monk.
My father is Pham Ngoc Thanh, first class resistance medalist. I took that picture and set it as my phone wallpaper, showing off everywhere I go. That is my pride. That's enough, my inheritance is a big family.
Going through Covid, I didn't even have money to pay for insurance, so I had to beg again. The student said, "If you have anything to say to me, I will subsidize it" but I say it. Slowly, it passed, still alive.
With singer Ngoc Son, mother is everything. Worrying about his mother until she lay down, he was already very happy. Even the house he is living in now, he has donated from sugar to the family.
When his mother was still alive, all of his assets were in her name. Money to sing home also gives her mother. So when his mother died, how was his property handled?
Everything is in my name. The mother's phone is kept by the daughter-in-law. I don't know anything and I don't care. Mom passed away peacefully. As for the house I'm currently living in, I've donated it from the family line. Other properties, slowly handle later.
Materially, I have nothing but I have the affection of an extended family. I live only to pray for happiness and responsibility for my extended family. That's why I work day and night. Sometimes when I miss my mother, I cry. Just like yesterday, I suddenly missed my mother, tears welled up again.
However, I still do weightlifting, very strong bodybuilding. My voice is very strong, never hoarse. Four wall falling is strictly prohibited, do not play. When I went to perform abroad, they offered very good wine, I definitely didn't use it. I'm a singer so I have to keep my voice.
Although he did not care about property, he worked all his life, in the end, he was almost empty-handed. Aren't you a little sad?
No. My mom understands what kind of person I am. So when the mother leaves, leaving nothing is right. Mother understands my personality, life is for all. This place heard about Ngoc Son land, that place Ngoc Son's house, but all books and papers were lost. I don't care. My mission is to take care of my parents. If we are good to our parents, we will be good to others.
And since before I built the house, I thought, I'll donate the house made from the road later. I thought that from the beginning so I didn't mind. In return, I have many close brothers.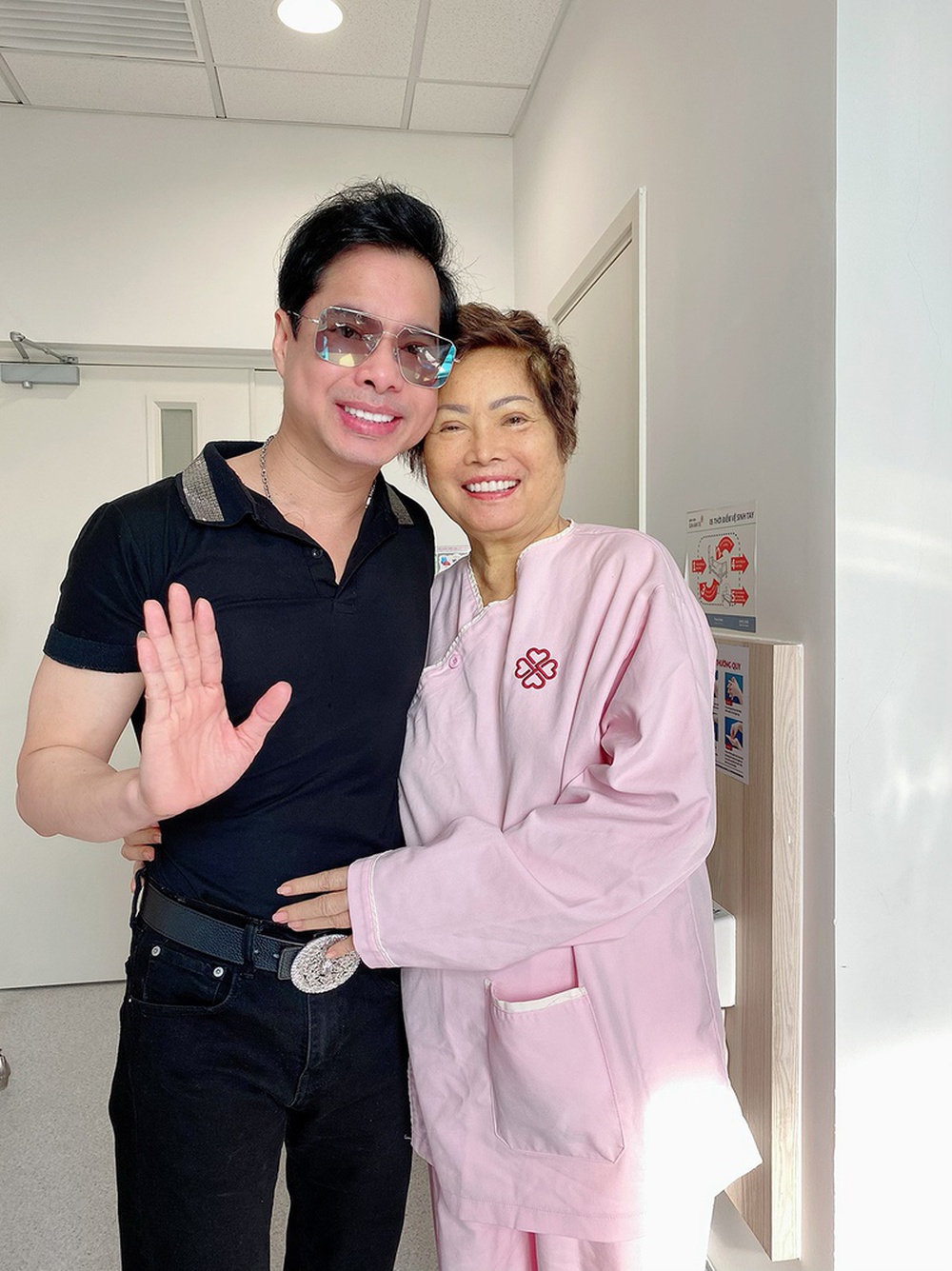 "If we are good to our parents, we will be good to others," said singer Ngoc Son.
The story of the wild hen's egg and the moral lesson
In his eyes, everyone is good, everyone is an angel. Have you ever been fouled?
With the brothers in showbiz, everyone I love. Showbiz is the most complicated gender. They are good, not bad. Because they appreciate the audience's affection, they want to sing first, afraid that the audience will leave.
I don't look at anyone with ugly eyes. In showbiz, collision is normal, I never get angry with anyone. That is the monastery. That is the blessing of grandparents.
In the past, my father taught me that lying will meet a lie. Liars will never be lucky. At that time, my family was very poor, only ate rice with tapioca and seeds.
Seeing my mother struggling, I asked her to let me sell cigarettes. I ran to the port to sell. Selling 2 cigarettes a day. Because I just arrived, before I could say hello, another friend came begging. I feel so guilty, so I don't invite anymore. I'm too kind, I can't trade.
That day, on the way back, I saw a wild hen's egg. I grabbed the egg, glad I was hungry. About boiled eggs, I was about to eat but thought again, reluctantly put the egg back where it was and felt at peace.
When I think back, I feel proud because since I was a child, I was aware that "poor must be clean, torn must be fragrant". I have never been able to criticize anyone in my life. When I say bad things, I feel bad first, so I always empathize, love and appreciate everyone and what comes to me in this life.
Men tend to choose a lover, a life partner like their mother. Are you like that? Is it because he couldn't find a woman close to his mother, so the love affair has failed until now?
Not. Meeting is fate. I love a woman with a beautiful soul, but on the outside I look at too many beauty queens, if I'm shaken by her appearance, I'll die. I'm "polite brother Ba". Everyone has a hobby. People like tall houses, big houses, building with diamonds, inlaid with gold… but my biggest fortune is the music and the love of my extended family.
Sometimes I think, I don't know what I live for. I am manly, love women very much, but I dare not play with it, because of my conscience, so I live alone. I practice, fight with myself, be a vegetarian. I choose not to have children. My children are musical brains.
I focus on health, weightlifting and composing a lot instead of thinking about my mother. I contribute to society and consider it fun for me. People live today and die tomorrow, I donate in front of the house to give from the road, so I can rest assured to live the life of silkworms for the rest of my life, repaying the great family.
In today's society, there are many filial children, but there are also many unfilial children. There are also many "bad" parents with their children. Do you have any words you want to convey to them, through your story?
The key to my success is 8 sincerity. Of these, three are extremely important. One is filial piety, honoring father and mother. That is not to show people but the spirit of my soul. No matter how famous you are, if you are not filial, you will immediately collapse.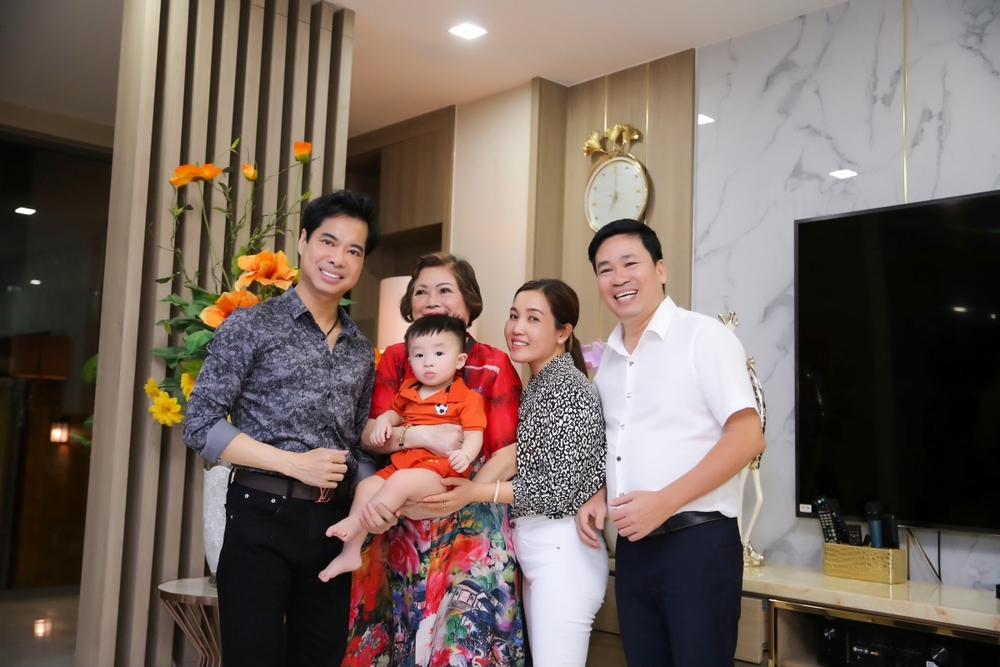 When her mother was still alive and even after her mother passed away, Ngoc Son was always active in charity work. To him, life is giving everything.
The second is to respect the teacher. I have many students. Students repay me by being filial to their parents first. The expression of the master respects the way by his own path, the way he treats people. Don't blame life, blame people, blame yourself. I got a lot of bad rumors but I don't blame anyone.
Artists are old, many people are lonely, have to live in nursing homes even though they have children and children are not so poor. What do you think about these situations of seniors? What do you think about children not taking care of their parents in old age?
I love you so much. I also organize many programs to visit the elderly, just sharing. But that life, giving birth to a child, not everyone has filial piety. If everyone had filial piety, there would be no need to learn more advice on honoring parents and being filial. Life has this person, that person. Everyone's fate is different. Well, let's "plant the tree of virtue" first.
Thank you for your sharing!
https://soha.vn/ngoc-son-me-qua-doi-toi-dau-kho-tot-cung-khoc-sung-mat-may-ngay-may-dem-2022051115111688.htm
You are reading the article
The anecdote of "the baby Buddha", the wild chicken egg and the mission of filial piety to parents

at
Blogtuan.info
– Source:
Soha.vn
– Read the original article
here