Business
"The doctor told me to feed him, but I still have to give him delicious food"
One sunny afternoon in Thuan Thanh district, Bac Ninh, just finished eating lunch, the voice of Mrs. Phan Thi Tuoi (62 years old) softly reminded her two grandchildren not to play anymore, go to bed to get strength for the afternoon study session. . A tall, thin woman with black pepper and silver hair entered the house. The house is about 40 square meters, a place to sleep, rest and study for the couple and their three grandchildren.
Sitting to rest, Mrs. Tuoi opened her heart, most people thought she was healthy, but in her body, she now has many diseases such as joint pain, headache, back pain, … especially cancer. thyroid letter.
She said, in 2019, when she once felt that her body was not feeling well, she asked her first son to take her to the provincial hospital for examination, then was referred to the Central Hospital in Hanoi. There she was diagnosed with thyroid cancer.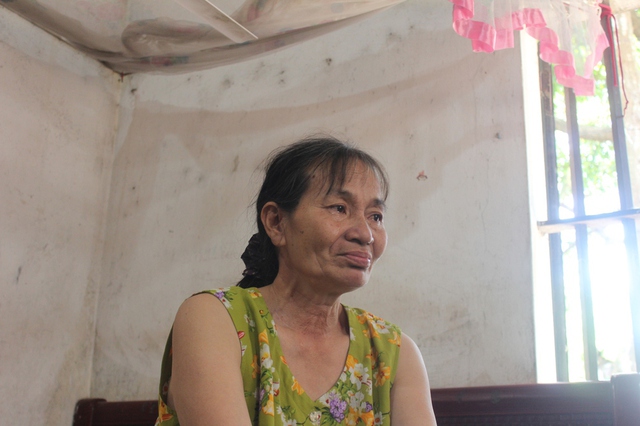 Mrs. Tuoi was sad when she mentioned her illness.
Shocked to know that they have a serious disease, the family has no conditions, the little capital the couple has left has to be taken out for treatment. Wondering and thinking a lot, she was encouraged and comforted by everyone. She decided to undergo surgery and chemotherapy. After 10 days, she was discharged from the hospital and went home. She returned for a follow-up visit every 3-6 months.
"How much money at that time, the husband and wife spent all, and then the children gave more to overcome that time, but did not dare to borrow from brothers and neighbors for fear of not being able to pay. The doctor told them to go home to eat. Drink in moderation, abstain from a few things. But the family can't afford it, it's good enough to have 3 meals. Even on some days when there's delicious food, we still have to give it to 3 grandchildren because it's too young." Mrs. Tuoi burst into tears.
Having a serious illness and a burden to make a living
Referring to her family situation, she looked at Dong Khai – her grandson who was born without two hands and was hard at work writing words with her feet. She said that she and her husband Nguyen Van My (63 years old) got married late, because her husband had been in the army for 12 years. After that, the two of them fell in love with each other, so they became a relationship, they gave birth to 3 children, the oldest son is 36 years old, married and has 3 sons. And the youngest daughter, 28 years old, has worked far away and has not been married.
Currently, grandparents stay at home to take care of 3 grandchildren so that the husband and wife can focus on doing business. In particular, as the second grandchild with a birth defect, Khai was born without two arms like other friends.
"There is no one in my family with the same condition, her mother continuously went to the doctor for many months of pregnancy and was diagnosed by the doctor that the fetus was completely healthy and had no problems. But on the day of birth, both sides of the family Grandma was shocked when she heard that she had an arm defect. Couldn't believe it was true, it took us a long time to accept it," said Mrs. Tuoi.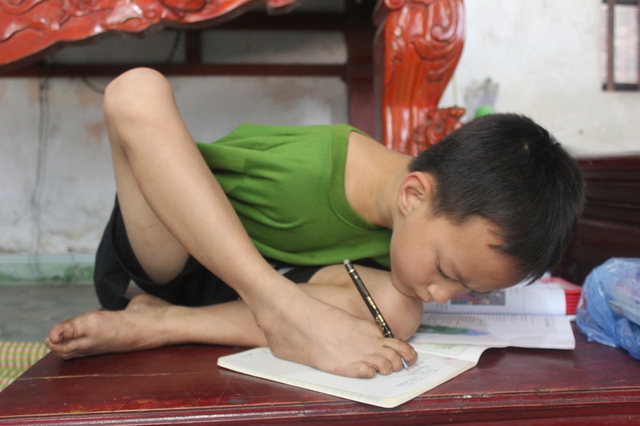 At the age of 8, her grandson Tuoi had the energy to overcome fate
The two grandparents have worked hard to take care of their grandchildren since childhood until now. Khai is now in grade 3, learning to write with his feet since he was 3 years old. Thanks to her efforts, Khai was able to study like his friends and was very obedient, and Mr. and Mrs. Tuoi also had some peace of mind.
Before, when she was not ill, Ms. Tuoi used to work seasonally at companies to earn some income and do extra work in the fields to take care of her family's living expenses, sometimes she could even buy this and that for her grandchildren. But for 3 years now, since she got sick, she can't work anymore, her health is weak, she just hangs around at home to work as a farmer and earns a little or a little.
"Now that I've worked for a while, I'm already panting, talking a lot of times I can't even breathe. I can't work at the company anymore. I just go to the field, anyone who hires a job that fits their needs to do it for 1-2 hours and then go home. home," said Mrs. Tuoi.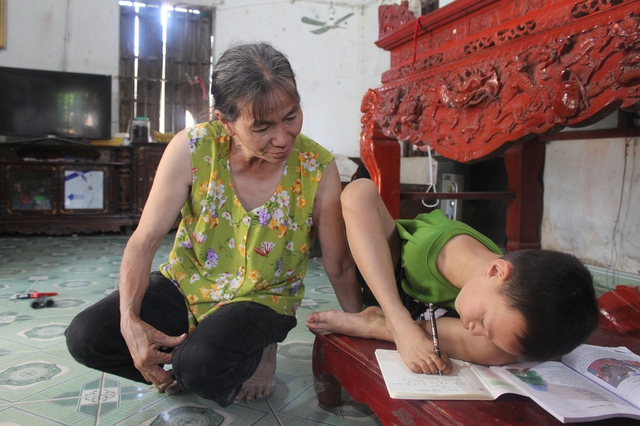 In her spare time, Ms. Tuoi often accompanied Khai to study on behalf of her husband.
Looking to the future, the 62-year-old woman only wishes that her family life would be less miserable and less burdensome, that she would be very happy.
Mr. Phung Dinh Thao, head of Phu village, Ninh Xa commune, said that Mr. Nguyen Van My's family had a difficult situation that everyone in the village knew. In particular, his wife has had cancer for many years, has 3 grandchildren, one of them is unfortunately disabled, parents work all day to take care of 3 grandchildren, so it is quite hard.
https://soha.vn/ba-ung-thu-cham-chau-tan-tat-bs-dan-boi-bo-nhung-toi-con-phai-nhuong-do-ngon-cho-chau-2022051500846064. htm
You are reading the article
"The doctor told me to feed him, but I still have to give him delicious food"

at
Blogtuan.info
– Source:
cafebiz.vn
– Read the original article
here