The strange "supplementary" alley
Along suburban Hanoi Once upon a time, everywhere was empty. Only the Diem Go factory is bustling, because there are many dormitories around, including my alley. Young and old, young and old, morning, afternoon, evening. Our life revolved around a piece of rice and clothes thanks to the matches.
My grandfather, parents, aunts and uncles and neighbors all worked in the match factory. Adults work as factory workers, old people take on miscellaneous jobs such as folding boxes and stamping stamps. Our children were learning to glue the match tray. The word "expertise" is called… bottom paste. The smell of rotten glue became the typical "perfume" smell for the children in the match group. Go to Yen Vien station or Ninh Hiep market to play, they are all recognized.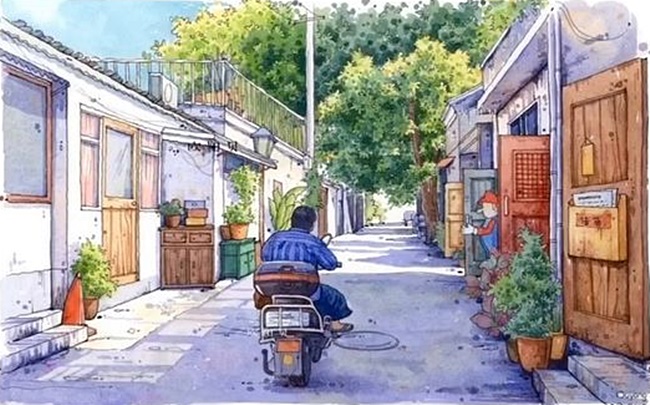 I often hide from napping and follow my neighbors to the dyke of the Duong River. Catch frogs, pick flowers, release paper boats, and steal bottom plywood to make toys. People dry wood all over the dyke, the smell of fragrant wood mixed with flowers and grass makes me never forget the taste of my hometown. Several times when my grandmother caught me, I was full from the river to come home. I don't understand why she always carries a small bamboo fan, the sound of the fan hitting her butt is so dull that she can't even dream!
My alley is located at the end of the dormitory, short, small. The people there call it "supplementary bed" because the architecture of that area is quite strange. I don't know who designed the house and kitchen to be separated into 2 parallel rows. In the middle is a small shared walkway, like a thread, putting a bicycle in is tight.
It's okay if it's sunny, but it's raining heavily and the alley is flooded, the water in the kitchen can't do anything. Wanting to shower and go to the toilet, I had to take the potty out and sit in the middle of the house, waiting for the rain to dry before I could run to the kitchen. I didn't dare to get up at night, so I had to call my grandmother to turn on the light. Several decades later, the whole alley contributed money to rebuild and repair the kitchen attached to the house.
Uncle Minh Chao is passionate about ghost stories
In the order of 6 houses in the alley, the gable is Uncle Long's house, then Mrs. Che's house, the middle is Uncle Ngan's house and my house, the last 2 houses are Miss Quynh and Uncle Tuyet respectively. The 6 families are all very close to each other, feeling like blood.
Uncle Long is as thin as a corn plant, often sitting at the front of the alley singing yellow music. The whole article is heartbroken, because everyone knows that when he was young he was "kicked" the first time he fell in love. So he swore not to love anymore, even though his parents cursed him, he decided to be single. He sings very badly, like a crab crawling on asphalt. But the whole neighborhood felt guilty, so no one cursed!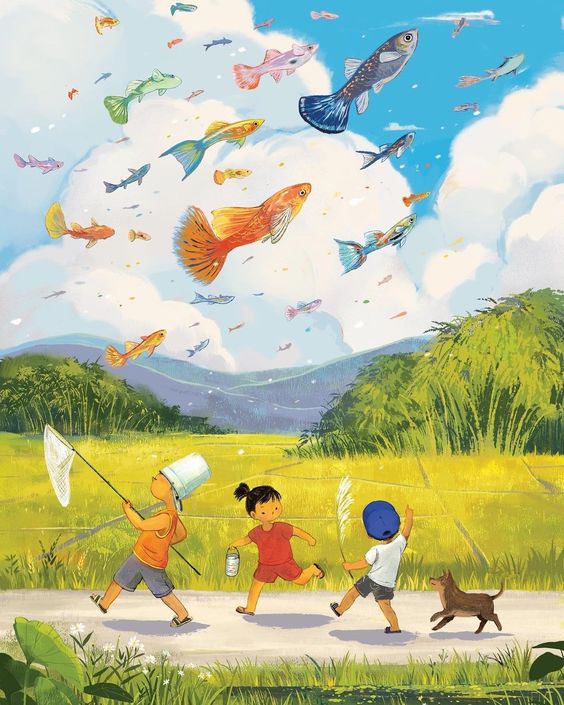 Uncle Ngan's family has 2 sons a few years older than me. All day long, the brothers fought fiercely, sometimes playing on TV, sometimes snatching toys. Well, both of you guys are gallant to me. When I get bullied at school, I have 2 escorts. Then the brothers fought with the bullies in the school, and then went home the three of them were beaten up at the same time. Seeing us face the wall together, the children in the alley brought out rice bowls and "coffee". That's right, kids!
The whole sky of my childhood was filled with such joy, if not counting the "creepy" memories of a man named Minh Chao. He is the son of Mrs. Che, who used to be in the same class as my mother. My mother said that Uncle Minh studied very well, each feature is "steamed bran on the lid". The nickname Minh Chao was born in quite funny circumstances. Mrs. Che said that when he was a child, he fell and broke his tooth, so eating porridge was so delicious that he was fascinated, asking to eat porridge instead of rice all day.
The children in the alley both love and fear Uncle Minh. Love because you are good, you can do anything. We messed up and broke anything and brought it to your uncle to fix it. In addition, he also cooks well, sometimes when he cooks a lot, he will share a little for each family. My favorite is the melon soup cooked with beef music, which is both soft and fragrant, suitable for hot summer.
However, Uncle Minh has a strange hobby that makes us children afraid of blue eyes. That uncle is very good at telling ghost stories! But this handsome uncle never told when it was dark. Every morning when we were about to go to school, he would gather the whole group and open a horror show to greet the dawn! There were ghost stories in the bamboo bushes, there were ghosts on the riverbank, and there was a spark in the ditch where we used to catch tadpoles. One story a day, it must be called fear of shrinking!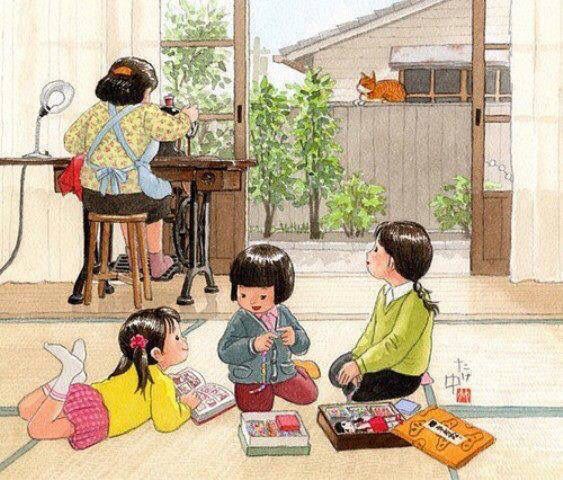 A few times, Uncle Minh Chao acted "exaggerated", threatening to be too enthusiastic, so we cried. My best friend Stoo even took his pants off, so he had to borrow my pajamas to go to school. Mrs. Che saw that her son had a "short circuit" so she took the broom to chase. Almost 30 years old, but his mother beat him to not miss a single shot! And "Minh Porridge" became a powerful keyword, reminding everyone of old memories and shivering.
Then the matchbox gradually became an "old-fashioned" item. Still exists but not many people use it. So the collective area gradually dispersed, people sold their houses to other places to make a living. The bottom drying match racks gradually drifted into the memory, we young people also grew up. Mrs. Che died, Uncle Minh Chao moved back to his hometown, Uncle Ngan and Ms. Quynh sold their house to buy an apartment. Only my house and Uncle Long remained in the small alley.
Many times I wish to go back to the good old years. In order to eat a bowl of morning glory vegetable soup cooked by grandparents, stealing fruits around the area, wading to catch fish in a tiny alley. Being able to run barefoot on the bank of the Duong River, and smell once again the smell of past glue…
https://afamily.vn/nhung-cau-chuyen-li-ki-buoi-sang-cua-chu-minh-chao-ma-bon-tre-trong-xom-king-men-vua-so-va- con-ngo-bo-luong-duom-mui-diem-20220515053507163.chn
You are reading the article
Thrilling stories in the morning in the collective alley

at
Blogtuan.info
– Source:
Afamily.vn
– Read the original article
here