Chuyện lạ
Twins born at just over 22 weeks old miraculously survived
The world's most prematurely born sisters Kambry and Keeley Ewoldt, born at 22 weeks and 1 day, passed the door of death, miraculously survived, now 3 years old.
Sisters Kambry and Keeley were born at the University of Iowa Hospital in Iowa, USA on November 24, 2018. The couple was named as the world's most prematurely born twins miraculously survived.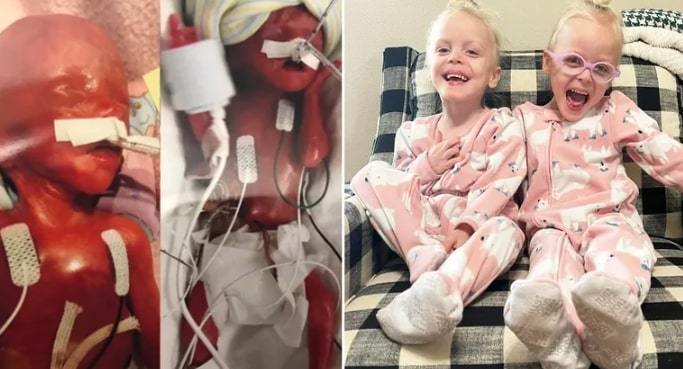 Twins born at just over 22 weeks old miraculously survived
It is known that the couple's due date is March 29, 2019, but their mother had an unexpected incident and was forced to give birth when she was 22 weeks and 1 day pregnant.
The doctor said, 22 weeks pregnant is still very small, the baby still has eyes closed, the nervous system is developing and perfecting the senses. Jade Ewoldt, the mother of twins, said: "24 hours after my water broke, I gave birth to two babies. Everything came to me very suddenly."
The twins' family knew that the chances of both surviving were very low. At birth, Keeley weighed 490 grams, while Kambry weighed only 449 grams.
Although health care experts warn that Jade Ewoldt will face a long way to help her two children recover, she remains hopeful.
At 16 weeks pregnant, Jade Ewoldt was diagnosed with a serious twin-to-twin transfusion disorder. This happens with identical twins, who share the same placenta, one baby gets more blood while the other gets too little.
This disorder affects both children, one older and the other smaller. If left for a long time, it will be very dangerous to life, possibly leading to the death of one or both sisters.
After months of intensive care at the hospital, Kambry and Keeley were able to return home for the first time in 2019. The couple suffers from chronic lung disease, and life is also difficult.
Like any mother, Jade works hard and adapts to her new life to ensure her daughters have everything they need to thrive.
By 2020, babies are starting to talk, but Kambry shows signs of autism, doesn't speak much, and parents have to teach them sign language.
"Instead of trying to get her to speak, we teach her sign language and that makes her much more comfortable," says Jade Ewoldt.
Everyone knows that in cases of being born too young, only 23 weeks old, if the baby survives and develops healthy, it is called a miracle. The fight for the life of the couple Kambry and Keeley is considered miraculous.
The Ewoldts have grown up to be twins as strong and happy as any other toddler. The twins are going to school for the first time this fall.
"This really challenged our family's lives. Going through it made us stronger. We learned to appreciate life, to appreciate every single, small moment every day." , said Jade Ewoldt.
Hoang Dung (synopsis)
You are reading the article
Twins born at just over 22 weeks old miraculously survived

at
Blogtuan.info
– Source:
infonet.vietnamnet.vn
– Read the original article
here