Giáo dục
Life Style
A Hanoi male student won a scholarship of VND 6.2 billion at Colby College to share his study secrets
Nguyen Nhat Minh (SN 2003), lives in Ho Chi Minh City. Hanoi. Previously, I was a former student of Viet Duc High School. Currently, I am a freshman at Hanoi University of Science and Technology. Recently, Nhat Minh was one of 7 excellent students to receive a scholarship at Colby College (USA), worth VND 6.2 billion / 4 years. The male student has reserved his study results to hastily prepare documents to study abroad.
Outstanding academic achievements of male student Nguyen Nhat Minh:
IELTS 7.5; GPA: 8.9
SAT 1520 (Top 1% of highest scorers in the world)
Scholarship of 6.2 billion VND / 4 academic years
Join clubs such as: Techgicians Club (Children's Science); Tech-us (Make hand washing machine); Kite-runner (Teaching ethnic kite making); B'Touch (Conservation of bears in Cuc Phuong forest); App puzzle game (Conserve the Bears); Portfolio (Drawing about pets).
A male student in Hanoi shared that he never thought about studying abroad until 12th grade. His family is not well-off enough to spend a large amount of money on studying. Furthermore, I am not confident in my own abilities. However, in grade 12, Nhat Minh saw some of his classmates preparing to study abroad, which prompted him to find a new direction for himself, instead of studying at a university in the country.
Therefore, even though he is studying at Polytechnic University, Nhat Minh is ready to "gap year" to prepare documents and procedures. Male students applied to 7 prestigious schools and were all accepted, which are: Drexel University; Michigan State University; Miami University (Ohio); Wabash College; Ohio Wesleyan College; Depauw University; Colby College. In which, Colby College is a famous school for science training, giving him a "terrible" scholarship worth 6.2 billion VND for 4 years of study.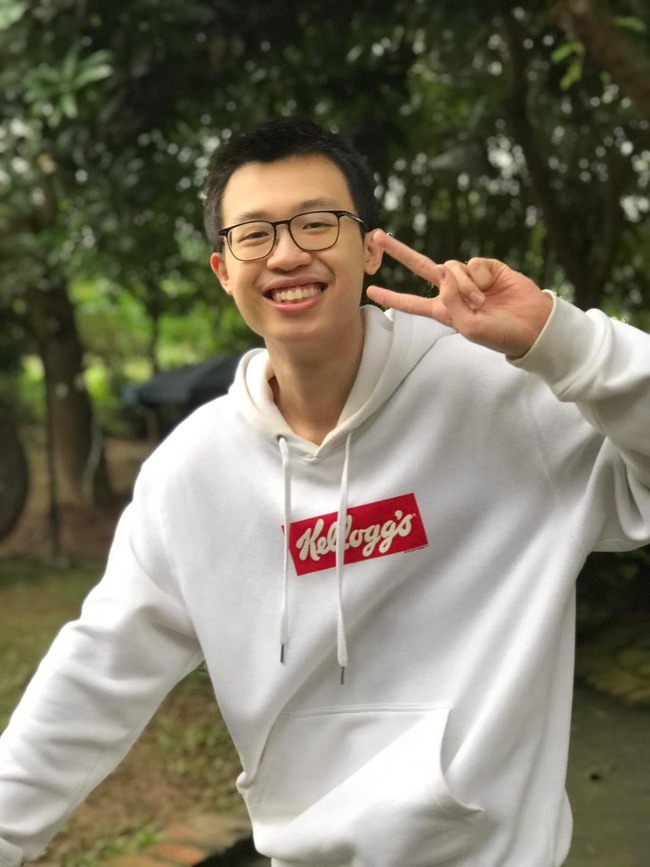 READY FOR 1 YEAR "GAP YEAR" TO FIND YOUR OWN DEVELOPMENT OPPORTUNITY
Since childhood, Nhat Minh has been passionate about science and programming. Therefore, Colby College is a perfectly suitable school, I chose to pursue Computer Science to develop my future work.
Nhat Minh shared: "The school belongs to the LAC block (top liberal arts universities). That means I can not only study subjects related to my major but also learn and practice many other interesting subjects such as: History, Geography, Biology study… In the US, Computer Science students have good jobs when they graduate, with salaries up to 100,000 USD/year (about 2.3 billion VND). career prospects".
"I personally can't believe I got accepted to the school I've been dreaming of for a long time. Colby College has a very competitive rate, only offering scholarships to very few international students. Therefore, when I received the notification email, I was bursting with happiness and joy", Nhat Minh said.
Colby College also has strengths in professions such as: Economics, Business, Biology, Data Science, Computer Science, Artificial Intelligence… This school year, the school only accepts about 50 students, in which the number of Vietnamese students is 7 people.
The school is located in the city of Water Ville, Main state, northwest US). The school is close to Canada and New York City – where the economy and education are rated as the world's leading development. The weather in Main state is cold, it takes about 20 minutes to go to the city center. However, the transportation is convenient because there are buses, trains, planes, etc. Nhat Minh feels excited when he is about to discover the culture in the West.
A male student in Hanoi also shared that he was interested and passionate about learning English from a young age. I often entertain myself by listening to music, watching movies, reading stories, listening to podcasts… in English. Therefore, even on the first IELTS test, there was no need to practice too hard, but Nhat Minh still achieved a score of 7.5. After that, I tried my best to find out about scholarship packages in the US such as: Look up information on school websites and other reference materials on the Internet.
"Study abroad is not as difficult as I thought. I realized that as long as I make efforts to study well, improve English and participate in extracurricular activities, the chances of "apply" will be much higher."Nhat Minh said.
DISCLOSED SIMPLE AND EFFICIENT LEARNING SECRETS, WRITING EXTREMELY AMAZING ARTICLES ABOUT THE COLLECTION
Here are the learning tips and steps to prepare the application to study in the US that Nhat Minh has taken:
1. Academic achievement table:
IELTS 7.5; GPA: 8.9
SAT 1520 (Top 1% of highest scorers in the world).
How to take the SAT test to achieve the top score of male students:
Part 1: Reading and Writing (720 points)
Candidates read 5 texts and answer 12 questions related to each text. The writing part is about correcting the grammar and putting the appropriate words heard in the test. The content of reading and writing knowledge revolves around the following fields: Social Sciences, Literature, Economics, … related to the US. Nhat Minh considers this to be a difficult test for international candidates.
Part 2: Solve Math in English (800 points)
Nhat Nam considers Math knowledge to take the SAT much easier than that in Vietnam because the curriculum in the US is often slower. Math questions are more about thinking quizzes. In this test, the male student did not have any difficulty, he got a perfect score. My study tips are very simple, including only 2 words "hard work".
"Hardly listening to lectures, working hard on homework and studying hard, I think it's not too difficult to get a perfect score in this test." Hanoi male students confirmed.
2. Essay writing part
Essay 1: Write about an internship at a hospital.
Essay 2: Write about any topic expressing your personality, dreams and ambitions (650 words).
Nhat Minh chose to write about the mantis. Since childhood, I have had a love for animals and raised many pets such as: Hamster, fish, dog, rabbit, mantis, etc. I also draw many pictures of animals.
Nhat Minh shared: "I told him about my favorite animal when I was a kid, the mantis. But it didn't live long, passed away after a short time of being raised. Because of my pity, I dug a grave and made a grave for the mantis. On that day, it rained heavily, so I was very worried about the grave of the missing mantis. I decided to run out in the rain to see the mantis floating on the beach, extruding from the body an earthworm. .
I wonder why this happened. I researched everywhere by asking teachers, asking adults, looking up documents but there was no information. From the story of the poor mantis, I want to learn about programming and computer science to create an app (software) to help people manage and take care of their pets in the best way."
"I think it's thanks to the unique essay and good academic record that helped me get into Colby College. The essay is very important in the application process. Because of the limit of 650 words, it took me a lot of work. to write and edit. I have referenced how to write online and got suggestions from teachers."a male student in Hanoi shared.
3. Extracurricular activities:
Nhat Minh is an active member of many clubs in Hanoi such as: Participating in making automatic hand washing machines during the COVID-19 epidemic for the disadvantaged community; teach children how to make science toys with recycled materials from plastic bottles and milk cartons; Join the Bear Conservation Club in Cuc Phuong Forest,…
Although the weekly schedule and the application of studying abroad take up a lot of time, Nhat Minh still spends weekends participating in activities at clubs. Every week, there are in-depth meetching sessions (training, coaching) to provide members with useful knowledge. The male student was assigned the task of writing content to post on the group's fanpage and together with his friends to build community events.
Thanks to extracurricular activities that helped Nhat Minh change himself, even his parents were surprised. From a quiet, quiet person, I became a lot more vivacious, dynamic, and agile. Nhat Minh received a lot of useful knowledge and valuable soft skills such as: Presentation, communication, content writing, team management, etc. Now, male parents completely trust their son, feel I feel that I have enough health, intelligence and bravery to go to a far away country to study.
"Everything happens for a reason" (Translation: Everything happens for a reason) is a saying that Nhat Minh especially loves. The male student believes that everything that happens in life, no matter how bad, always brings a deep lesson and helps him become more mature. Therefore, when facing challenges, even failures, instead of suffering, blaming and blaming, we should strongly stand up and move on.
Photo: NVCC
https://afamily.vn/nam-sinh-ha-noi-gap-year-1-nam-giat-hoc-bong-tri-gia-62-ty-cua-dh-my-dua-con-bo- wao-bai-luan-tiet-lo-bi-kip-hoc-cuc-hay-20220513171742785.chn
You are reading the article
A Hanoi male student won a scholarship of VND 6.2 billion at Colby College to share his study secrets

at
Blogtuan.info
– Source:
Afamily.vn
– Read the original article
here