Khỏe - Đẹp
Accompanying pregnant mothers, the leading medical unit in Vietnam offers many attractive incentives for mothers and babies
From only 3,200,000 VND to perform the NIPT test package, pregnant women are completely assured of accurate and reliable results according to American technology as well as have the opportunity to receive many attractive incentives from MEDLATEC Health System.
The place to send all the faith of pregnant mothers across the country
A healthy pregnancy is a premise for the baby to have a comprehensive development future, so many pregnant mothers pay attention and choose a reputable medical facility with experienced doctors and fully equipped with current equipment. great to perform the examination.
Carrying out the mission of taking care of community health, over the past 26 years, the MEDLATEC chain of hospitals/general clinics across the country has always focused on converging a team of leading experts, investing in modern machinery and equipment. state-of-the-art facilities and expanded spacious facilities to best serve the people's multi-specialty medical examination and treatment needs.
In order to remove the worries of pregnant mothers, and with the desire to bring the best and most convenient service to pregnant women, MEDLATEC General Hospital and is providing convenient and fast health check and monitoring solutions for customers. thousands of pregnant mothers nationwide.
Accordingly, when examining and managing pregnancy here, pregnant mothers are completely assured that they will be directly cared by experts, leading doctors, experienced and dedicated in genetics, obstetrics and many other specialties. examination and consultation.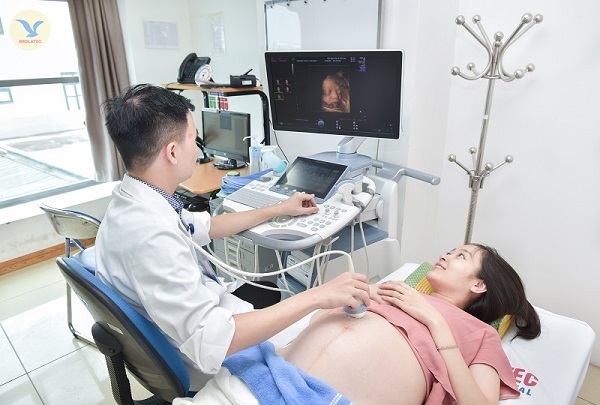 MEDLATEC fully meets the tests to check and monitor pregnancy. (Photo of a radiologist performing fetal ultrasound on a 4D machine).
Besides examination and pregnancy ultrasound (Doppler, 3D, 4D ultrasound), testing is one of the mandatory and necessary techniques to check and monitor pregnancy. With a full response of tests from basic to advanced testing before – during and after pregnancy, therefore, during a visit at MEDLATEC, pregnant women can easily perform all tests as prescribed by the doctor. doctor during an examination, without having to worry about moving to another facility, thereby avoiding wasting time waiting and traveling.
MEDLATEC – the leading medical brand in Vietnam, is a favorite and familiar address that pregnant women all over the country send their trust to check pregnancy health because of the advantages it brings. Those are the plus points of quick administrative procedures, a closed and scientific process, at the receptions, there are professional staff to welcome / guide, all examination results are stored for pregnancy management. the best; And add other advantages such as being paid for health insurance, providing medical check-ups on Saturdays and Sundays, and support for transferring health insurance to the correct route, or upon request.
For pregnant women who are sensitive and have difficulty walking, they can choose MEDLATEC's fast, convenient and fully responsive home testing service.
Healthy baby, happy mom with super gifts for all pregnant moms
Children being born, growing up and maturing are inevitable according to the laws of nature, but it will be difficult for unlucky children to be born with deformities. Children with disabilities must wear a disability for life, which not only affects the future but also is a burden on the family and society.
However, birth defects in babies can be diagnosed, detected and screened early from the first months of pregnancy by prenatal screening methods.
According to Decision No. 1807/QD-BYT of the Ministry of Health, issued in 2020, the non-invasive test (NIPT) is included in the screening process for fetal malformations, screening for abnormalities in chromosome number in the fetus. pregnancy test for pregnant women as a first-line screening test or as an alternative to traditional biochemical screening tests, as appropriate.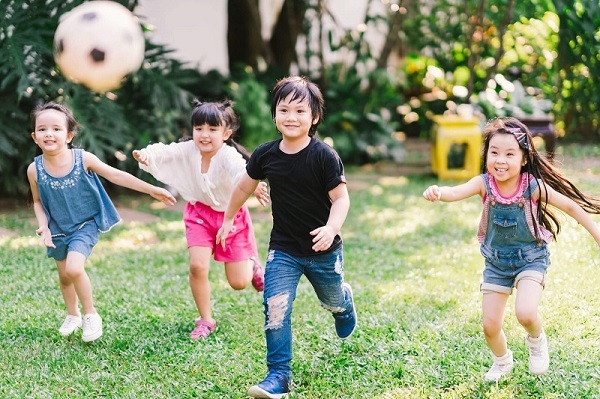 Healthy, healthy children are the wish of all families.
Compared with traditional screening tests, NIPT (non-invasive prenatal testing) is the most modern screening test that is currently the first choice with the advantages it brings.
With the NIPT test, it is only necessary to take the mother's blood for analysis and perform very early from the 9th week, while the Double test is done at 11-13 weeks, or the Triple test is done 15-20 weeks pregnant.
Early implementation is very important to have timely intervention measures, ensure safety for mother and baby, without affecting the fetus like other methods such as amniocentesis, biopsy or aspiration. Umbilical…
The NIPT test is 99.8% accurate in screening for Down, Edwards (Trisomy 18), Klinefelter, Turner, Triple X, Jacobs, Digeorge syndromes and up to 86 chromosomal deletions/repeat syndromes. can…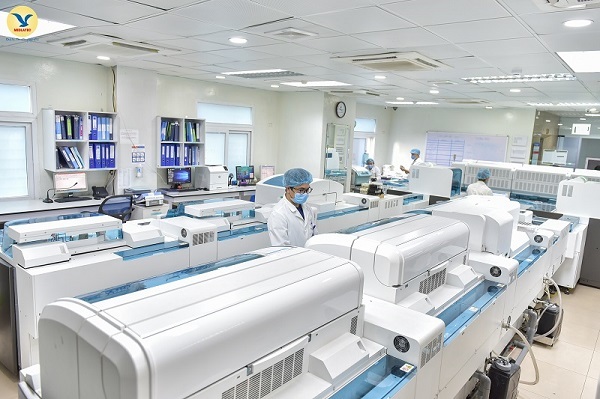 NIPT test results are accurate and reliable because they are automatically analyzed on a modern machine system.
To enjoy the complete happiness and sweetness of giving birth to a healthy baby, NIPT test brings pregnant mothers around the world to disarm and screen for fetal malformations right from the womb.
Understanding the journey of welcoming the birth of a baby is the best thing for couples, in addition to the advantages of pregnancy examination and management, MEDLATEC is also a reputable unit that performs NIPT test on an interpretive system. New generation gene sequencing from Illumina – USA meets IVD standards to always ensure accurate and reliable results.
In order to accompany pregnant mothers, MEDLATEC Health System nationwide gives a "terrible" gift of up to 20 billion VND when pregnant women take NIPT tests. Accordingly, with a cost of only VND 3,200,000/pack of NIPT tests, whether performed at home or at MEDLATEC's institutes/clinics, pregnant women can enjoy super attractive benefits such as: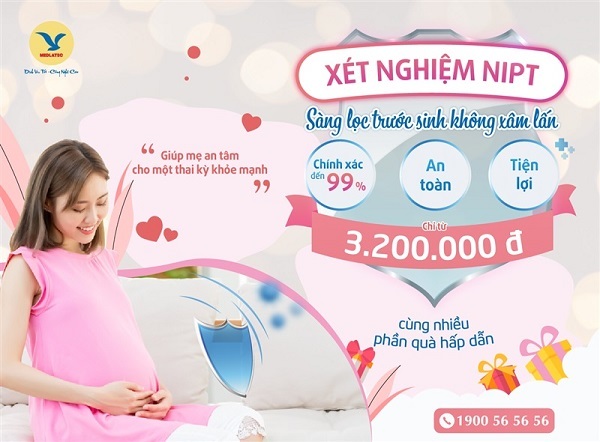 NIPT test "receives" attractive gifts at MEDLATEC.
– Postpartum insurance when false negatives are up to 200,000,000 VND, 100% refund if false positives or no results…;
– Voucher "Basic Pregnancy Test Package" worth up to 400,000 VND;
– Voucher "ProSave Hidden Disease Gene Analysis Package" worth 1,299 thousand VND;
– Voucher "Newborn Screening Package" worth 499,000 VND;
– Give a newborn gift set for the baby.
For a healthy future, don't miss this meaningful start and the opportunity to receive this special attractive gift!
Contact information for the hotline 1900 56 56 56.
Pham Trang
You are reading the article
Accompanying pregnant mothers, the leading medical unit in Vietnam offers many attractive incentives for mothers and babies

at
Blogtuan.info
– Source:
infonet.vietnamnet.vn
– Read the original article
here