Business
Businesses in Ho Chi Minh City are "thirst" for high-quality human resources
Through the survey, Ho Chi Minh City has about 5 million employees, of which 37% are trained, of which 22.5% are university trained. However, in fact, up to 48% of employees do not work in the right industry, many of which have to be retrained. So what does Ho Chi Minh City do to improve the quality of this human resource training?
Enterprises must retrain workers
After the epidemic, high-quality human resources at enterprises in Ho Chi Minh City had many changes. In industrial parks, export processing zones and high-tech zones, constantly posting job vacancies. Particularly, Ho Chi Minh City High-Tech Park has dozens of businesses that are recruiting high-quality workers with positions such as: manager, research and development department (R&D), mechanical engineer, design engineer in the fields of electronics, automation, robotics, energy experts, new materials, nanotechnology… However, recruiting these positions is not easy.
Nidec Copal Precision Vietnam Co., Ltd in Ho Chi Minh City Hi-Tech Park is recruiting about 15 employees in the department of mechanical processing staff, automation engineer, electrical design engineer… The company has received applications from many candidates, but most of them are fresh graduates, only meeting 50-60% of the job requirements, if recruited, they must re-train for 4-6 months. Every year, the company also plans to send high-quality workers to Japan for training to access new technologies, new products…
Mr. Nguyen Dang Ngoc, Human Resources Director, Nidec Copal Precision Vietnam Co., Ltd. said: To shorten the training gap at universities and meet the working requirements of high-quality human resources at universities. For FDI enterprises, universities need to strengthen links with businesses so that they can accept students for internships. Currently, the starting salary of the company is from 15-19 million VND/person/month. In addition, there are many preferential regimes for employees such as: allowance for gas travel expenses, organization of annual trips, birthdays, filial piety, etc. However, labor sources often shift to enterprises. European FDI industry.
"Asian and European businesses have two different operating mechanisms and principles due to two different cultures. European businesses have greater openness and incentives. We also have difficulty in recruiting, but with current human resources, we still try to maintain 100% of production "- Mr. Nguyen Dang Ngoc said.
Domestic enterprises act as stepping stones for migrant workers
If it is difficult for FDI enterprises to recruit high-quality labor resources, it is even more difficult for domestic enterprises, especially small enterprises. Currently, many students from top universities in Ho Chi Minh City want to work for FDI enterprises. While they cannot apply for these positions, they will work in small domestic enterprises temporarily for a while, when they have experience, they will apply to work for FDI enterprises. Therefore, high-quality workers in domestic enterprises often move to FDI enterprises, especially after the epidemic, this labor source is more volatile.
Mr. Nguyen Van Tri, Director of Lap Phuc Co., Ltd., specializing in manufacturing precision mechanics for export, said that the income of workers at the company is quite good. However, when there is an FDI enterprise that needs to recruit high-quality workers, the company's labor is lost. For example, just recently, a subsidiary of Sam Sung Electronics VN Company recruited experienced and skilled workers in precision molds, and some employees of the company asked to leave and move there. Mr. Tri said that it is very difficult to recruit and "retain" employees for private enterprises, especially small businesses.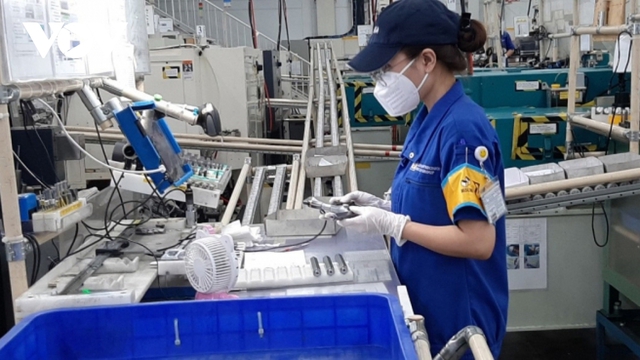 Mr. Nguyen Van Tri suggested that the authorities should stipulate that when FDI enterprises build investment factories in Vietnam, the technical and economic arguments must include the preparation of labor resources. In the immediate future, domestic companies must have adaptive solutions.
"When workers are fully equipped with experience, skills and practical knowledge, they look for better job opportunities. Private companies only have a way to "live with the flood", Lap Phuc Company chooses to be willing to accept interns, currently, the company has cooperated with 12 universities to accept internship students. Schools send students to our company to teach wholeheartedly, then this student can work immediately, businesses do not have to re-train "- Mr. Nguyen Van Tri said.
The school needs to know what businesses need to train?
According to Prof. Dr. Nguyen Thi Canh, University of Economics and Law of Ho Chi Minh City, who is doing a research project "Solutions to improve human resources in industrial parks, export processing zones and high-tech zones in Ho Chi Minh City. In order to improve the quality of this human resource, there must be close coordination between the "3 houses": the State, enterprises and schools. At the same time, schools need to strengthen links with businesses in training and increase practice time.
Currently, Ho Chi Minh City has a policy to support small and medium-sized enterprises in training short-term workers, supporting workers with 2 million VND/course. At the same time, in the Hi-Tech Park, there is a High-Tech Human Resource Training Center, funded by the Japan International Cooperation Agency (Jica), with available facilities, equipment, and laboratories… However, the The difficulty in training high-quality workers is that very few enterprises spend extra training costs. Currently, enterprises have training funds and need to increase this fund for training high-quality human resources.
Prof. Dr. Nguyen Thi Canh suggested: "I propose that Ho Chi Minh City build a website connecting industrial parks, high-tech zones, export processing zones with schools in the city to see what the schools offer, What does the business need, so that the two sides can meet each other because currently they do not have information about each other. Currently, the State has funding to support training and needs to support website administration.
It is not because of the epidemic's impact that businesses have increased the recruitment of high-quality workers, but every year many companies recruit to meet the growth rate and the development of new products and new technologies. Therefore, the source of high-quality labor is always in short supply. In order to meet the needs of businesses in the coming time, Ho Chi Minh City needs to have a close coordination between the "3 houses" so that supply and demand can meet. At that time, this human resource will contribute to promoting faster and more effective economic growth and especially the current development of the digital economy.
You are reading the article
Businesses in Ho Chi Minh City are "thirst" for high-quality human resources

at
Blogtuan.info
– Source:
cafebiz.vn
– Read the original article
here