Having children of school age, many parents have a headache when their children are bullied bully many times but still have not found an effective solution.
According to psychologist Nguyen Phuong Anh (Hanoi National University of Education), to avoid situations where children are bullied, parents can guide their children to prevent them by giving warnings to the opponent such as "stop back", "don't touch me"…
"Parents can also orient their children before situations they encounter such as letting them play the role of children being bullied, what will they do. Specifically, you can play the role of the bully, while your child practices different responses until he feels confident handling troublesome situations.
Along with that, parents should teach their children to speak with a strong voice and a decisive attitude to overwhelm the opponent.
From the age of 3, your child is ready to learn tricks to protect himself. Help them practice looking straight ahead and speaking up when others are bothering them."female experts state the solution.
According to this expert, parents need to equip their children with strong skills, knowledge and psychology to know how to face and protect themselves against the risk of being bullied. bear, be patient.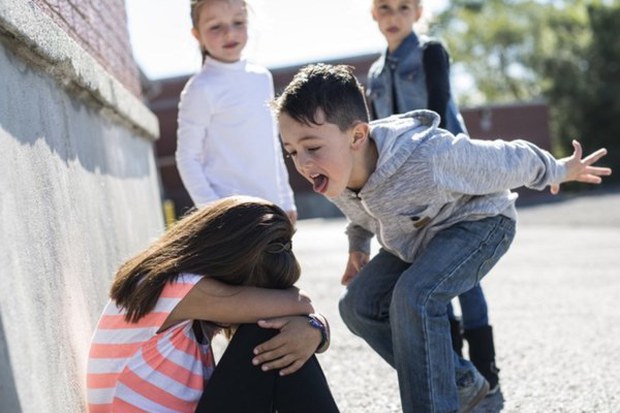 Should you be patient when you are bullied at school? (Illustration)
Because the current mentality of some parents is to advise their children to be patient, one thing is nine good things, but this is considered an incorrect method.
"Being patient does not help a child get out of a bullying situation, but it increases the risk of being bullied in many different ways.
The better way we need to teach children to have the courage to stop this behavior, to enlist the help of other children to support, to ask for the involvement of teachers; And it's important that your child knows how to speak up and ask the other person not to continue teasing him.
Many parents teach their children how to defend themselves when being bullied at school, however, self-defense is not teaching children to fight back with force. We need to teach children the courage to stop this behavior, but most importantly, protect their personal safety.
Parents should teach their children the necessary skills, and also be stronger mentally when facing bullying situations.
Because, the fact that a child goes to school often is bullied causing many consequences, making the child become afraid, do not want to go to school, come home, do not dare to tell their parents… The child's psychology will be affected. terrible influence, can lead to crisis, mental disorder. Those bad situations will be an obsession that follows the child forever in life.
When a child is bullied at school, he or she gets very upset and panics. If parents understand this, parents need to promptly soothe their children's emotions and accompany them. Parents tell children that "don't be afraid, no matter what happens, parents will always be there to support and protect!".
Along with that, parents should contact the school to find out why their child is being bullied. Only then can parents and teachers work together to find the most reasonable solution to the problem to protect their children."analytic psychologist.
Keeping children safe at school is a top concern for parents. Therefore, when children are bullied by others in school, parents must deal with the matter in a proper and positive manner, quickly helping children regain their spirits as soon as possible.
In addition, parents should nurture their children's interest in sports from a young age, when they have good physical strength and healthy bodies, children will have more confidence in themselves, a stronger spirit is also a way for their children to develop a healthy lifestyle. confident in front of opponents who intend to bully.
You are reading the article
Children are constantly bullied in class, holding back or hitting back is not the right way, the effective way parents need to teach from the time their children turn 3

at
Blogtuan.info
– Source:
Soha.vn
– Read the original article
here