Tech
"Many people say I'm reckless"
Mr. Nguyen Anh Hung, a resident of Cao Thang commune (Thanh Mien district, Hai Duong) exclaimed when we asked about Mr. Truong Hung Tuan's house and special pond: "He brought a fish pond on the roof and grew vegetables and fish on it."
Not only Mr. Hung, over the years, many local people still admire when talking about Mr. Tuan's somewhat risky built pond. Because, after the construction is completed, the house has a flat roof, the homeowner often has to add a waterproof roof, but no one dares to put a pond on it like Mr. Tuan.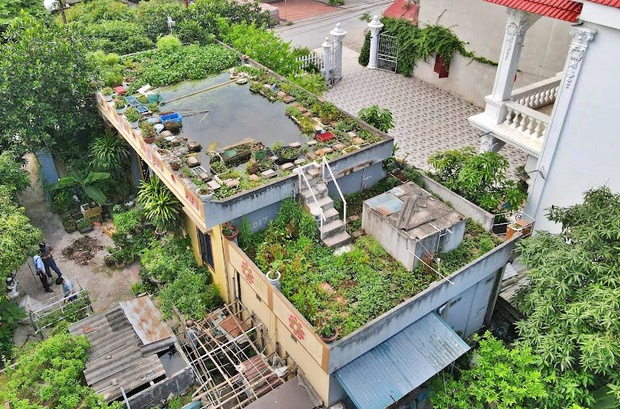 The entire terrace of the main house is about 60m2 wide and Mr. Tuan turns it into a pond, the roof of the auxiliary building is converted into a vegetable garden.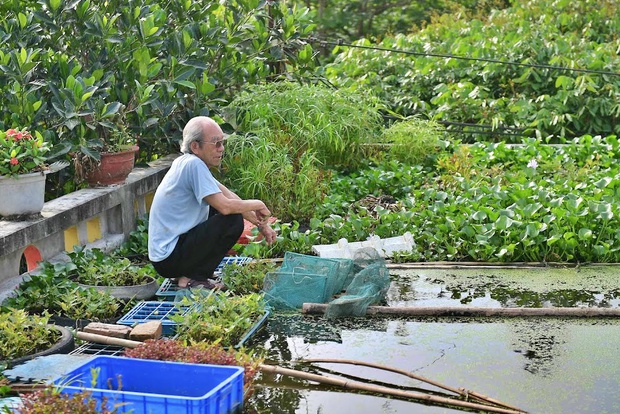 Although he is 87 years old, Mr. Tuan is still very healthy. He said, the flat roof house was built by the family in 2017. After exactly 1 week of construction, he pumped water to the roof to check the roof's permeability. After checking that the roof was not waterproof, he pumped more water to turn the entire 60m2 roof into a pond.
"A lot of people say that I'm reckless, my wife and children also try to prevent it for fear of water penetration leading to structural damage, but now it's been more than 5 years, the house still doesn't leak."Mr. Tuan said with pride.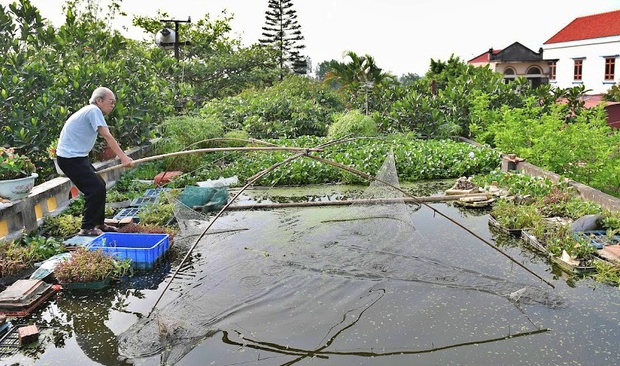 Mr. Tuan said, there are many ways to catch fish on the pond such as hooves, using a basket or fishing. Normally, to serve family meals, he often chooses to use fishing rods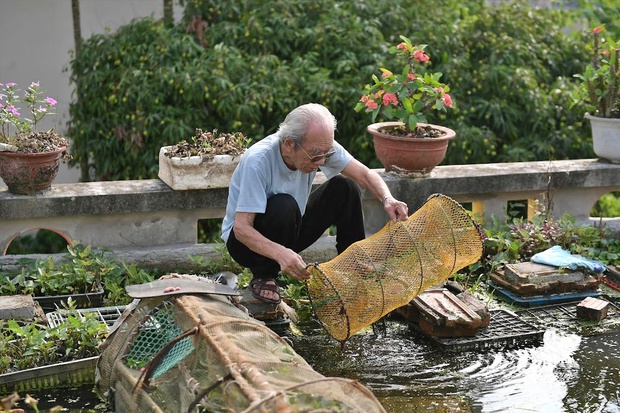 Mr. Tuan shared, the reason he "risked" like that is for a reason. He said: "Before I came up with the idea of ​​​​turning the terrace of my current house into a pond, I spent many years cultivating and irrigated on the roof of my old house.
Over the years, the house has not had any problems. Therefore, with the current house, I also pumped water to test it for a long time, found it okay, so I decided to make a pond."
Just like that, since the pond was formed, Mr. Tuan has released fish, added water hyacinth for the fish to live in, and at the same time used many Styrofoam boxes to grow more vegetables.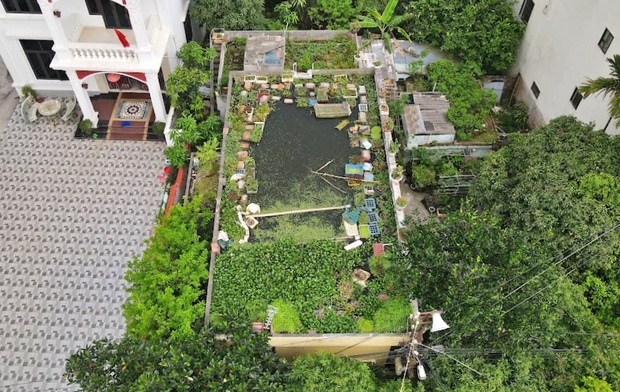 Mr. Tuan's green garden is nestled among high-rise buildings
"I released a lot of fish, at first I asked for tilapia to return, then they could reproduce on their own. As for black carp and grass carp, I had to buy them. Since having this vegetable garden and fish pond, husband and wife I don't have to buy from the market anymore."Mr. Tuan said and added, many friends who come to visit are also very excited when they can fish by themselves and bring them down to be processed into drinking dishes.
To avoid overflowing the fish pond, Mr. Tuan designed more faucets to easily drain water when it rains. In the dry season, he had to change pond water, he took advantage of pond water to water plants and pump water from drilled wells.
Mr. Tuan shared that his pond garden model is very closed, not only taking advantage of the water source for irrigation, but when they grow a lot, he picked it up and dried it to make organic fertilizer. tree.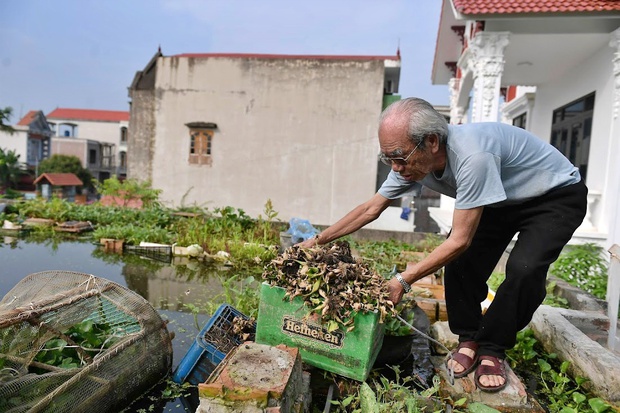 Mr. Tuan collects water hyacinth, dries it, and uses it as fertilizer for plants and vegetables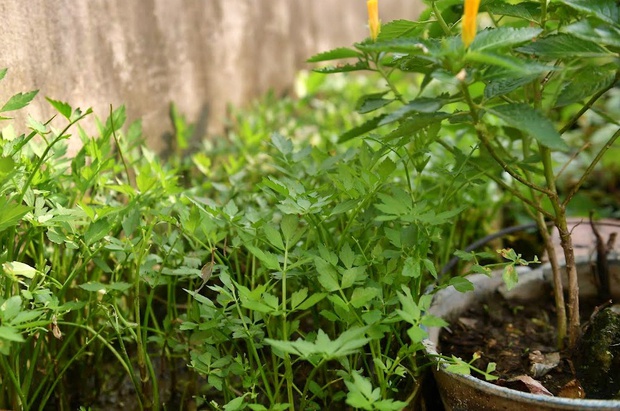 The beds of green vegetables are grown entirely by Mr. Tuan with organic fertilizer from water hyacinth plants
"My land is tight, so I make use of Styrofoam boxes to grow plants and vegetables. Thanks to the use of organic fertilizers, I don't need to buy any fertilizers."ended Mr. Tuan's words and pointed to the potted green vegetables.
"The pond model, I don't dare to advise anyone to follow because it requires the roof to be built carefully, but the model of growing vegetables from making use of organic fertilizers is very good, suitable for many families without Using the fruits from the trees themselves planted is both a guarantee and a way to reduce stress and fatigue." he confided.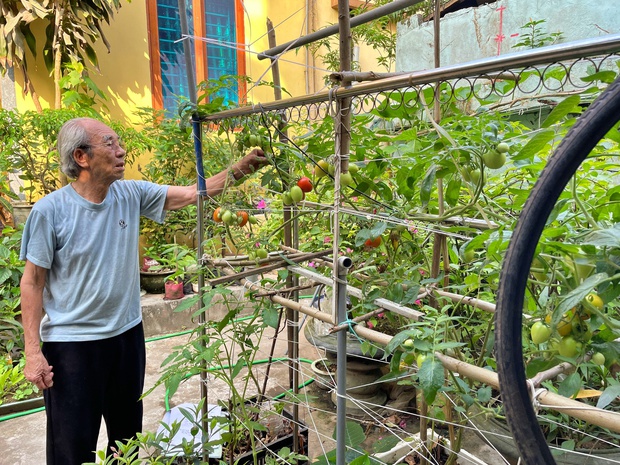 Clusters of tomatoes laden with fruit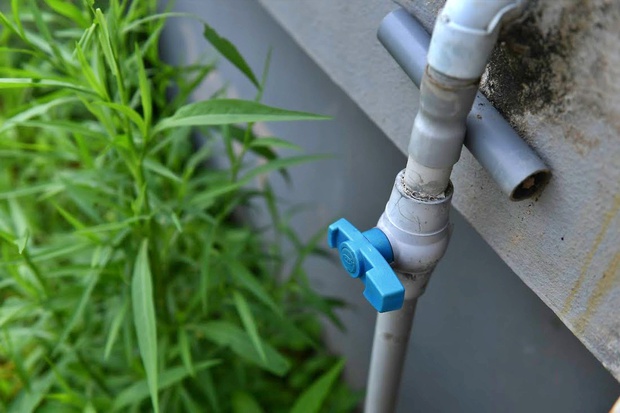 The faucet is connected from the fish pond to serve irrigation.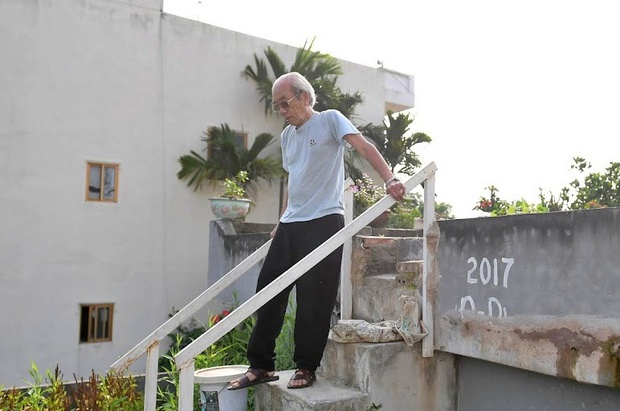 Usually Mr. Tuan climbs up and down the pond dozens of times, this is how he exercises.
https://kenh14.vn/cu-ong-87-tuoi-chiu-choi-mang-ca-cai-ao-dat-tren-mai-nha-roi-trong-rau-nuoi-ca-nhieu-nguoi- noi-toi-lieu-ling-20220512230357812.chn
https://cafebiz.vn/cu-ong-87-tuoi-chiu-choi-mang-ca-cai-ao-dat-tren-mai-nha-roi-trong-rau-nuoi-ca-nhieu-nguoi- noi-toi-lieu-ling-20220516083319169.chn
You are reading the article
"Many people say I'm reckless"

at
Blogtuan.info
– Source:
genk.vn
– Read the original article
here