Chuyên đề
Measures should be taken to prevent groups of people from setting up companies disguised as loan sharks
Authorities need to strengthen their forces to crack down on loan sharks, including loan sharks in cyberspace, so that the fight and prevention of this type of crime can be effective. ..
Recently, Ha Dong District Police, Hanoi has prosecuted the accused and a detention order for Bui Van Hieu (SN 1995, in Duong Noi ward, Ha Dong) for the crime of lending heavy interest in civil transactions; Nguyen Van Ninh (SN 1996, in Phuc Tho, Hanoi) on charges of Intentional Injury and Loans with high interest in civil transactions; Phung Ngoc Thanh (SN 2000, in Phuc Tho, Hanoi), Bui Tung Lam (born in 2001; in Kim Boi, Hoa Binh) and Hoang Duc Thai (born in 2001; in Dan Phuong, Hanoi) on the charge of intentionally causing injury accumulate.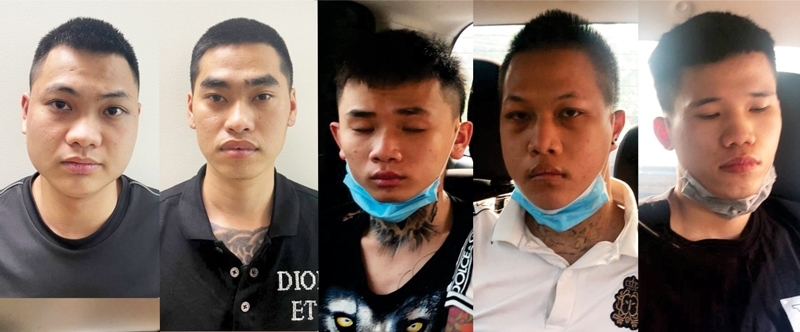 The group was arrested by the police.
According to Ha Dong District Police, on April 23, Duong Noi Ward Police received a report about a slashing incident in the Dinh market area. The victim, Mr. H. (SN 1988; residing in Ha Dong district), was injured by a number of objects with knives.
Although the victim did not actively provide the source of the incident, but during the investigation, the police agency determined that the cause of this murder was a conflict in borrowing money. The perpetrators are also a group of groups showing signs of credit business activities, which are being fought by the Ha Dong District Police Investigation Agency.
The results of the investigation show that, around the beginning of 2018, Bui Van Hieu did financial business in the form of daily interest loans and "picking them up". Borrowers directly negotiate with Hieu to borrow interest rates from 3,000 VND to 5,000 VND/1 million VND/day; Borrowing period from 50 days to 6 months will bear interest rate from 110 to 183%/year.
To do business, Hieu hires Ninh from 8 million VND to 15 million VND/month (depending on revenue), responsible for collecting interest and verifying information about customers who need to borrow money.
In the process of collecting money until April 2021, Ninh hired Thanh, paying a salary of 4 million VND/month, as a cashier. At the beginning of April 2022, Lam and Thai came to Ninh and asked to stay.
Besides, from March 2018 to June 2020, Ms. A. (SN 1991) and her husband, Mr. H. borrowed from Hieu a total amount of VND 200 million, with an interest rate of VND 3,000/million/ day.
On April 23, Thanh, Lam and Thai came to collect the daily interest of Ms. A. During the collection process, Thanh got into an argument and was punched in the face by Mr. H. Thanh returned, narrated the incident to Ninh, and was directed by Ninh to go with Thai, Lam looked for Mr. H. to "complain".
After that, when driving a motorbike to Dinh market area (Duong Noi ward), they just saw Mr. H., Thanh and Thai took a knife and slashed the "debtor" and then jumped into Lam's car and ran away.
In the investigation, Ha Dong District Police clarified the behavior and criminal motives of the subjects involved; At the same time, they also seized many loan documents, 2 books of borrower records, and many documents… Preliminarily, the police agency determined that from the beginning of 2018 to 2022, Hieu's group had given many customers loans with a total revolving amount of about 10 billion dong.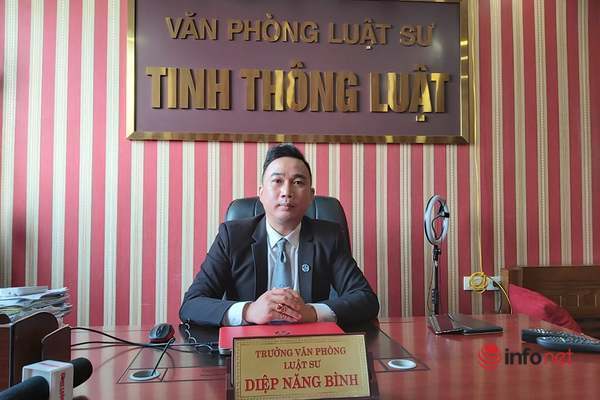 Lawyer Diep Nang Binh discussed with PV Infonet.
Talking to PV Infonet with PV Infonet about the above case, lawyer Diep Nang Binh – Head of Tinh Thong Luat VPLS said: "Having high interest or bad credit is a matter of concern to many people because of the consequences of this crime. it and the resulting violations of the law.
This situation occurs in many places across the country. As a result, many people were assaulted, threatened, mentally terrorized, left the locality… The situation of debt collection and assaulting debtors also adversely affected the security and order situation in the localities.
Victims of high-interest loans are not only people with serious financial problems, but also drug addicts, gamblers, people who have little knowledge, have difficult economic circumstances but like to compete. , was mesmerized by the attractive advertisements and enticing tricks of the loan shark.
There are cases of falling into debt, having to sell houses or land to pay debts just because previously "missed" to borrow heavy interest to build a house, buy a car, then the interest piled up. , assaulted, was forced to sell the last amount of assets to pay the debt, in fact "debt relief".
There are people who have no debt but have to bear the debt because their children borrow money to buy drugs, borrow money to gamble. The subject of heavy interest loans very well knows how to beat the winning mentality of gamblers who are on the verge of death, as well as entice addicts who are in need of drugs to the point of disregarding the consequences.
They lend money, forcing them to provide a residential address. Then, going to the house to assault, destroy property, force parents and relatives to pay debts instead. There have been cases of running away because children caused debt. There have also been cases of suicide because of forced debt…".
In addition, lawyer Binh also shared: "Usually, heavy interest loans do not need collateral, but few debtors dare to default because the subject of high interest loans is related to thugs and debt collectors. They often hire drug addicts and thugs to collect debts.
In 2019, the Supreme People's Court provided guidance on some of the above problems, but did not specify which cases were criminally handled for usury. Therefore, many subjects of loan sharking activities are still evading and not easy to handle.
Up to now, Resolution 01/2021 has specified the above issues. Resolution guiding the application of Article 201 of the Penal Code and the trial of cases of usury in civil transactions, effective from December 24, 2021.
According to Resolution 01/2021 of the Judicial Council of the Supreme People's Court, the loan interest rate should not exceed 20%/year, ie not more than 1.67%/month. interest rate exceeding 5 times of 1.67%/month is usury. Before Resolution 01, there were no regulations on what is illegal profit and no instructions on whether to confiscate the public funds or return the involved parties the principal amount as well as the illicit interest.
Specifically, the Resolution stipulates that in case a person commits many times the act of lending heavy interest and each time the illegal profits are under VND 30 million, but the total amount of illicit profit is VND 30 million or more, the prosecute for criminal liability with a penalty frame corresponding to the total amount of illicit profits from high interest loans, without applying aggravating circumstances of criminal liability.
In the event that the high interest lender performs many different acts related to debt collection (using force, threatening to use force, psychologically threatening, causing injury, causing harm to health or committing acts other to get property…) will be criminally responsible for the corresponding crime (if there are enough elements to constitute a crime), in addition to the crime of "Lending heavy interest in civil transactions".
And the lenders with heavy interest in order to gain illicit profits of 30 million VND or more, but because of unintended reasons, the lenders have not obtained illegal profits or have obtained illegal profits of less than 30 million VND, shall be prosecuted for liability. criminal liability according to the penalty frame corresponding to the total amount of illicit profits that they aim to achieve.
According to this Resolution, the loan shark will be summoned by the court as a "person with related interests and obligations", not a victim. They can only return the amount of money the lender has obtained illegally, the other amounts including the principal and the highest interest according to the law (equal to 20%/year) are confiscated.
The crime of lending heavy interest in civil transactions specified in Article 201 of the Penal Code 2015 is an independent crime, specified in the chapter "Crimes infringing on economic management order" (Chapter XVIII – Section 2 of the Penal Code) year 2015). This regulation was born in order to promptly fight against crime, ensure social security and at the same time be consistent with the new provisions of the Civil Code (BLDS) 2015 and other relevant legal documents. .
But in fact, the crime of "Lending money with high interest in civil transactions" has not been applied much to handle criminals and there are still certain problems of the proceeding agencies in applying the law. law, leading to low effectiveness in crime prevention.
Therefore, at present, lending activities with heavy interest in civil transactions often take place in cyberspace, many target groups have established disguised "financial companies", even using the internet and social networks. associations, applying information technology to promote and attract "customers". The collection of evidence about this lending activity is unique, so fighting this type of crime is still very difficult.
Therefore, in addition to completing the legal framework, the authorities need to strengthen their forces to detect and dismantle loan sharks, including loan sharks in cyberspace to work. fighting and preventing this type of crime has achieved the expected effect".
According to lawyer Binh, in order to prevent and stop by means of propaganda, awareness raising, and informing the tricks of criminals so that people can be alert, attack, suppress, and handle to deter criminals is explosive. power of the functional sector.
In addition, it is necessary to resolutely eliminate social evils and other crimes. At the same time, each person needs to raise their own sense of vigilance, promptly denounce organizations and individuals showing signs of involvement in high interest loan activities, should be cautious and stay away from forms of interest loans. heavily, understand the tricks of some high-interest lenders to prevent.
If threatened, terrorized, it is necessary to request the police to intervene to avoid unfortunate consequences that may occur in the locality. When in need of a loan, it is necessary to carefully understand the legality of the lender and carefully read the terms of the loan contract to see how much the interest rate is, how to calculate the interest rate and have a specific repayment plan. .
Yen River
You are reading the article
Measures should be taken to prevent groups of people from setting up companies disguised as loan sharks

at
Blogtuan.info
– Source:
infonet.vietnamnet.vn
– Read the original article
here