According to Quang Binh newspaper, Major General Phan Khac Hy was born on January 1, 1927 in Hoan Lao village, Bo Trach district, Quang Binh province. He held the positions of Political Director of the Airport Research Department (the predecessor of the Air Force); Political Commissar of the Air Force Command; Deputy Commander of Division 559 – Truong Son Army.
After 1975, he was Vice Chairman of the General Department of Defense Industry and Economy; Vice Chairman of General Department of Logistics. In 1980, he was conferred the rank of major general and was a member of the VIII National Assembly (1987-1992). In 1993, he retired.
For General Hy, in addition to the memories of the years of fighting against the French and then against the US to save the country, he is often mentioned with the story of 500 love letters he sent to his wife through war bombs. These letters have portrayed a soldier who is both brave in battle and romantic in love.
Wartime love
General Phan Khac Hy's wife is doctor Nguyen Thi Ngoc Lan. The two met when Ms. Lan paused her studies and entered the Binh Tri Thien front to fight. At this time, Mr. Phan Khac Hy was the Deputy Secretary of the Provincial Party Committee, the captain of the Quang Binh province, and was assigned to build the main force.
They met and fell in love with each other the first time they met on the battlefield that day. Two enthusiastic hearts for the revolution and the nation drew closer together, overcoming the difficult days of war together.
"It's the thunder of love. Young people participating in the revolution consider death as light as a feather, but their hearts still wish to have love as a support," General Phan Khac Hy told the online Knowledge Magazine (Zing News).
Mr. Hy always remembers that Mrs. Nguyen Thi Ngoc Lan's family is very orderly and well-behaved. She is the granddaughter of a Confucian of Nghe An, so although she loves each other, Ms. Lan always avoids Mr. Hy, fearing that her family will scold her because she fell in love after leaving the battlefield.
Therefore, Mr. Hy had to ask the commander of the Binh Tri Thien front to write a letter to his lover's grandfather, asking for permission for the two to find out. Until the letter of consent from her grandfather sent from Ha Tinh, Mrs. Ngoc Lan officially accepted Mr. Hy's affections.
Mr. Hy also shared with the above magazine that: "From the first time I met, I was moved by the gentle and loving features of the girl who "folded her pen on the road to fight". I just found out that she is one of the four young women who volunteered to go to the front and was assigned to do clerical work. The more I interacted, the more I felt my heart flutter, so I made up my mind to express it."
Two years after the grandfather agreed to let the two know, Mrs. Lan and Mr. Hy became husband and wife in Ba Long war zone in 1952. The newlyweds only had a short wedding week and then each worked hard. back and forth to continue his work.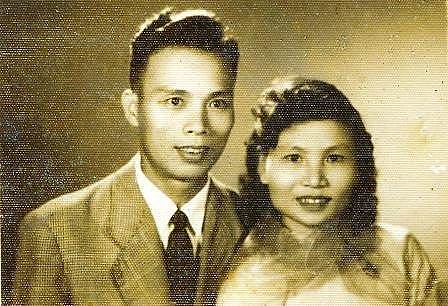 Major General Phan Khac Hy and his wife Nguyen Thi Ngoc Lan in their youth. Documentary photos
During the days when Mr. Hy was away from the front, Mrs. Lan had to take care of everything in the house alone, taking care of her children and two elderly mothers. All feelings of love and respect for his wife were sent by Mr. Hy through letters. The letters are like a strong emotional cord, creating strength to help the couple overcome all bombs and challenges.
"Darling, I love you so much, it's difficult to speak and write. Find here all the earnestness of my heart… Lan is always close to me, gentle eyes and soft hands." (Zing quoted a passage from one of more than 500 letters between Mr. Hy and Ms. Lan.)
More than 500 letters pass bombs
Mr. Phan Khac Hy stayed away from home forever, stopped fighting the French, then he joined the anti-US. He took advantage of writing letters to her anytime, anywhere, on any material he could find because of his promise to send each other a letter at least a month to his wife.
In total, during the 24 years of separation, they had to communicate by mail from 1952 to their reunion in 1976, and the two grandparents conveyed their nostalgia, resistance war memories, study stories, and wishes for the day of national reunification in more than 500 letters.
The letters containing so much optimism, trust and love that Mr. Phan Khac Hy wrote to his wife were printed in the book "Letters from the Vietnam War".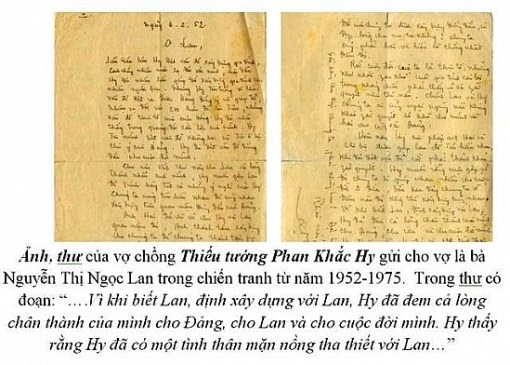 A letter between General Hy and his wife
Nhan Dan newspaper quoted the content of the letter Mr. Hy wrote to doctor Nguyen Thi Ngoc Lan (who was studying in Czechoslovakia) on May 7, 1975, in Saigon, which had just been liberated as follows:
"Honey. You probably didn't expect that on May 7 this year, I would sit down and write a letter to you in Saigon liberated… After 30 years of participating in the revolution, I directly attended the historic day of the complete liberation of the South, the day that won the independence forever. establishing freedom and reunification for the Fatherland, he and everyone were happy. I am still healthy and like other brothers, I am ten years younger… The big problem now and in the future is to build a unified and prosperous country, I will come back and join that cause… this much… Sending you all the joy, emotion, nostalgia and pride…".
A month later, from Czechoslovakia, Mr. Hy received a reply from his wife: "I am overjoyed, since the news of the liberation of Saigon, I have been extremely happy and joyful. However, the joy is not complete. completely because I'm still waiting for your letter… From now on, I have less worry. Worry is more frequent than usual… The value of independence and peace feels intimate and concrete like palpable. bro…".
In an interview with the Laborer newspaper, Major General Phan Khac Hy said that in a difficult situation like war, when you have to fight to protect the country, love is the lifeblood, the driving force that warms people's souls. soldier.
More than 500 letters from him and his wife express the ideals, love, and dedication to the Fatherland of an entire generation "setting pen to battle".
These letters later were also evidence of the love of General Hy and his wife, and were historical documents that helped him write his memoirs. Because of many events and battles that day, he "reported" to her as a gift to his wife.
Ending 24 years away
In 1976, when Doctor Nguyen Thi Ngoc Lan finished her studies in Czechoslovakia and returned home, her grandparents officially reunited after 24 years of separation.
More than 500 letters of communication between him and his wife are kept carefully, except for a few that are lost. Each letter from his wife to General Hy was kept completely in the green bag she embroidered until the day of peace.
As for the letters General Hy sent home, his mother was wrapped in mocha, hidden in the kitchen attic to prevent termites. Every time the American plane was about to bomb, before going down to the basement to hide, she would run to the kitchen attic, get the package of mocacao wrapped in letters, bring it down to the cellar, so the letters are still intact to this day.
It was not until their heads turned gray, the couple retired and moved to Ho Chi Minh City to live, that the grandparents really had a full time together, unaffected by work.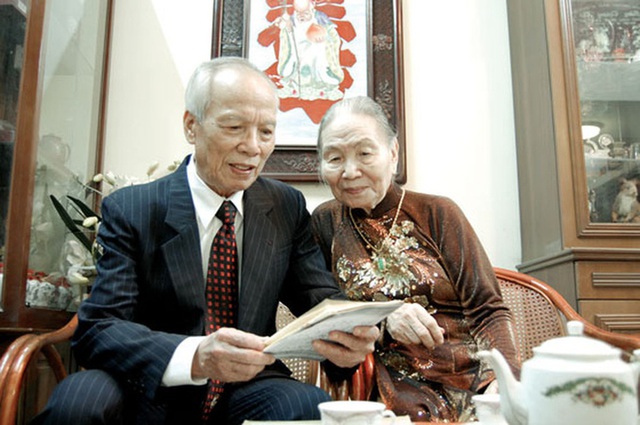 Two grandparents in retirement. Photo: Workers
Married for more than half a century, grandparents still have the same love for each other as ever. She still thoughtfully took care of him every cup of rice and water. And when she was sick, he would measure her blood pressure every day, give her each pill…
"How many years did he go away. The years he lived in Hanoi, he was also in the unit, not often at home. With one hand, my grandmother and grandchildren took care of three children, but I do not blame him. So are my children. Because he is busy with national affairs. And even though we are far apart, we still feel the immense love that he has for us. That affection is still fresh until now, more than 60 years ago," she confided to the Laborer newspaper.
As for General Phan Khac Hy, despite being at such a rare age, the generous and fierce spirit of Uncle Ho's army still radiated in his speech and eyes. Meeting the next generation, especially young people, he happily recounted wartime stories, reviewed the stories of the countryside, and the glorious history pages of the nation.
Synthetic
https://soha.vn/tuong-phan-khac-hy-va-hon-500-la-thu-tinh-vuot-lua-dan-gui-em-tat-ca-nho-thuong-va-tu- hao-2020513155405749.htm
You are reading the article
Sending you all love and pride

at
Blogtuan.info
– Source:
cafebiz.vn
– Read the original article
here