Thế Giới
Suggestions for Vietnam's economy from Harvard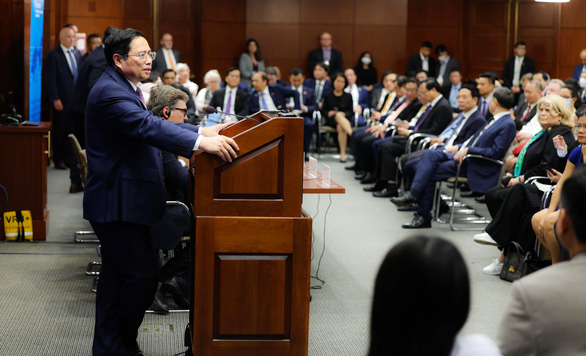 Prime Minister Pham Minh Chinh speaks at Harvard University on the afternoon of May 14 (local time) – Photo: NGUYEN KHANH
This policy discussion took place right after the Prime Minister gave a speech lasting about 40 minutes, focusing on the topic of building an independent and self-reliant economy, associated with proactive and active integration. extensive, substantive and effective internationalization in Vietnam.
I came here with dual feelings: the love of Harvard University for the delegation and the love of the predestined relationship, the connection between Vietnam and the US.
Prime Minister Pham Minh Chinh
Design from Harvard professor
At the seminar, economics professor David Dapice at Harvard University assessed that Vietnam's participation in international trade agreements is a great success. Millions of agricultural workers entered the factory.
However, Mr. Dapice pointed out that one of the weak points of the Vietnamese economy is that most production materials are imported from China. "When COVID-19 occurs, border closures or trade tensions will affect Vietnam's imports and exports. Therefore, Vietnam needs to develop domestic inputs and diversify service sources. export," said Professor Dapice.
According to Professor Dapice, Vietnam's trade surplus with the US this year could reach $100 billion. This number is small compared to the US, but it is suggested for Vietnam to constantly exchange to avoid being considered a currency manipulator.
In response, the Governor of the State Bank Nguyen Thi Hong said that the bank must strengthen forecast analysis to come up with synchronous and practical policies; resolutely not to use currency to create competitive advantage in trade.
"With that steadfastness, for many years, Vietnam's inflation control results have been very impressive, coupled with a relatively high growth rate. The stable foreign exchange market is a bright spot for Vietnam to improve its position. position in credit rating," said Ms. Hong.
Economic expert Dapice also said that Vietnam's governance should also enable quick responses, while the digital economy requires boosting the attraction of foreign direct investment (FDI) and trade with foreign countries. , training and education cooperation.
Professor Dapice said that attracting FDI is getting harder and harder, so he recommends that Vietnam make renewable energy available, creating a competitive advantage compared to other ASEAN countries. "If you want to become a reliable economy, you must stay away from investment sources that do not bring competition to Vietnam," he suggested.
Finally, according to a professor who is teaching at Harvard University, Vietnam's economy must be maintained with the necessary openness, especially in the area of ​​information exchange. When there is openness, it will attract more talent, attract more investors.
3 questions for Prime Minister
At the seminar, Prime Minister Pham Minh Chinh received 3 questions from the guests. Some people wonder that the Mekong Delta is a geopolitical asset but has limited water upstream, affecting downstream. What does the Vietnamese government do to limit that impact?
The Prime Minister said that during the discussion with President Joe Biden at the framework of the ASEAN-US Special Summit, the two sides also mentioned this issue. According to the Prime Minister, this is a regional problem, so it needs the cooperation of countries, and also affects people, so it is necessary to call for people to pay attention.
The second question came from Ms. Sahra, a graduate student at Harvard University. She asked: "What does Vietnam do to encourage businesses to innovate?". In response, the Prime Minister emphasized that innovation is Vietnam's consistent point of view, which must be inherited, innovated and developed.
"There must be an ecosystem for innovation. First of all, there must be institutions, resources and people, so that everyone can be excited to participate in innovation. At the same time, there must be international cooperation. economy can create an innovation ecosystem," the Prime Minister stated.
Asking the last question is a Vietnamese cybersecurity expert working in the US. He said he wanted to help Vietnam strengthen its digital economy development capacity but did not know how.
The Prime Minister said that cybersecurity is a global issue, not just Vietnam. This is an issue where Vietnam is cooperating internationally and improving its own capacity by dealing with problems that occur in practice.
"You can participate in supporting the improvement of institutions and technologies related to cybersecurity, especially in training people because creating or fighting against it is all done by people," the Prime Minister said. know.
Determined to have an independent and self-reliant economy
In his speech at Harvard University, the Prime Minister explained why Vietnam is determined to build an independent and self-reliant economy. Recently, the world situation has become complicated, unpredictable and unpredictable in many aspects such as strategic competition, fierce conflicts, international financial and monetary risks, the Prime Minister said. and increased supply chain disruptions.
In addition, the world also faces issues of climate change, epidemics, population aging, resource depletion, energy and food security, cyber security, human security…
That context requires countries to pay more attention to building an independent and self-reliant economy, minimizing the impact of external shocks in the integration process, in which, affirming the independent trend. Self-reliance does not mean closure and self-sufficiency, but is associated with the policy of opening up and international integration", the Prime Minister stated.
You are reading the article
Suggestions for Vietnam's economy from Harvard

at
Blogtuan.info
– Source:
tuoitre.vn
– Read the original article
here