Life Style
Lifestyle
Sweeping 6 famous delicious dining coordinates in the middle of the "noble" district 1, it is a popular place with cheap prices.
Ho Chi Minh City has always been known as a combination of different cuisines. Western has, I have, luxury or popular also. It's no exaggeration to say that this place always updates new dishes quickly, just seeing something "hot hit" is a few days later it will be sold throughout the districts.
One of them is District 1 – an area known as the busiest and most aristocratic in Ho Chi Minh City. Hearing this, everyone must think so, the shops will sell at a very high price. But in fact, there are still many popular shops with affordable prices, extremely quality food and drinks for everyone to choose from.
Here are the places to eat without fear of "out of pocket" in District 1, pick up the phone to make an appointment with your friends to eat together, sometimes it's less than 50k and your stomach is full.
Tran Dinh Xu fresh milk
If you often pass by the intersection of Tran Dinh Xu and Tran Hung Dao and always see many groups of friends standing crowded, it is Huong Chanh fresh milk shop, also known as Tran Dinh Xu fresh milk. The milk in this shop is just fresh cow's milk as usual, not too special, but thanks to many rich flavors such as chocolate, pineapple, corn, strawberry… hard to find in other shops. With the extremely cheap price, many people often choose this as a refreshment spot for evening walks.
Photo: @aiiimyyy, @phxngh, @thon.foodie
Up to now, the salon has been operating for about 30 years and has become a part of many people's memories. The taste of the shop's fresh milk is sweet, not too harsh and a bit fatty, not making the drinker feel sick. With only 10k – 20k, you already have a delicious bottle of milk to sip. However, the shop is quite small, there are no seats, mainly bottled for take-out. But you can finish buying and then move to the opposite sidewalk, kicking against the stand, sitting back in the car to enjoy and flirting with friends is also quite fun.
Huong Lemon Fresh Milk
Address: 106 Tran Dinh Xu, Ward Nguyen Cu Trinh, District 1
Opening hours: 8:00 – 23:59
Reference price: 10k – 20k VND
Theater peach tea
Hearing the name, you already know where this peach tea is sold, right? Exactly next to the city's Opera House, next to the fence of another cafe. In fact, the shop is called with a more familiar name than Godfather milk tea, but because people keep saying to each other "Do you want to drink peach tea at the theater?", the name theater peach tea is convenient until now. hour.
Peach tea, milk tea here have no tables and chairs, no signboard, only an ice box and ready-made cups of peach and milk tea hanging on the fence. Yet, at around 7pm, people are busy buying a glass and then going to the theater or walking street to drink, enjoy the wind, and chat with friends. Peach tea here is only made with tea bags, but it is quite rich and smells like peaches, the peach pieces are also very large and the price is cheap, only 20k – 25k for a cup.
Theater peach tea
Address: Next to the Opera House, Dong Khoi Street, District 1
Opening hours: 18h00 – 0h00
Reference price: 20k – 25k VND
Dong Du strawberry tea
Now, it's not uncommon for milk tea and coffee shops to pop up with luxurious check-in places, but strawberry tea on Dong Du street, doesn't need air conditioning, and has no view, just a car and some paperboards. Seat cushion still attracts a lot of young people to visit. In addition to strawberry tea, here also sells milk tea, tamarind ice, soot, … but the best seller is still strawberry tea. Strawberries here are thinly sliced, slugs with sugar to create a sweet and sour taste, the strawberry soaked water is the flavor that makes the drink more delicious. In the evening, meeting friends here, sitting on the sidewalk, talking about all kinds of dramas of the day and slowly enjoying a cup of cool strawberry tea is nothing more interesting.
Dong Du strawberry tea
Address: 52 Dong Du, Ben Nghe Ward, District 1
Opening hours: From 18:00 to 2 – 3 am the next day
Reference price: From 20k
Cambodian Buttered Beef Bread
If you find the bread you eat every day is a bit boring, try switching to this Cambodian-style grilled beef sandwich, guaranteed to be strange but the price is still "anti-inflammatory", by a skewer. Meat here is only 12k and bread is only 7k.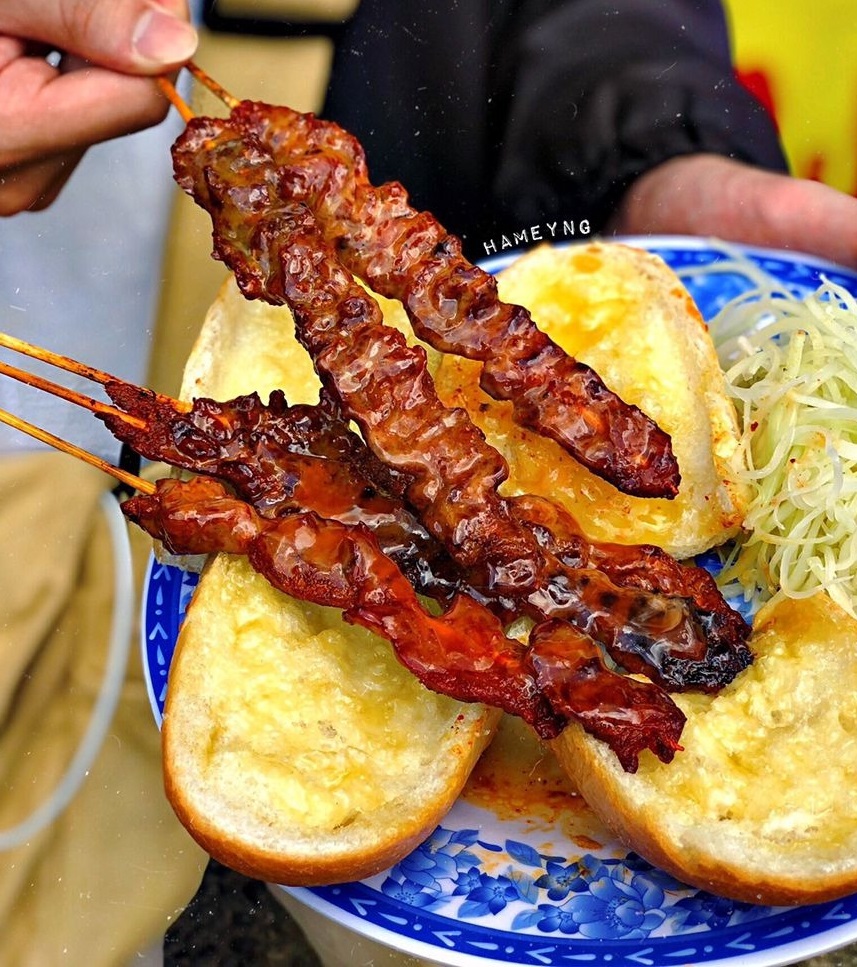 The beef skewers here are chopped, marinated with a Cambodian-style sauce, so it has a rich taste, grilled on hot coals and spread with a layer of butter outside to make the meat look iridescent and delicious. The bread is spread with a layer of golden butter. Beef skewers are warm and hot, combined with a piece of crispy, fatty bread plus a few strands of sour and sour papaya to eat very strangely. From time to time, if you pass by Cong Quynh area, try to visit this Cambodian butter roast beef shop to experience it.
Cambodian Buttered Beef Bread – A Tung
Address: 171 Cong Quynh, Nguyen Cu Trinh Ward, District 1
Opening hours: 14h00 – 22h00
Reference price: 7k – 12k
Grandma Ut's Heart Porridge
This is one of the oldest porridge shops in Saigon – more than 80 years. Up to the present time, this heirloom porridge shop has passed 3 generations but still retains its original characteristic flavor and is chosen by many people to visit whenever they want to eat something solid.
A bowl of hearty porridge at Ba Ut restaurant has many kinds of toppings such as sausages, pho, heart, liver, tongue, stomach, etc. Especially served with hot pancakes. Porridge here is cooked very carefully, it is stewed from bones, so when used, you will feel the sweet taste, the blood is soft and fatty. The heart is thoroughly cleaned, so eating is completely odorless. Every day, the owner prepares porridge from 2 am, the ingredients are selected well to ensure the quality of the dish. In addition to porridge, the second best-selling dish at the restaurant is Ba Ut's signature fried sausage with minced lean meat inside, chewy enough, fatty enough without being fed up.
Grandma Ut's Heart Porridge
Address: 201 Co Giang, Co Giang Ward, District 1
Opening hours: 6:00am – 7:00pm
Reference price: 20k – 70k
Cong Quynh rice paper
Although the street food line in Ho Chi Minh City is constantly innovating and introducing many new dishes, mixed rice paper seems to still hold a priority position in the hearts of young people. Among the rice paper shops in District 1, rice paper on Cong Quynh street always attracts many young people to experience because of its delicious taste and low price. A portion of rice paper filled with toppings, which is beef jerky, quail eggs, mango, shrimp paste, fried onions, peanuts, laksa leaves,… served with a special beef sauce that only costs from 20k to 30k.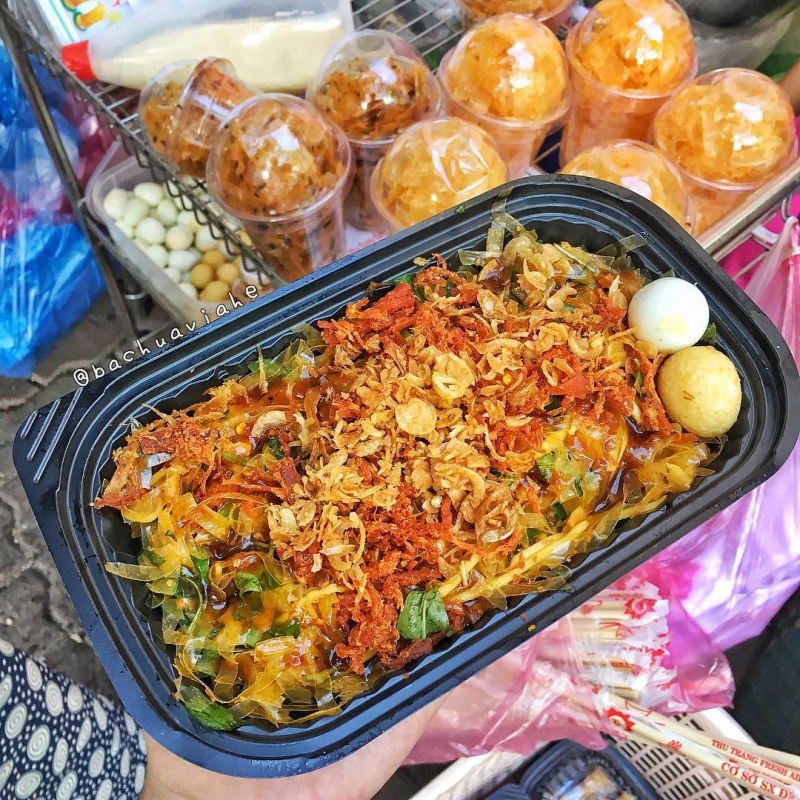 This shop's rice paper is very flexible, it is a type of rice paper with chili salt and sour, crab red color, when mixed, it will be evenly absorbed in the sauce with a bit of sour taste that will make you "addicted" for a long time. In addition, the shop also sells mango salad, if you like, you can buy it to enjoy with mixed rice paper.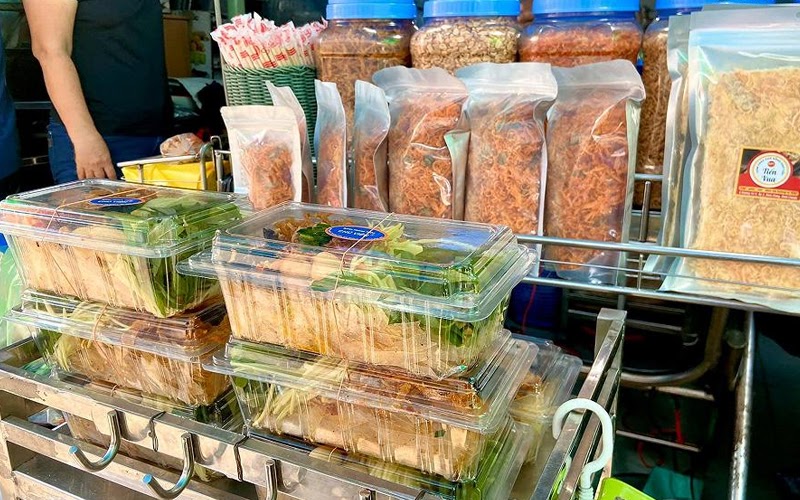 Cong Quynh rice paper
Address: 153 Cong Quynh, Ward Nguyen Cu Trinh, District 1
Opening hours: 11:30am – 10:00pm
Reference price: 20k – 30k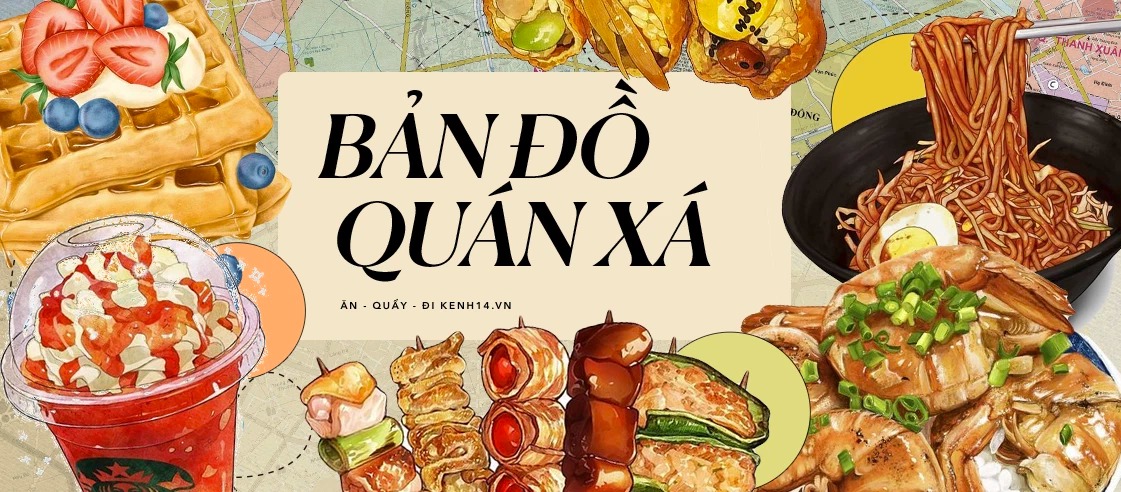 You are reading the article
Sweeping 6 famous delicious dining coordinates in the middle of the "noble" district 1, it is a popular place with cheap prices.

at
Blogtuan.info
– Source:
Afamily.vn
– Read the original article
here