There are some plants that have the ability to live up to a century before blooming, but a post that has gone viral on social media also claims that there is a rare Himalayan flower that still has a spectacular growing time. Item: bloom only once in 400 years.
But according to the AP's Fact Check page in Australia, these claims greatly exaggerate the tree's lifespan. According to the researchers, the plant pictured here, the Rheum nobile, blooms once an average of about 33 years before it dies.
This is not the first time a photo of this plant has been circulated on social media with the statement "blooming once in 400 years".
In November 2019, an Instagram user declared the image of the Rheum nobile tree to be "the Mahameru flower that blooms once in 400 years in the Himalayas", adding that those blessed to see the tree in bloom will receive "good luck". good luck for a lifetime".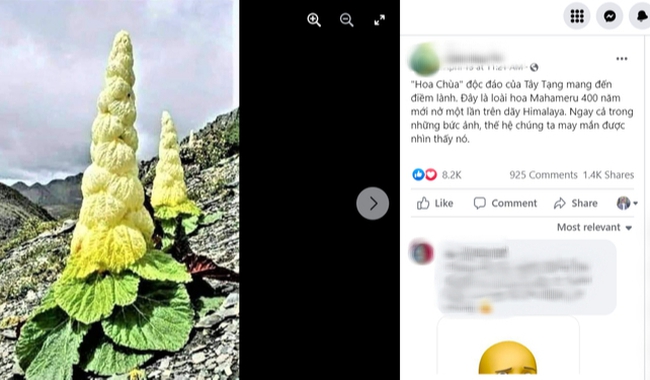 Reportedly, the photo used for the false posts originates from a 2009 photo uploaded to Flickr, which shows the Rheum nobile in full bloom and is known exactly by its name.
This plant, also known as Sikkim rhubarb, is a woody perennial native to the Himalayas that grows to over a meter tall. Unisexual perennials spend at least a year in a vegetative state before flowering once and dying.
However, Rheum nobile does not take 400 years to bloom, according to professor Jürg Stöcklin of the University of Basel, who has co-authored several papers on the plant.
"Rheum nobile is indeed a very spectacular plant because of its life cycle," he told AAP FactCheck in an email.
The giant herb, which lives above 4000m in the Himalayas, grows slowly at first. When it flowers, it takes on a "giant" appearance, which can be seen from miles away.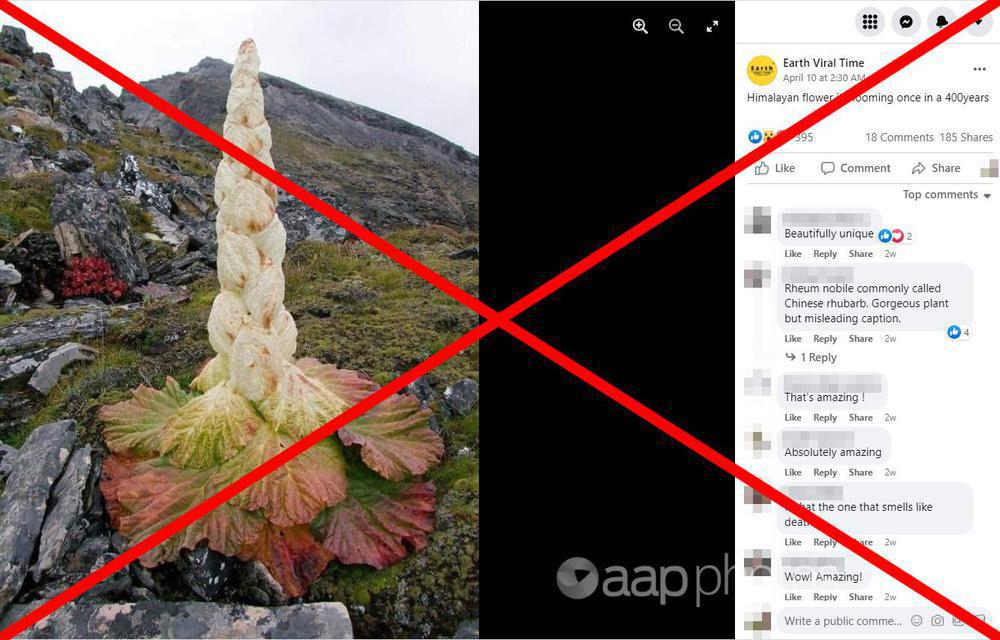 This unique reproductive activity will continue, he adds, with thousands of seeds being dispersed throughout before the plant dies.
Thereby, Professor Stöcklin said that the statement "flowers bloom once every 400 years" is untrue.
In a 2019 study published in the Annals of Botany, Professor Stöcklin and his co-authors estimated the average time it takes for Rheum nobile to reach flowering size at 33.5 years.
Many experts contacted by AAP FactCheck were unable to name any plants in the Himalayas or elsewhere that last as long as 400 years from blooming.
According to the Guinness Book of World Records, the slowest flowering plant is a very rare giant tree, Puya raimondii, native to the mountains of Bolivia. The website says its flowers appear after about 80-150 years of the tree's lifespan.
Paul Licht, professor emeritus at the University of California, Berkeley and former director of the university's botanical gardens, told AAP FactCheck that the estimate of "flowers bloom every 80 years" comes from observations of the plant species. above in its natural habitat.
In the garden, however, the scientists observed the plants flower after only 28 years.
Shashi Babbar, a professor of botany from the University of Delhi, says he knows of no plants that take a century or more to flower.
"Yes, many trees have a long growing period. However, they only last for a decade or so. Single species such as bamboo, take about 40 years to flower and then die, " Professor Babbar said in an email.
Laurence Dorr, a research botanist at the Smithsonian Museum of Natural History, told AAP FactCheck he couldn't imagine a plant that blooms every 400 years, adding that very few species even live so long.
https://soha.vn/su-that-ve-cay-than-tay-tang-400-nam-no-hoa-1-lan-2022051422437296.htm
https://cafef.vn/su-that-ve-cay-than-tay-tang-400-nam-no-hoa-1-lan-20220515104318763.chn
You are reading the article
The truth about the "Tibetan tree that blooms once every 400 years"

at
Blogtuan.info
– Source:
Afamily.vn
– Read the original article
here