Business
What's the reason to stay when the market drops sharply?
The global stock market is going through a very difficult period, but some experts believe that the near sell-off wave has not been able to spark the "give up" sentiment of investors.
As of May 9, the S&P 500 index is down more than 16% from the beginning of 2022, and has lost nearly 12% in the second quarter alone. The Stoxx 600 in Europe is also down more than 13% in 2022, while the MSCI Asia-Pacific is also down more than 16%.
Investors are "running away" from risky assets after the market was shaken by a series of negative news, including high inflation, risks of slowing economy. , the Russia-Ukraine conflict, the supply shock from China, and most importantly, the trend of central banks actively using interest rate tools to control the price increase of consumer goods.
However, several strategists told CNBC on May 10 that there are still profitable opportunities for investors, although they will need to be more cautious.
"Obviously, there's too much fear in the market, and volatile sessions are hard to avoid. I don't think we've reached the exit threshold. The market hasn't gone too deep into oversold conditions right now," Fahad Kamal, chief investment officer at Kleinwort Hambros, told CNBC's "Squawk Box Europe."
Kamal suggested that the positive signals related to the background of "strong" economic growth and good corporate profits are still present, making it difficult for investors to predict whether the market has fallen into a bearish state. score or not.
However, in the context of the global stock market's strong growth over the past 18 months, he said that "this correction period is unusually prolonged" and that makes the stock market neutral. in the eyes of investors at the moment.
"There are many reasons for us to assume that things are not as bad as the past few days," he said.
"One of them is that we still have a solid economic model. If you want a job, you can find it quickly; if you want to raise capital, you can; If you want to borrow money, you can, but at a slightly higher interest rate, and it's still historically low."
Building on Kleinwort's investment model, Kamal argues that the current economic regime remains relatively attractive to long-term investors. Most economists have yet to make any forecasts of a recession ahead, but they do admit that stock prices aren't cheap anymore and the market trend is "extremely negative."
"Investor sentiment has not yet reached the threshold of giving up. We are not yet in a situation where investors are looking to exit the market at all costs. There are still many investors who want to "bottom-fish", at least in some areas of the market," he said.
"We think a lot of support is still in place, and that's why we're still investing. Profits of many businesses are still at a good level," he shared.
Central bank decisions have a big influence on market movements, with the US Federal Reserve (Fed) and the Bank of England (BoE) both raising interest rates and preparing to cut their balance sheets. assets to "cool down" inflation.
The European Central Bank has yet to raise interest rates, but has confirmed the end of its asset purchases program in the third quarter, a sign that interest rates will soon be raised.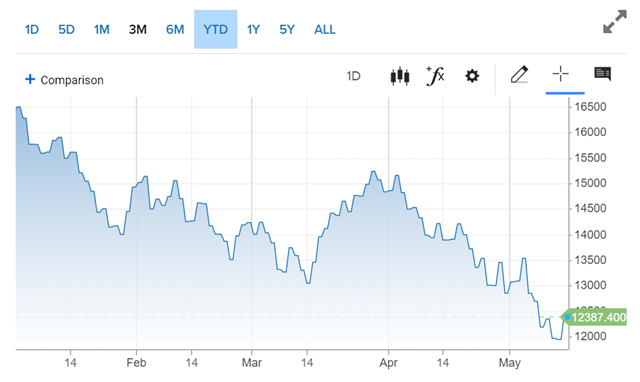 The Nasdaq index fell into a bear market. Image: CNBC.
Opportunity to choose stocks
Monica Defend, director of the Amundi Institute, told CNBC on May 10 that in the event that real interest rates, the market interest rate that deducts inflation, continue to rise, risky asset classes will persist. downward momentum.
Like Kamal, she predicts that investors will not flee the stock market, which is often the case when the market falls into a prolonged period of decline. Instead, many investors wait for the opportunity to re-enter once the market stabilizes again.
"For the volatility to subside, the market needs to absorb the money market orientations of central banks, and that hasn't happened yet," she explained.
Defend added that corporate profits are a factor holding investors back, but warned that the risk of falling profits in the near term is higher as the gap between producer and consumer prices widens.
She suggested that the top-down investment plan on the stock market at the moment is not easy to implement, but there is still an opportunity for investors before groups of quality and value stocks, which includes financial sector stocks, as they can benefit amid rising interest rates.
What is going to happen?
The fact that many markets fell into a sell-off situation and the USD value continuously peaked shows that investors' expectations for a decline are very high.
With such a low-expectation starting point, multi-asset strategists at HSBC hinted in a report released May 11 that the risk asset market still has room for a strong rally in the near future. future if market expectations change.
However, HSBC maintained its cautious view as indicators collected by the bank showed "a high probability of a growth shock in the next 6 months".
"Our sentiment and positioning are currently in the upper 10th percentile. Historically, such levels have been predictive of a positive earnings outlook for the equity market," said Max Kettner, Head of multi-asset strategy at HSBC, shared in a report published on May 10.
"The problem here, though, is that the actual market positioning seems to be getting too high," he said.
So, apart from the "flashy" price spikes that occurred in March, the current downtrend is difficult to reverse unless fundamental information supporting the economy emerges, he said.
You are reading the article
What's the reason to stay when the market drops sharply?

at
Blogtuan.info
– Source:
cafebiz.vn
– Read the original article
here