Business
A Vietnamese fruit won big in Japan, Chinese traders flocked to buy it
Bac Giang farmers harvest lychees. Photo: VNA
Lychee is a fruit that is grown a lot in Vietnam. The most popular varieties of lychee in Vietnam are litchi in Thanh Ha district, Hai Duong province and Luc Ngan district, Bac Giang province. Due to its sweet, cool taste and characteristic aroma, Vietnamese lychee is very popular.
After entering the international market, Vietnamese lychee has resonated and achieved certain successes. Even consumers in some fastidious markets have welcomed Vietnamese lychee enthusiastically.
Chinese MerchantsSign up for purchase of snails
By the end of April, the Department of Industry and Trade of Bac Giang province had received information from 76 Chinese traders registering procedures to purchase lychee in the 2022 litchi harvest season, Dan Viet newspaper said.
The Department of Industry and Trade of Bac Giang province also forecast that the number of Chinese traders registered to come to Vietnam to buy lychee will increase sharply in the near future.
In 2022, Bac Giang has 28,300 hectares of lychee growing area, the total output is estimated at 160,000 tons. In which, lychee meets VietGap standard of 15,400 ha, the output is estimated at 112,900 tons. Lychee according to GlobalGap standards has 82 hectares, the output is estimated at about 1,000 tons.
In which, early ripening litchi has an output of about 50,000 tons; main crop is about 110,000 tons. It is expected that from May 18, Bac Giang will start harvesting early ripe lychee, grown in Tan Yen district.
DRAWVietnam's Thieu Thieu thyeahdaybelchi'm big in Japan
Not only attracting Chinese traders, lychee of Vietnam in the past 2 years has become a favorite fruit in the Japanese market.
According to the Government Newspaper, when it was first launched at the Japanese AEON supermarket chain in June 2020, Vietnamese lychees made a splash when 2 quintals of litchi sold at AEON were sold out in just 1 day. .
Japanese consumers gave very good reviews about the product and gave many compliments for the freshness of Vietnamese lychees as well as expressed their wish that this product would become a gift for family and loved ones.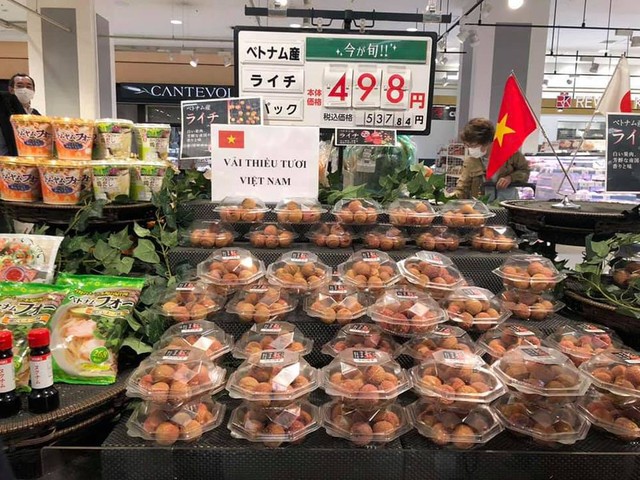 Vietnamese fresh lychee for sale at AEON supermarket in Japan. Photo: Vietnam Trade Office in Japan
By May 2021, the first batches of Vietnamese lychees signed by Japan's Sunrise Farm Company and Ameii Vietnam Joint Stock Company docked at the airport in Japan, marking a bountiful season of litchi and lychees. Vietnam is well received by many Japanese consumers.
In an interview on the sidelines of the opening ceremony of Vietnam Week in the AEON system in Japan in June 2021, Vietnamese Ambassador to Japan Vu Hong Nam affirmed the successful launch in a demanding market like Japan. Ban has helped raise the profile of Vietnamese lychee globally.
According to Mr. Vu Hong Nam, after entering the Japanese market, the prestige of Vietnamese litchi also increased. Fabric export turnover to the European Union (EU), the US and Singapore all increased. This creates a chain effect for Vietnamese lychee to be branded globally, and thereby helps litchi growers to sell more products and earn higher incomes.
Dyeahgoods live Europe
Also in June 2021, Thanh Ha lychee from Vietnam was on the shelves of Asia supermarkets in Paris (France) and was exported to the Belgian market for the first time. In two new markets, Vietnam's lychee has been appreciated for its quality and sold quickly.
In France, this is the first batch of Vietnamese lychee entering the European market with a traceability stamp built by the Trade Promotion Agency. Although Thanh Ha lychee has a general market price of 18 euros/box of 1kg (equivalent to more than 500,000 VND/kg), many customers have bought up to 5kg for the whole family and as gifts for French friends.
Lychee to France is expensive when consumers appreciate the quality and the stamping of traceability – Photo: Department of Trade Promotion
This prompted French businesses to decide to speed up the import plan more than expected to meet market demand and import the second batch not long after.
Within 7 days, there were 2 shipments of nearly 1 ton of Vietnamese lychee that were officially imported to France via air.
In Belgium, according to a VNA reporter, from June 23, 2021, the first batch of Vietnamese lychees has been put on shelves at Belgium's Carrefour supermarket.
This is the effort of Vinamex and its domestic partners to bring Vietnamese fruit specialties to Europe, after the Vietnam-EU Free Trade Agreement (EVFTA) was implemented.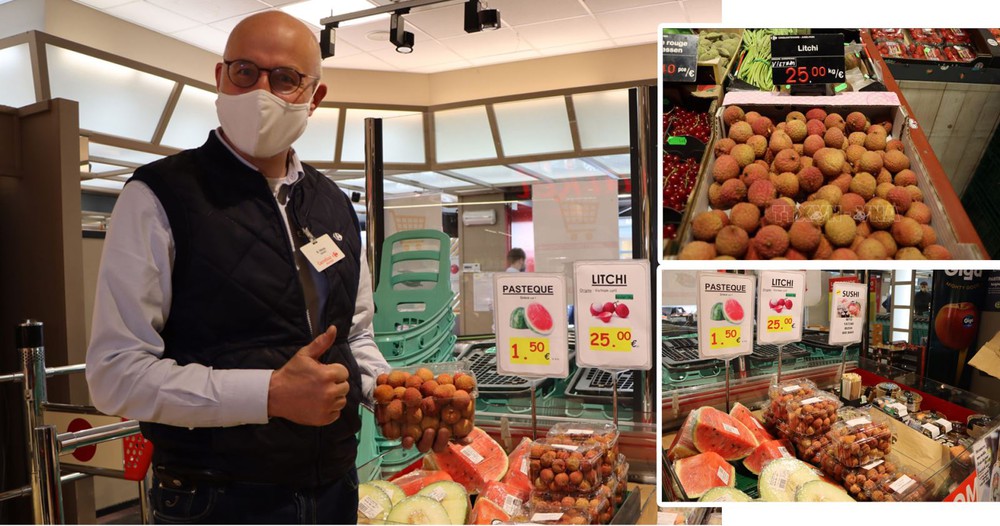 Mr. Bernhard Weiss, manager of Carrefour Tongres supermarket, Brussels and Vietnamese lychee batch. Photo: VNA
Mr. Weiss – In charge of Carrefour Tongre supermarket expressed his love for Vietnamese litchi: "When I see a picture of a Vietnamese lychee fruit from Vinamex, I like it because the fruit is round and even. Until you can try it, it's even better. I have never eaten such delicious fruit and I decided to import and sell so that Belgians can know a wonderful fruit of Vietnam.".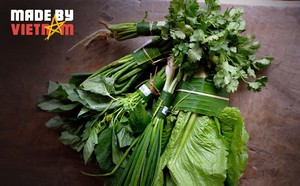 The 'cheap' thing in Vietnam creates a fever, has a high price in foreign countries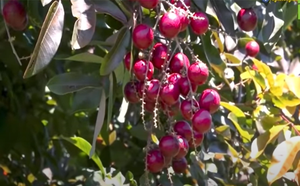 "Lucky heaven" bestowed on Vietnam: Chinese people really want to buy, garden owners are determined not to sell
Having lived and worked for many years in Taiwan (China) and knew many tropical fruits, this is the first time Mr. Weiss has enjoyed Thanh Ha lychee of Vietnam.
"When I eat Vietnamese lychee, I am very impressed and want to widely promote this special fruit to Belgian consumers." – Mr. Weiss excitedly shared, and expressed his belief that more consumers will like this fruit when they know its taste.
In addition to the French and Belgian markets, more than 3 tons of Bac Giang lychees meeting GlobalGAP standards were exported and cleared by the Seashell e-commerce platform and cleared at Frankfurt airport, Germany also in June. 2021.
(Synthetic)
Vietnamese dishes are listed by CNN in the Top Best Noodles in Asia: In addition to pho, there are 2 excellent representatives
https://soha.vn/mot-loai-qua-viet-nam-thang-lon-tai-nhat-thuong-nhan-trung-quoc-nuom-nuop-tim-mua-20220515212509512.htm
You are reading the article
A Vietnamese fruit won big in Japan, Chinese traders flocked to buy it

at
Blogtuan.info
– Source:
cafebiz.vn
– Read the original article
here