Business
From a young assistant working abroad, then becoming an excellent employee of FPT, participating in a project of nearly 50 million USD with a Japanese partner without ever going to university.
Recently, the sharing of the Chairman of FPT Telecom – Mr. Hoang Nam Tien about the value of a university degree in a business program caused a stir among the public.
Specifically, when talking with a candidate with a college degree, Mr. Tien said: "Where I am working, 29% of officers, experts, managers, and directors have college degrees. Thus, The degree is not important, the important thing is your ability and self-study ability".
This share of Mr. Tien caused a lot of controversy in the online community, supporters, opponents… In fact, with a fair working environment, work efficiency and capacity are more appreciated. degree like at FPT, what Mr. Tien shared is not "virtual".
Did you believe that a Production Manager of FPT Japan office of FPT Software brought businesses "terrible" contracts such as: Project to digitize design drawings for a leading Japanese automobile corporation, build build an artificial intelligence system, recognize obstacles for self-driving car cameras;… but don't have a university degree, even worked as a vagabond in difficult years to make a living?
That is the true story of Mr. Nguyen Truong Duy (32 years old) posted on the internal website of FPT Corporation (chungta.vn).
The family was poor, so when he was only in grade 4-5, Duy worked as a cowherd to help his parents. In grades 6-7, he worked to plow the fields, sell firewood, and when he was a little older, he worked as a helper at construction sites.
"Neighbors built a concrete pig sty. Lying on that floor for a nap is so cool, I wish my house had one too," Duy recalled his miserable childhood.
Later, he also declared the wrong age to get a job at a hydroelectric power plant. He worked 45 jobs a month, one and a half times more than ordinary people. During the day, they work hard to pull nails, collect scrap, and collect every penny.
Duy said, he was used to having only one warm coat in winter. But no matter how hard it is, he still tries to study, as evidenced by the long lines of certificates of merit stuck on the wall of the house.
Unlike his peers who chose to go to university after graduating from high school, Duy decided to work abroad with the hope of escaping poverty. "I always wanted to get ahead, do something to get out of poverty," he recalls.
With the small amount of money his family saved, mortgaged all the red money and then borrowed another 120 million VND to pay it to the brokerage company, he always thought about his father's saying about his dream of changing his life:Try to study and become a worker. Don't be a farmer like your parents, you will suffer for the rest of your life.".
Always thinking that "seizing opportunities, perseverance and hard work accounts for 95% of success", in order to overcome communication limitations, Duy has done all sorts of ways to improve: self-studying until 2-3am, studying in supplementary classes, practice Japanese anywhere,…
After 4 months, Duy became the most outstanding student among the 200 workers at the center, and from there he studied for his Japanese certificate.
After 3 years of hard work at a shipyard in Japan, he was able to return home with a little capital in hand. Returning to his home country to work for a Japanese software company for 5 years, when feeling that he was exhausted from promotion and bored of working for foreign bosses, Duy decided to leave to join FPT Software Da Nang.
Although he does not have a professional degree, with his Japanese language and available experience, he is not only confident but also expresses his ambition to earn more big projects to bring jobs and income to Vietnamese people instead of going to work. employed in a foreign country like he used to.
Without going to college, Duy made up for it by reading books on technology, foreign languages, economics or history. He admits that he needs to learn a lot so as not to be out of step with the times.
Manage and operate a million dollar project but don't have a university degree
"This project needs to use an aircraft at low altitude, take pictures of the whole of Japan and then send the images to Da Nang for engineers to make detailed maps," Duy said about the $47.5 million project that FPT said. Software won in March 2021 after surpassing many technology giants. It is a contract to carry out detailed mapping of the whole of Japan, serving self-driving cars and autonomous delivery by drones.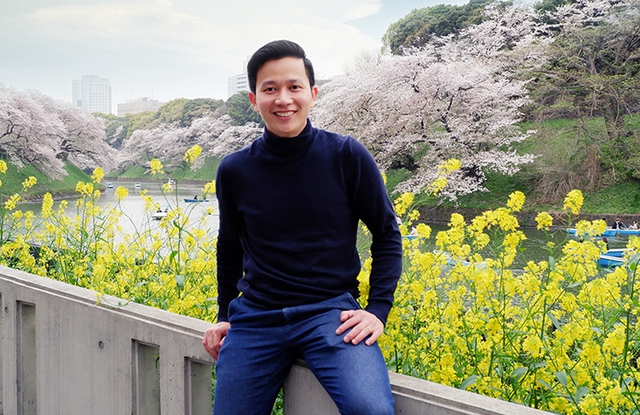 Nguyen Truong Duy – Photo: chungta.vn
The Japanese partner only allows the map to deviate from reality by no more than 0.5m. At the same time, the correct elevation and number of floors of apartment buildings must be displayed for the unmanned delivery device to find the correct address. If the map is wrong, the autonomous vehicle runs the risk of going the wrong way and causing danger.
To implement the project, FPT Software had to mobilize up to 600 employees in Japan and Vietnam and is expected to implement within 7 years. The person who directly manages and operates this project is Mr. Nguyen Truong Duy, the only person in the group who does not have a university degree.
Although Duy always recognizes this as a collective effort, his colleagues understand that without a "beautiful resume" from the projects he has done before with his partner, it is difficult to convince them to hand over the entire large contract. so.
To serve the job, he had to constantly travel between the two countries to train personnel and solve problems, helping the project to be on schedule, even during the outbreak of the Covid-19 epidemic in the country.
In the position of production manager, he is responsible for working with partners to convince them to use the company's products. The project is deployed, and continues to operate until the work is smooth.
With special achievements, Nguyen Truong Duy was voted the best employee of the year by FPT Japan.
After all that he has been through, even though it is a proof of the concept of success without a degree, Duy still thinks:Those who do not go to college but succeed, perhaps they will be more successful if they go to school."
https://cafebiz.vn/tu-thanh-nien-phu-ho-di-xuat-khau-lao-dong-roi-tro-thanh-nhan-su-xuat-sac-cua-fpt-join-join- wat
You are reading the article
From a young assistant working abroad, then becoming an excellent employee of FPT, participating in a project of nearly 50 million USD with a Japanese partner without ever going to university.

at
Blogtuan.info
– Source:
cafebiz.vn
– Read the original article
here