"Con N. he is very gentle…"
The victim in the case is NTHN (35 years old, living in Hamlet 1, Phuoc Vinh Tay Commune, Can Giuoc District, Long An), the youngest child in a family of 4 siblings. Mr. Nhan (n.'s father) many times choked up when talking about his daughter.
"I love him the most because the child's situation is too difficult. N. got married for the first time, happiness was not long before her husband died in an accident. After her husband's death, N. hugged her two children and returned to her mother's home. I sold my house and divided the land among my 4 children, I lived with my third daughter, next to N's house. Her mother and daughter took care of each other in the situation of lack before and after, "Mr. Nhan said.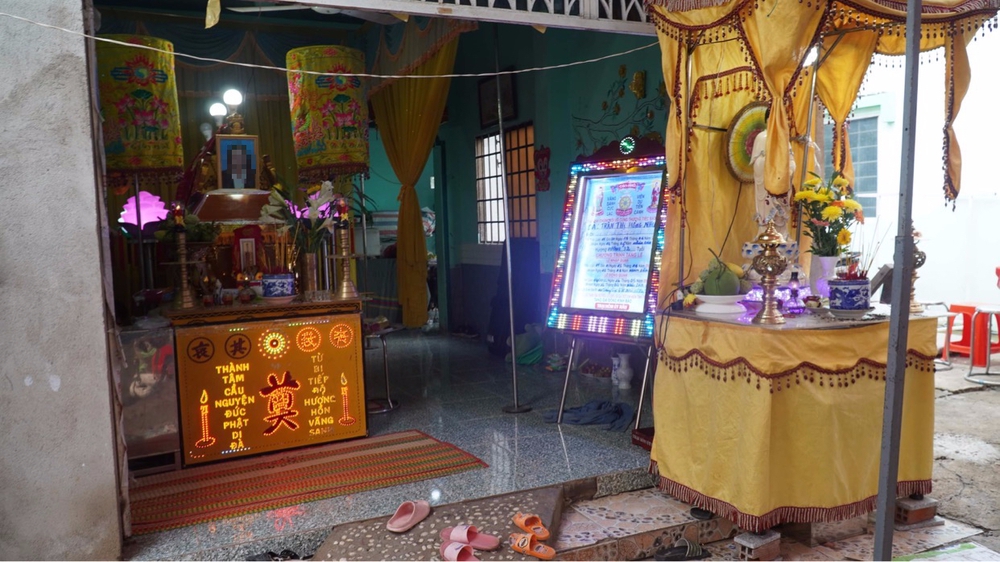 Thanks to the support of the local government, the neighbors, the post-wife N. has been perfected
A few years later, N. decided to go one step further with Nguyen Tan Phuc (36 years old, living in Phuoc Vinh Tay commune, Can Giuoc district, Long An province). Nearly 10 years together, Ms. N. has 3 more children with Phuc.
Mr. Nhan thoughtfully said: "In 2017, Phuc had a conflict and hit me. But because I loved my son, I let go of everything to let him live. The quarrels and conflicts became thicker and thicker. At the peak, On the 29th day of Tet this year, Phuc received his salary and went to drink with friends. Fruits and flowers were bought by his wife, he did not help, meanwhile, N. worked hard at her sister's hair salon and only returned at night. When they got to the house, the couple argued, which led to the decision to divorce."
The three children of Miss N.
"The night of May 14, after getting drunk, Phuc went back to his house to find N. to find trouble. This is the 4th time this happened. First, he missed my child and broke the knife handle, N. picked it up. I was beside N.'s brother and ran over to stop him, causing him to take the car and leave.
Thinking that everything would continue as before, Phuc looked for a story and left, but this time he came back. Only 5-7 minutes later, when my daughter stood at the custard-apple tree in front of the house, Phuc came close and tied her neck, committing the crime.
Everything happened so fast that no one could have imagined it. I still remember after committing the crime, he also argued with everyone in the house and then collapsed next to N. and said: "I'm sorry for you". Our family is too shocked by the crime that Phuc committed," said Mr. Nhan painfully.
Currently, the police of Can Giuoc district, Long An province have arrested and handed over the wife's murder suspect to the Provincial Police Investigation Agency to continue investigating and clarifying.
"Don't let any grandchildren leave"
During the past 4 days, Mr. Nhan only sipped bitter tea without being able to eat or drink anything. Just a few days ago, N. was still a filial, obedient daughter. But because of family tragedy, N. forever left his arms.
"When moving N. to the hospital, N.'s sister cried a lot and promised that, no matter what, the family would take care of 5 children. We were very difficult, N.'s mother went to pick up the bottles. and sell sugarcane juice, I work as a bricklayer seasonally.
During her lifetime, my daughter also lived in poverty before and after. Out of rice, I called it over to the house to get it, live with each other. Mother died when 5 children were too young. The youngest two are twins, these days they keep crying for their mother. My wife and I saw that scene and felt heartbroken.
I know that, leaving 5 children at home, life will still be difficult. But, I decided not to let anyone leave, living with grandparents who have vegetables to eat vegetables, porridge to eat porridge. We will take care of them instead of N," said Mr. Nhan.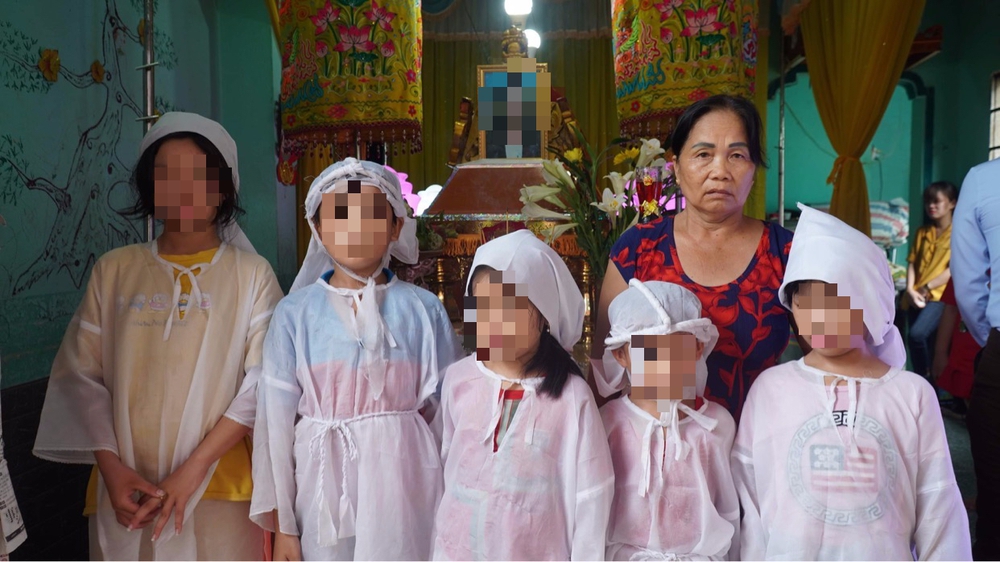 Grandmother with 5 children
According to Mr. Nhan, when his son died, he had less than 100,000 VND in his pocket. Thanks to the local government, the help of the neighbors, the post-mortem of Ms. N. was taken care of.
At 14:00 on May 16, the family saw Ms. N. off to her final resting place. In the small house, the children kept crying because they missed their mother's warmth.
N. (16 years old, the first daughter of N.) suddenly became the breadwinner of the family. As the oldest person in the house, N. both coaxed him and encouraged himself.
All events and pain will pass…
https://soha.vn/bo-sat-hai-me-de-lai-5-dua-tre-ong-ngoai-xot-xa-con-mat-ma-toi-khong-co-noi-100- ngn-202020517112028449.htm
You are reading the article
"I lost my son but I don't have 100 thousand"

at
Blogtuan.info
– Source:
Kenh14.Vn
– Read the original article
here