Business
If you fall into temptation, 1-2 years will be bounced out of the market
Difference in gross profit margin between Vinamilk, Mobile World, FPT Retail
In analyzing the health of a business, gross profit margin is the first and most important level to measure profitability. This indicator shows how much gross profit the business receives for each dollar of revenue, after deducting the cost of goods sold.
The higher the gross profit margin, the more profitable and efficient the business is. But it also does not mean that the low gross profit margin means that the business is inefficient. Therefore, to evaluate how much this indicator is good, we need to put it in the context of each business and each industry.
Normally, manufacturing enterprises will have higher gross profit margins than commercial ones. Let's take a look at this indicator between the three big players: Vinamilk, The Gioi Di Dong and FPT Retail in the same period from 2013 to 2021.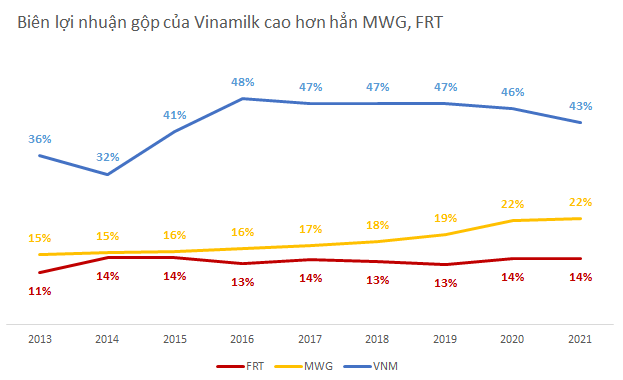 During this period, Vinamilk always maintained a gross profit margin of over 30%, even peaking at 48% in 2016 and steadily maintaining 47% in the next few years. Meanwhile, the two largest retailers, The Gioi Di Dong and FPT, always have a lower rate of 25%. Specifically, in the last 2 years, Mobile World has only achieved 22% gross profit margin, and before that it was always below 20%. FPT Retail also maintains a level of 13-14% gross profit margin.
The higher the gross profit margin, the more profitable and efficient the business is. In addition, when this indicator is above 30%, it shows that the enterprise has a competitive advantage. Retail businesses often do not have a competitive advantage because they are merely importing and selling goods instead of directly creating products.
Better in purchasing strategy
To increase profitability, any business requires effective management of cost of goods sold. This is especially important for Mobile World. In a sharing session with a business community, Mobile World Chairman Nguyen Duc Tai emphasized the role of purchasing when asked about this business.
"You need to buy something, go find that person. When I was young, I bought from wholesalers, when I grew up, I tried to buy directly, and big like Mobile World, I only bought from the factory and even bought from a big factory. It can be said that all Mobile World accessories are purchased directly from the big factory. Depending on the stage of my development, my buying strategy changes, but there are a few principles that I think should be kept in mind.
You are in the hands of a bunch of stupid buyers, they take from the supplier 5-10%, the rest is negative.
That's why many retail businesses are always negative. It's not because they don't know how to do it, but it loses too much in the buying process, pay attention to that. How to have a clean purchasing team is another story", shared by the President of Mobile World.
The second point Mr. Tai also pointed out is that the basic purchasing strategy any business should note is multi vendors (rough translation: Diversity of suppliers). Specifically, business leaders never allow an item to have only one seller, one supplier for themselves.
The Mobile World President points to the basic temptation of using only one provider. Often suppliers will offer discounts for businesses to buy 100% of their products. For example, you are purchasing from supplier A for 10 dong and supplier B for 11 dong. When supplier A lowers the price to 9 dong, the immediate benefit is very clear that the business can reduce costs.
"Mr. 10 dong said he bought it alone, I sold it for 9 dong, nodding once, the cost immediately reduced by 1 dong, seeing immediate results, but in the long run that strategy sucks. Just let these two men compete to reduce supply prices. Maintain certain ratio for example 20-80. In such a competitive state, you will have a reasonable purchase price. In the long run, your purchase price will only go down, not up. You give all the future to 1 person, then 1 year later, 2 years later you are out of this game. One nod and in the long run you die with that strategy", Mr. Tai confirmed.
https://cafebiz.vn/chu-tich-tgdd-nguyen-duc-tai-chi-ra-chien-luoc-mua-hang-ai-king-doanh-cung-can-luu-y-neu-bi- roi-vao-cam-do-thi-1-2-nam-se-bi-bat-rakhoi-thi-truong-20220516135349635.chn
You are reading the article
If you fall into temptation, 1-2 years will be bounced out of the market

at
Blogtuan.info
– Source:
cafebiz.vn
– Read the original article
here