Thế Giới
Meeting with leaders of US financial groups, Prime Minister: 'How to approach each other more'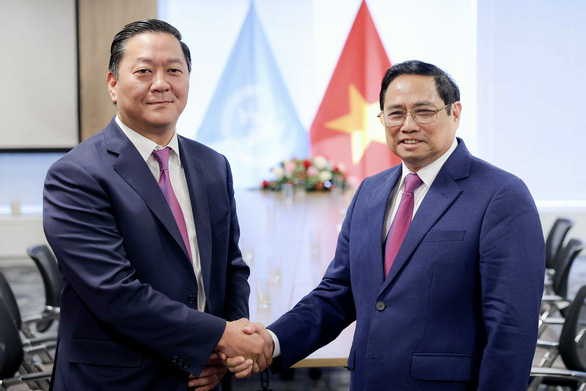 Prime Minister Pham Minh Chinh and KKR General Director Joseph Bae – Photo: NGUYEN KHANH HO
At the meetings, the Prime Minister asked business leaders to exchange operational experiences, suggestions and proposals with the Vietnamese side.
Wishing KKR to increase investment in Vietnam
Mr. Joseph Bae, CEO of KKR Investment Fund, wishes to focus more on different fields in Vietnam from consumer goods, agriculture, manufacturing, real estate (currently has a project in Binh Duong), technology projects…
He expressed his excitement and honor to meet the Prime Minister today and look forward to investing more in Vietnam in the future.
Prime Minister Pham Minh Chinh thanked Mr. Joseph Bae for his good assessment of Vietnam, as well as his understanding of Vietnam.
The Prime Minister welcomed the fund's investment in the private sector and wanted the fund to invest in strategic infrastructure development for Vietnam's public sector. Specifically, investment in transport infrastructure; health and education infrastructure; climate change issues, digital transformation, start-ups…
In addition, the Prime Minister also wanted Mr. Joseph Bae to suggest ways to receive funds from the fund with simple and effective procedures, especially attracting capital into the fields of investment by the State.
Mr. Joseph Bae affirmed that, in the investment strategy of the fund, Vietnam has always been a very important part and has a strong belief in the meaning of a public-private partnership.
To promote investment in these fields, according to Mr. Joseph Bae, the Government must first ensure a transparent and clear legal framework for investors to love to implement long-term projects. At the same time, the Government also needs to ensure the ability to support capital, including through debt, to further strengthen Vietnam's banking system and capital market.
Another important thing is that to realize all the goals, according to Mr. Joseph Bae, there needs to be close coordination and dialogue between the Government and investors.
Prime Minister Pham Minh Chinh said that the two sides had met on investment fields, the remaining problem was how to approach each other more.
The Prime Minister hopes the fund will help Vietnam improve its transparency and long-term stability so that investors can feel secure. Regarding technical issues, the fund supports Vietnam how to use capital effectively, bringing practical benefits to both sides. At the same time, support investment in improving the quality of human resources, ways to access these capital sources, and ways to manage projects, contributing to improving national governance.
Promoting cashless payments in Vietnam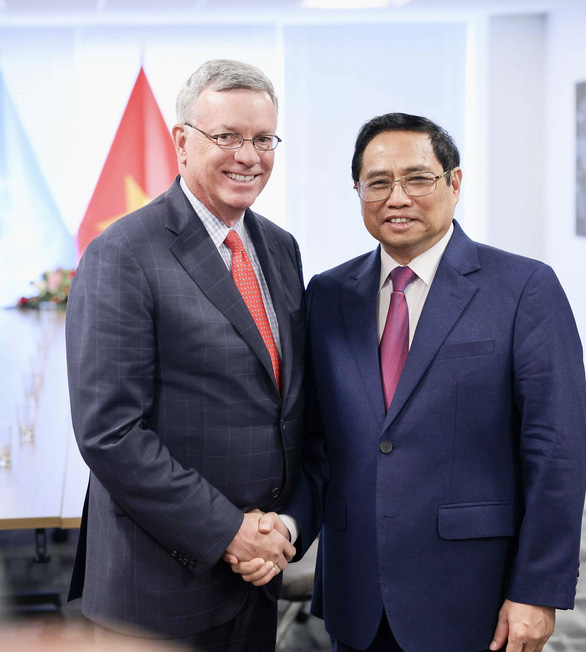 Prime Minister Pham Minh Chinh receives Mr. Alfred Kelly, President and CEO of VISA – Photo: NGUYEN KHANH
Next, Prime Minister Pham Minh Chinh received Mr. Alfred Kelly, President and CEO of VISA, and a number of US financial CEOs from Citigroup, Standard & Poor's…
VISA is a global leader in digital payments, assisting consumers, businesses, financial institutions and government agencies in more than 200 countries and territories to conduct transactions and transfers. cryptocurrencies around the world, most commonly through Visa-branded credit, debit and prepaid cards.
Visa has been operating in Vietnam for over 20 years and is continuing to invest in the development and adoption of online payments in Vietnam.
VISA leaders expressed their impression with the dynamic development of Vietnam. VISA highly appreciates the plan and development of non-cash payment activities in Vietnam, with the growth rate from 8% in 2020 to 28% this year, which is more than 3 times. VISA believes that the Government of Vietnam will achieve the cashless payment targets set by 2027.
VISA now looks forward to continuing to work closely with the Government of Vietnam to support growth and innovation goals in the financial sector, while expanding access to cashless payments; share business investment plans in the near future in Vietnam; discussed opportunities for Visa to continue supporting the digital transformation process, including supporting small businesses, building smart cities, smart mobility… in Vietnam.
Prime Minister Pham Minh Chinh highly appreciated VISA's presence in the Vietnamese market over the past 20 years, right after Vietnam-US normalized relations, contributing to promoting and developing card payment activities. in Viet Nam.
The Prime Minister expected the Group to continue to expand investment, research new products, strengthen cooperation with commercial banks, participate more actively in the process of restructuring, digital transformation, development. Vietnam's financial system is stable and sustainable.
The Prime Minister welcomed and supported VISA's plan to cooperate with the Government of Vietnam in renovating the financial sector and expanding access to non-cash payments.
Recently, Vietnam has developed and approved a project to develop non-cash payments in Vietnam for the period of 2021 – 2025. It is requested that the Group cooperate and discuss closely with the State Bank of Vietnam to participate. Support the implementation of activities and tasks approved in the Scheme, towards achieving the set goals earlier than planned.
This is in line with Vietnam's digital transformation program, contributing to combating corruption and negativity, combating tax loss, and creating favorable conditions for people, businesses, and tourists.
Also at the meeting, the Prime Minister said that Vietnam is currently very aggressively handling violations to develop a safe, transparent, efficient and sustainable capital market; request Standard & Poor's support in credit rating with Vietnamese enterprises. The Prime Minister also discussed with Citigroup leaders about the possibility of promoting cooperation in non-cash payments, capital market development, climate change response, energy transition, etc.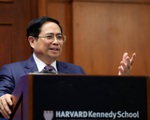 Prime Minister Pham Minh Chinh speaks at Harvard University
You are reading the article
Meeting with leaders of US financial groups, Prime Minister: 'How to approach each other more'

at
Blogtuan.info
– Source:
tuoitre.vn
– Read the original article
here