Du Lịch
Rock moss seems to be abandoned, but it is a special gift from heaven
Rock moss – famous delicious food in the Northwest
Rock moss is a specialty dish "given by heaven" for ethnic minorities in the Northwest. According to the Northwestern people, stone moss dishes made from moss are not only loved for their taste but also have the ability to contain many diseases.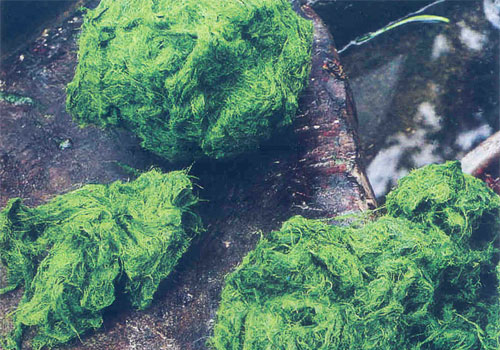 To us, moss is simply an aquatic plant that clings to damp walls, cliffs…and has no effect on life. However, for ethnic minorities in the Northwest mountainous region (Muong, Nung, Thai, Mong, etc.), moss has become a "unique – strange" ingredient to be processed into famous delicious dishes in the Northwest. .
Northwest rock moss often grows on rock ledges in stream beds and river beds. Rock moss is classified into 3 groups: "cui" – a type of moss that grows in hair-like fibers, slightly dark in color; "spicy" – is a green fibrous moss; "tau: – is a type of moss that grows in patches that grow in ponds and streams, does not have the same degree of rock as the other two mosses, when collected, people will use a bamboo stick to push the moss into the basket.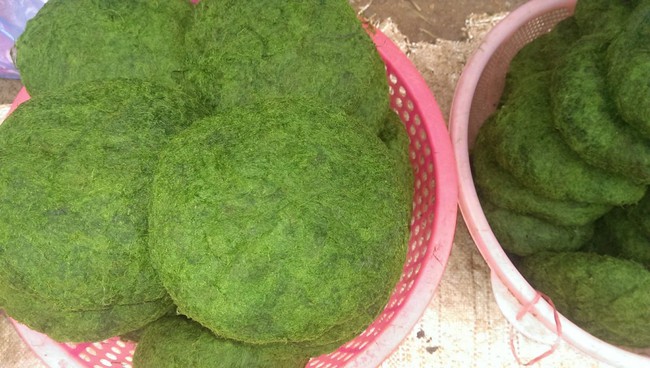 According to the experience of the people in the Northwest, when looking for moss, you should choose large moss fields, because there is both a lot of moss and a delicious one. When picking up moss, you must stand at the bottom of the stream, catch the water flowing from above, and then wave your hands horizontally, but only young mosses can be selected. Moss can only live for about 7 days, that is, when it grows 3-4 days, it must be picked up immediately. If left too long, the moss will turn white and can no longer be used as food.
How to make a miracle to create famous delicious dishes in the Northwest
Picking moss took a lot of effort, but threshing moss and removing impurities was even harder. The mosses are soaked in water, when lifted out of the water, they have to wait for the moss to slowly drain the water before putting them in the basket.
Next will be the moss dam stage. The moss will be placed on the cutting board and pounded to remove the impurities. When threshing moss also requires skills, so that the moss does not get crushed, does not lose its natural green color and nutrients in it. After trampling thoroughly to remove alluvium, moss can be processed.
Usually people will process immediately after the preliminary processing stages are completed. Because if left for more than three days, the moss will dry out, and when processed, it is no longer delicious.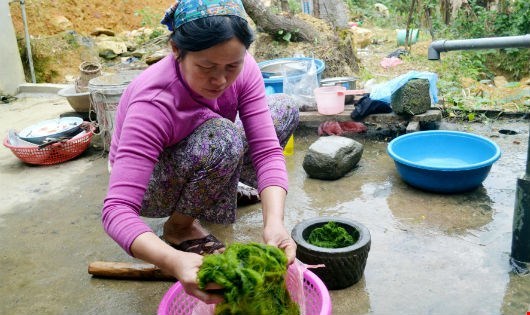 Although the stream moss is many, the delicious mosses are few. Moreover, edible moss is also seasonal, so for ethnic people, moss is also a valuable food. Rock moss can be processed into many famous dishes in the Northwest such as: steamed moss, moss soup, fried moss, moss salad, grilled moss…
If tourists want to enjoy fresh moss soup, people will bring the moss cooked with bone broth or chicken broth, add salt and spices, and then eat it hot. With moss salad, people often take young moss, cook it and mix it with soup, main noodles and spices such as ginger, coriander, "mac khanh" (wild pepper). People who like spicy food can add crushed roasted chili.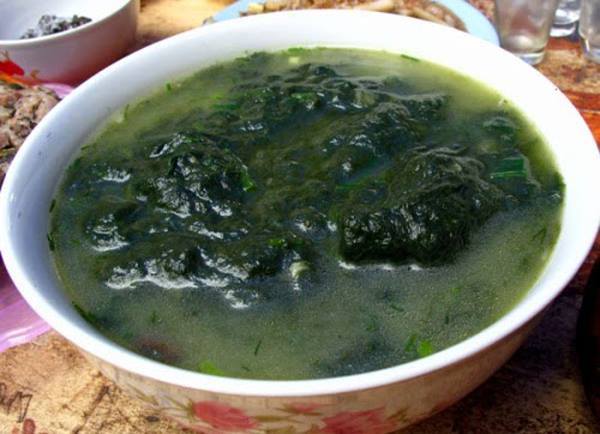 However, for many people, the best way to cook rock moss is still grilled moss. This is also a famous delicious dish in the Northwest that attracts all visitors. Local people will take young moss, put it in banana leaves, dong leaves, bamboo clips outside and then bring it to grill on hot coals.
When the moss is ripe, when the leaves are opened, the dish has an attractive aroma from the mixed ingredients. At this time, moss is soft and has a darker color than when it was alive. Grilled moss is unique in its strange salty taste, it is difficult to describe it.
Thanks to the aroma of doi seeds, a bit of pungent smell of lemongrass, the smell of Chinese… helps to make the taste of famous dishes in the Northwest become unique. People here often use grilled moss with stream fish, pork or chicken.
In a hearty meal to welcome distinguished guests, Thai, Hmong… is an indispensable dish. On the tray of rice, there will be grilled moss, moss soup, sour bamboo shoots, kitchen buffalo meat and ban chicken. Grilled moss will definitely bring you a memorable culinary experience.
According to the experience of people in the Northwest, dishes from moss have the ability to cure many diseases such as: helping blood circulation, detoxification, cooling, stabilizing blood pressure and enhancing resistance.
According to folk experience, moss has cool properties, so it can treat boils, malaria, and prevent welding. Moss is mainly fiber and also has the effect of reducing blood fat, and is a good food for those who want to diet and lose fat. Therefore, rock moss is not only a specialty dish but also a valuable medicine for people in the Northwest.
If you have the opportunity to visit the Northwest villages and enjoy rock moss – a famous delicacy in the Northwest, you will forever remember the special taste of the unique dishes in the highland.
You are reading the article
Rock moss seems to be abandoned, but it is a special gift from heaven

at
Blogtuan.info
– Source:
danviet.vn
– Read the original article
here