Đời sống
The female giant in Hai Phong offers a reward of 800 million VND for two Vietnamese football teams at the 31st SEA Games
A female fan has just announced that she will donate VND 300 million to the U23 Vietnam men's football team and VND 500 million to the women's soccer team if she successfully defends the SEA Games championship.
This woman is not a stranger but an "acquaintance" of players and fan associations – Ms. Bui Thi Hong Hanh (Hai Phong). She is one of two enthusiastic fans who followed the Vietnamese football team to Dubai in January 2019 at the Asian Cup and provided nearly 100kg of food for Park Hang-seo's teachers and students.
In November 2019, she continued to follow the women's football team to the Philippines to provide 60kg of food for teachers and coach Mai Duc Chung. The reason why she did this was because she was afraid that the Vietnamese players were not used to foreign food.
During the team trip to Dubai, this female giant once declared: "Where the player is, there I am", as a firm affirmation of a loyal fan, regardless of the team's achievements.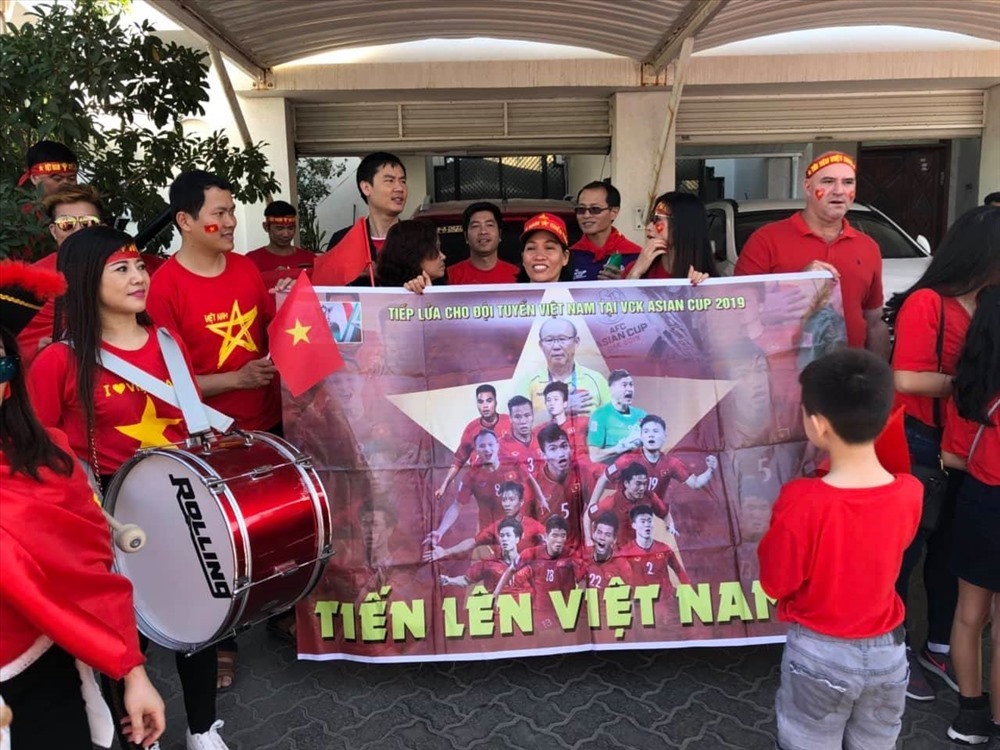 Ms. Bui Thi Hong Hanh (middle) with a group of friends on a team trip to Dubai in January 2019.
It is known that this special fan has always followed the Vietnamese football team since the 90s of the last century. Her way of cheering is not through the TV screen but directly in the stadium stands to cheer for the players.
"Every time the team competes abroad, the team stays at a hotel, it's me and a group of friends staying at that hotel, wherever we compete, we are there, not only cheering, but also watching and motivating. pellets. When you win, congratulate, when you lose, you comfort and share", Hanh once shared.
However, Hanh has been known to many people since she and her group of friends followed the team to Dubai, preparing for the team pure Vietnamese dishes such as spring rolls, banh chung, fish sauce, and grilled mackerel. Even spices such as lemon, chili, salt and pepper are also prepared by her team, hoping for the players to have a delicious and satisfying meal.
Side by side with her on that trip were Ms. Vu Thi Thuy (Vice President of Quang Ninh Fan Association), Mr. Nguyen Xuan Manh and Mr. Nguyen Van Khai (representative of Southern fans).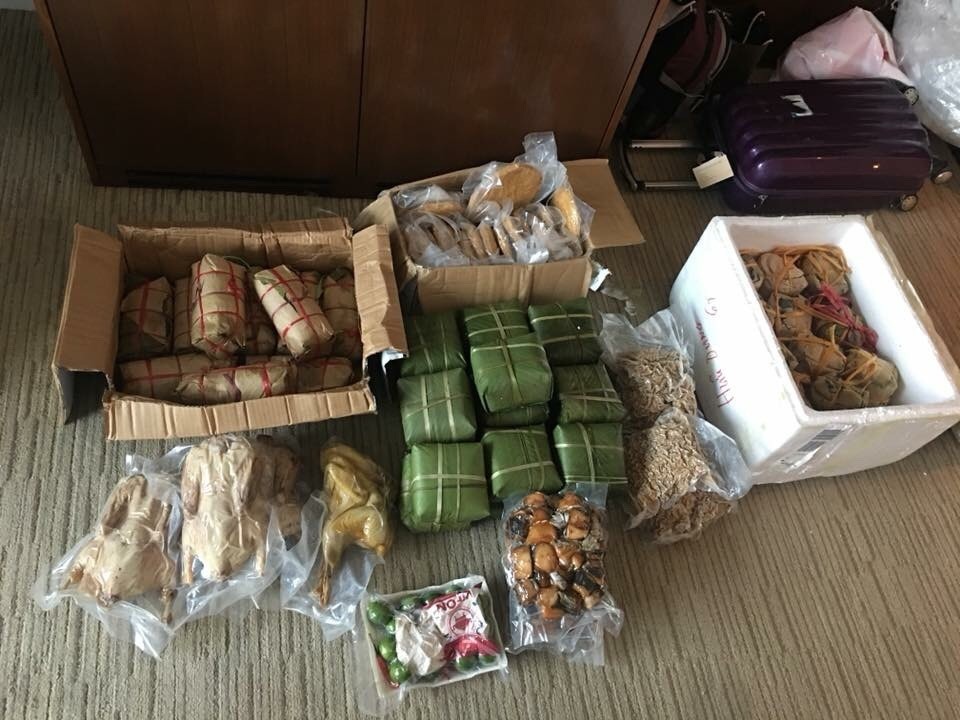 Luggage to follow the overseas team of Ms. Hanh's group.
Hanh revealed that the last time she went to Dubai, she also brought 10kg of bandages bought by Mr. Nguyen Xuan Manh to provide the team's medical department, "because this item is difficult to find and expensive in Dubai".
"It is difficult to compare anything, because that love is boundless. My team and I want to give the best for the players. If I can do something to help the team, I'm ready. The things I do only contribute a small amount of energy and I am completely voluntary. That makes me and my friends happy," said Hanh emotionally.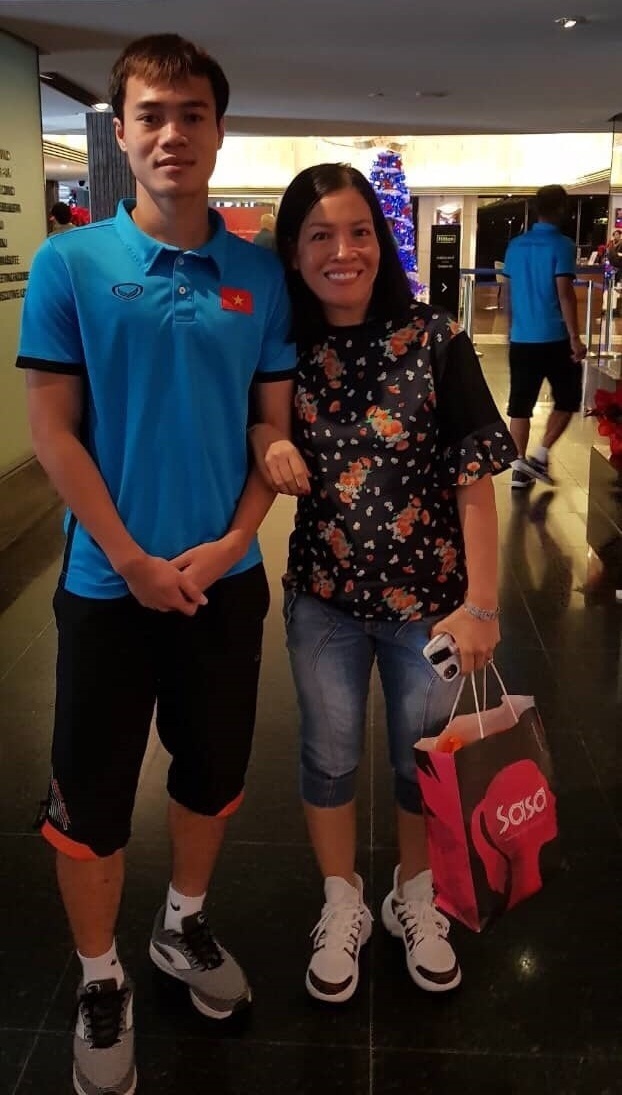 Ms. Bui Thi Hong Hanh took a photo with player Van Toan while following the team abroad.
Before each match, she and her friends were busy preparing food, sending it to the restaurant to ask them to cook food for the players. During the match, she and her friends enjoyed the match in the audience. For Hanh, the most important thing is not the goals, but the love of football. That love can be compared with the national spirit.
In a sharing at a press conference at the 2019 Asian Cup, goalkeeper Dang Van Lam once touched: "I and my teammates gathered in Dubai for quite a long time. The fans who went to the UAE were very crowded, they brought things with them. Vietnamese food supplies to the team. The brothers in the team feel that the food is small, but very valuable because the team plays away from home many times, there is a shortage.
his gentle
You are reading the article
The female giant in Hai Phong offers a reward of 800 million VND for two Vietnamese football teams at the 31st SEA Games

at
Blogtuan.info
– Source:
infonet.vietnamnet.vn
– Read the original article
here