Nutritional value in red meat
Dr. Tuan Thi Mai Phuong – National Institute of Nutrition – affirmed that red meat is an important source of animal protein.
In 100g of lean pork there are 19g of protein, or in 100g of beef there are 21g of protein – meeting approximately 30% of the daily protein requirement of an adult.
Besides, red meat is rich in micro-minerals such as iron, zinc, vitamin B12.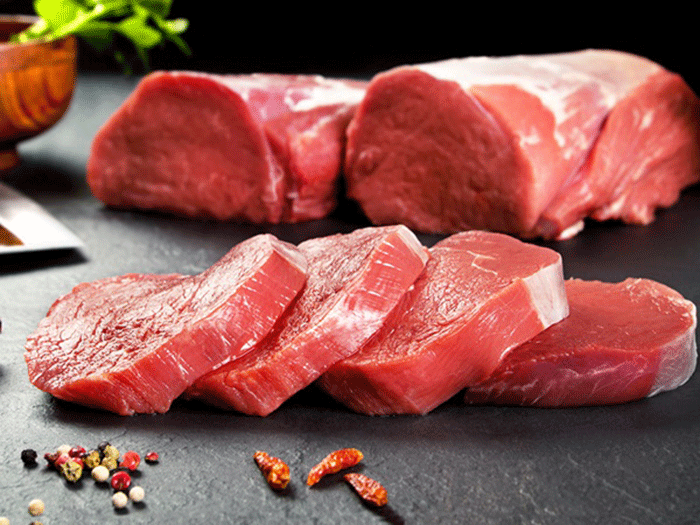 In 100g of beef, there are 21g of protein – meeting approximately 30% of an adult's daily protein requirement
According to the Vietnam Food Ingredients Table, 100g of lean beef tenderloin provides 1.6g of iron and 4.05g of zinc, about 1mcg of B12. In 100g of pork, there are about 1g of iron and 2.5g of zinc, and 0.84 mcg of B12. This content is high compared to other foods.
How much red meat do Vietnamese people consume?
According to the results of the nutrition censuses in Vietnam, the consumption of meat in general and red meat in particular of Vietnamese people has increased sharply in recent decades.
In 2000, the average meat consumption (assorted) per person/day was 51g/day, 10 years later, this number increased to 84g/day (2010). By 2020, consumption will reach 134.5g/day.
People in urban areas have higher meat consumption than rural areas.
Particularly for red meat, the per capita consumption is 95.5g/person/day (in 2020) and in urban areas is 116.9g/day. This level of urban residents is higher than the general recommended needs.
Reduce the amount of red meat to prevent cancer and many dangerous diseases
According to Dr. Tuan Phuong, a balanced and reasonable consumption of foods in general and especially red meat in particular is the key to maintaining and improving health.
"Eating too much red meat is a risk factor for a number of diseases such as high cholesterol, heart disease, cancer, especially colorectal cancer." – Dr. Tuan Phuong, National Institute of Nutrition
Dr.BS Pham Van Binh, deputy director of K Hospital, recommends that people take measures to prevent the risk of colorectal cancer, which is to reduce the amount of red meat.
Balancing the benefits of eating red meat (which is a rich source of protein and micronutrients) with the risks to health (non-communicable diseases and cancer) requires specific guidelines for consumption. reasonable consumption.
To maintain and improve health, the International Fund for Cancer Prevention and the American Institute for Cancer Research have made the following recommendations:
– Each week, should consume no more than 3 times of red meat with a total amount of about 350-500g after processing, equivalent to up to about 700g raw meat and does not include the weight of the bones.
– If calculated by day, the amount of red meat should not exceed 70g/day (cooked meat), equivalent to about 100g/day raw meat bones are not included.
It is also recommended to use lean meat, increase the use of poultry, fish, eggs, and milk as foods to replace red meat in daily meals to ensure adequate supply of protein and micro-minerals.
You are reading the article
This familiar food needs to be reduced to prevent cancer and many dangerous diseases

at
Blogtuan.info
– Source:
Soha.vn
– Read the original article
here