Business
3 billion VND at a 5-star hotel, with its own bar and bakery, expensive but people still waiting in long queues to cause congestion
Recently, the news that Nguyen Thi Thanh Nha has become the first Vietnamese woman to conquer Everest has made many people more and more curious about this "roof of the world" experience.
According to the Himalayan Database reports, at the end of 2018, 295 people died climbing Everest, while there were 9,159 successful climbs by 5,294 people. The death toll rate is around 1.2% which means that for every 100 climbers, 1 will stay on the road forever. The leading causes of death were landslides (41.6%), falls (12.5%), altitude sickness (16.6%) and exposure to extreme temperatures.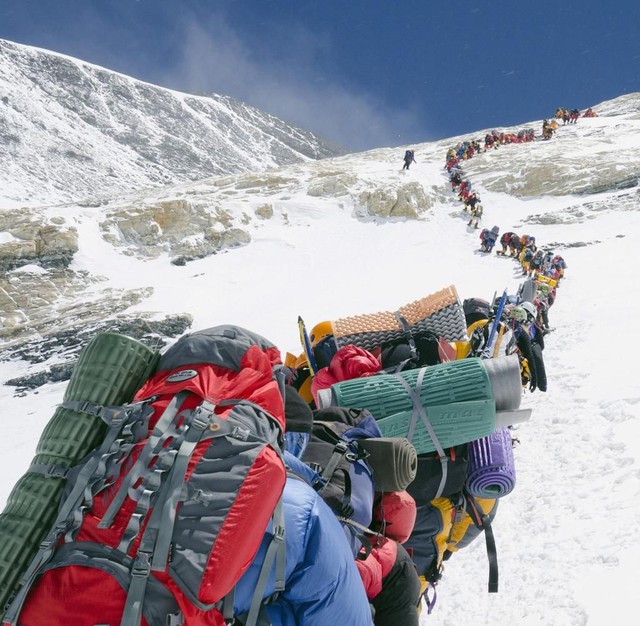 Mount Everest is located on the border between Nepal and Tibet, in the Himalayas. Although climbing to the highest peak of the world is an arduous and life-threatening journey due to altitude sickness, landslides.
Despite such danger, there are still many climbers determined to conquer to stand on the roof of the world. In recent times, thanks to the support of better climbing equipment, more accurate weather forecasts and the experience of those who have gone before them, the death rate has been reduced, but the danger is still undeniably dangerous. danger of this adventure.
In addition to the safety factor, Everest trips also challenge those who want to set a record for themselves with extremely expensive costs. There are many different tours with a variety of costs, ranging up to hundreds of thousands of dollars each. However, according to the British Climbing Council (BMC), most Everest climbers hire companies that specialize in providing expedition tours, with fees ranging from $60,000 to $65,000.
In Nepal, the fee for issuing a climbing permit is 11,000 USD, excluding the 2,500 USD fee for the licensing company. The rest includes food, protective equipment, tour guide fees, oxygen tanks…
This service already includes people who support the climb, usually the Sherpas (an ethnic minority living in the Himalayas, often working as guides for Everest climbers).
Meanwhile, for guests with abundant financial potential who want to take risks while still having comfort in their trip, they will choose an expedition package that costs up to 100,000 USD (more than 2 billion VND). which does not include the tip fee.
One of the base camps – a stopover in the journey to conquer Mount Everest
According to Business Insider, Seven Summit Treks, a company specializing in organizing tours in Nepal, offers a "VVIP" package for those who want to conquer Everest for up to 130,000 USD (about 3 billion VND). This package includes a welcome dinner, stay at a 5-star hotel, with a bakery, bar, kitchen, shower and private toilet at the campsite. Travelers who can afford to pay for this package also get their own helicopter and photographer services, but do not include international flights to and from Nepal, and some essential equipment.
Participants also need to practice for at least a few months before climbing depending on their health situation. This unit also emphasizes that this trip is suitable for those who have experience conquering peaks of 7,000m or more.
Those who want to register to participate need to have a healthy heart and muscle strength to be able to function in conditions of 60-70% reduced oxygen levels, carry heavy loads and must be prepared for avalanches. snow.
The popularity of Mount Everest began to rise in the 1990s, when international guide groups began opening commercial climbing tours to the top. Despite the dangers lurking, Mount Everest still attracts hundreds of climbers from all over the world. In 2018 alone, the Nepal Tourism Department issued permits to 347 foreigners and according to records, 261 people conquered with the help of 302 guides and porters. On the northern side, about 239 people reached the summit.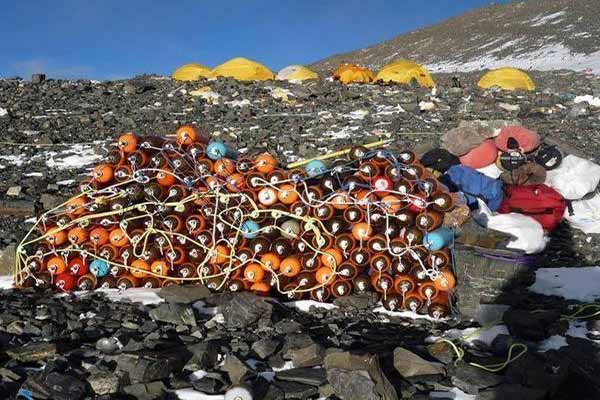 Climbers must carry an oxygen tank to survive in the harsh conditions at this altitude.
Many people climb the mountain at the same time, leading to congestion, long lines on the way to the "roof of the world" 8,848 m high. At this altitude, most people can only live a few minutes without oxygen equipment. The area where climbers are trapped is known by many as the "death zone".
People's curiosity about Everest still attracts more and more tourists here. The Nepal Tourism Department collects about $5.2 million USD annually for climbing permits alone. In the past, the Sherpa people – a Tibetan tribe living near the top of this mountain were hired by expeditions carrying supplies up the mountain, today many other people are also recruited into the group, they are called "" mountain workers". In 3-4 months of climbing, most will earn between $2,500 – $5000.
Source: Compilation
https://cafebiz.vn/tham-hiem-everest-theo-phong-cach-nha-giau-3-ty-dong-o-khach-san-5-sao-co-quay-bar-tiem-banh- full-time
You are reading the article
3 billion VND at a 5-star hotel, with its own bar and bakery, expensive but people still waiting in long queues to cause congestion

at
Blogtuan.info
– Source:
cafebiz.vn
– Read the original article
here