Chuyện lạ
Racing to raise lucky foreign frogs, experts say something unexpected
Importing foreign frogs as pets
After breakfast, the 5-year-old girl ran over to Mr. Nguyen Tuan Duc's house (SN 1994, Thu Duc City, Ho Chi Minh City) to play with imported frogs. Sitting on the floor, the girl happily caressed the large frogs, weighing over 1kg.
Those are Bullfrog frogs. Tuan Duc has been playing ornamental frogs for 2 years and is quite knowledgeable about this unique hobby.
Duc said: "Foreign ornamental frogs, which have been imported to Vietnam for a long time, are attracting a large number of players. Currently, the world of ornamental frogs is interested in 3 main imported frog lines: Bullget, Bullfrog and Pacman.
"The Pacman frog is also known as the alien frog with its colorful, colorful skin. Meanwhile, Bullfrog, also known as goblin frog, African bull frog is often preferred by breeders because of its large size and cool face. Bullget always looks ferocious," he added.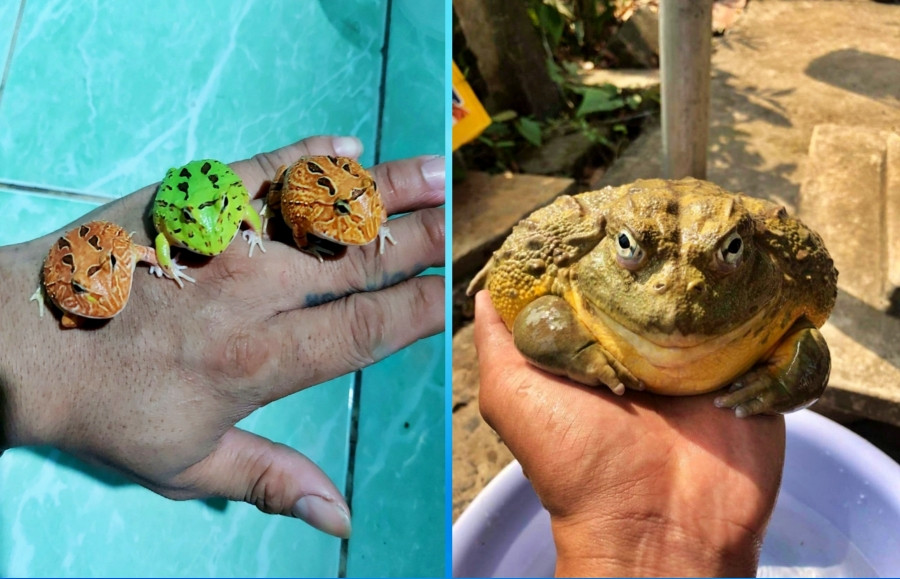 The price of this pet is also divided based on the color, size, weight, and temperament of the animal. The more colorful the Pacman frog, the more beautiful the color or mutation, the higher the price. On average, players have to spend from a few hundred thousand dong to more than 1 million dong to own a Pacman.
Meanwhile, Bullfrog and Bullget are valued based on the size, weight and demeanor of the animal. These two types of frogs are larger in size, have more veins on their backs and the more aggressive and majestic the charisma, the higher the price.
These two lines of ornamental frogs are being sold by players for between 500,000 – 8 million VND/head. "The bigger the Bullfrog and Bullget line, the more valuable it is. If they reach a weight of 1kg or more and have veins and a majestic spirit, they can cost from 3-8 million VND / head, "Tuan Duc said.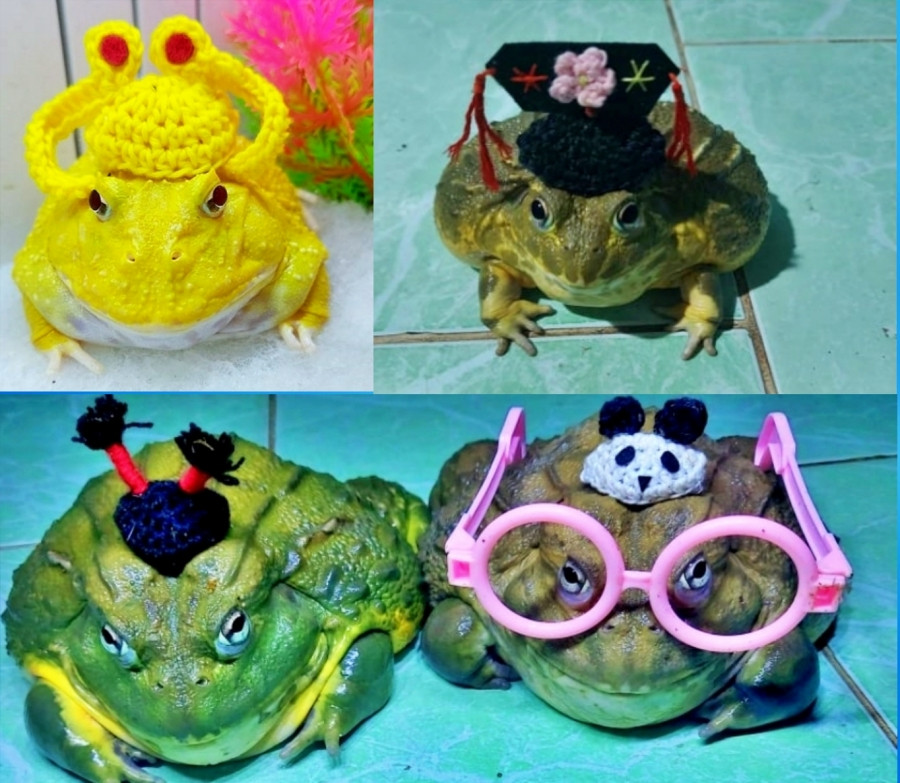 The price is not small, but ornamental frogs are being sought by players. They are ordered as soon as they are tadpoles that have not yet broken their tails.
Currently, Ho Chi Minh City is home to the most people playing ornamental frogs. Here, players form guilds, groups to play ornamental frogs with a large number of members.
Every week, every month, these groups hold face-to-face meetings to exchange and share their unique pet care experiences.
"feng shui pet"
Mr. Huynh Hao, a member of the Vietnam Frog Association, said that the current ornamental frogs are very clean, dry, not viscous, do not smell, fishy like normal frogs in the wild. They are also very gentle, easy to approach, easy to take care of….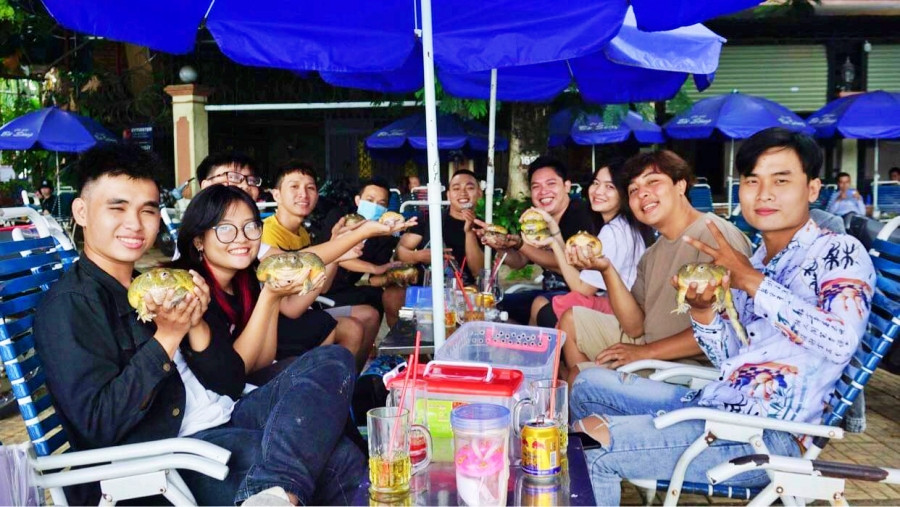 Therefore, ornamental frogs are chosen by many people as pets. Currently, not only students and young people but also middle-aged and old people also keep this animal as a pet. Some people keep ornamental frogs as a feng shui pet.
Mr. Hao explained: "I know some people who raise ornamental frogs, especially the Bullfrog and Bullget lines for feng shui purposes. They believe that the fact that the frog always jumps forward will bring good luck and help their business grow."
"Others liken their ornamental frog as a test, raising it will bring back luck and money. Such frogs are usually large in size and they will never be sold," he added.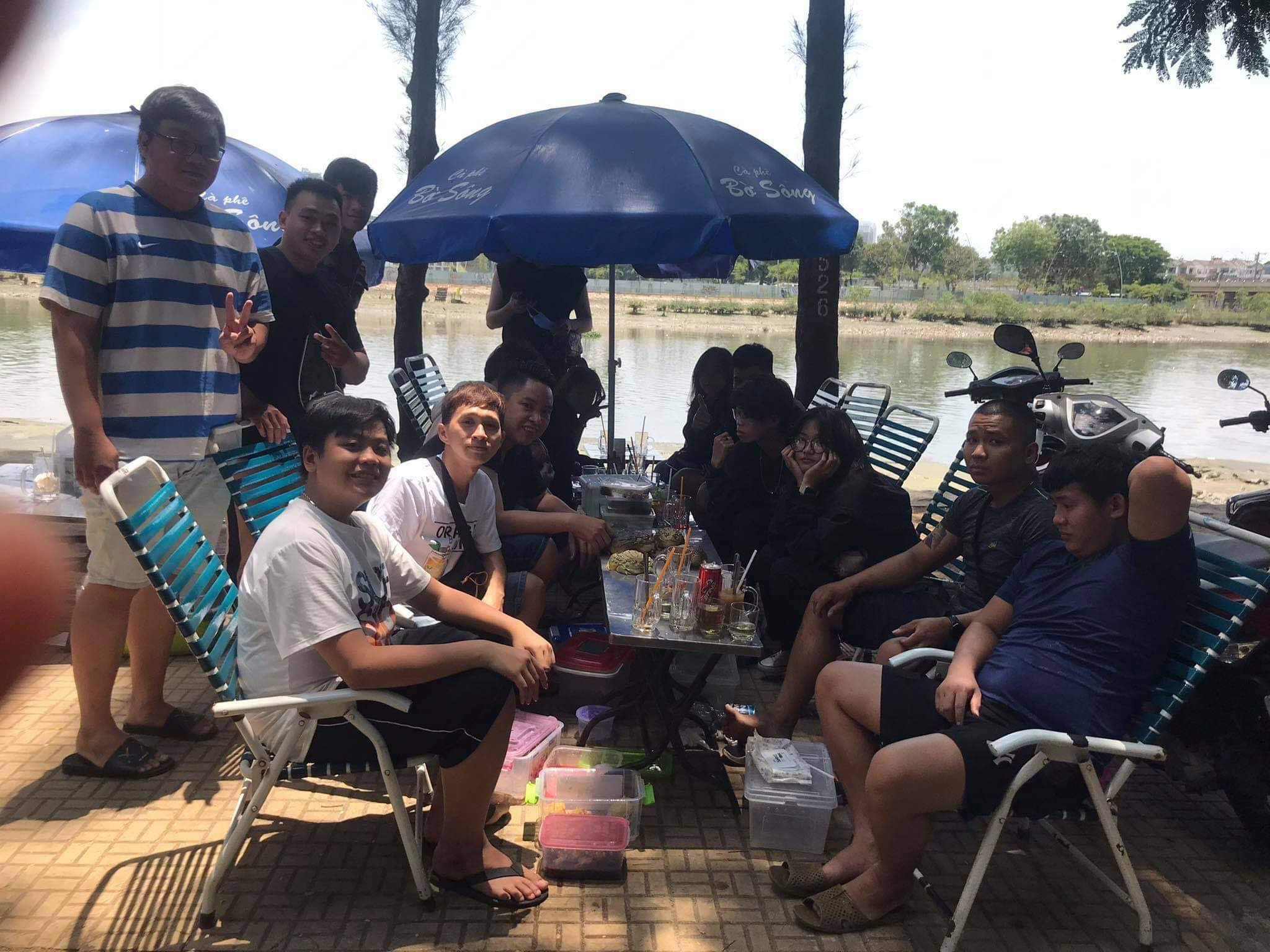 With the same comment, Mr. Tuan Duc said, if raising ornamental frogs for feng shui purposes, players often buy a pair to "require the lake" in small islands, small landscapes in the house, in the garden.
Others keep them in aquariums designed to simulate the natural environment for display and decoration in homes, restaurants, etc.
Although it is an alien creature, alien frogs, goblin frogs… do not harm the environment or the owners. In addition to being gentle, ornamental frogs are very difficult to breed and almost cannot reproduce on their own in the natural environment.
To breed and breed ornamental frogs, players must know certain techniques. One of them is hibernating frogs.
Mr. Hao shared: "Unlike our frogs, imported ornamental frogs must hibernate at the right temperature to reproduce. If they don't hibernate properly, even if they put male and female frogs together, they won't reproduce."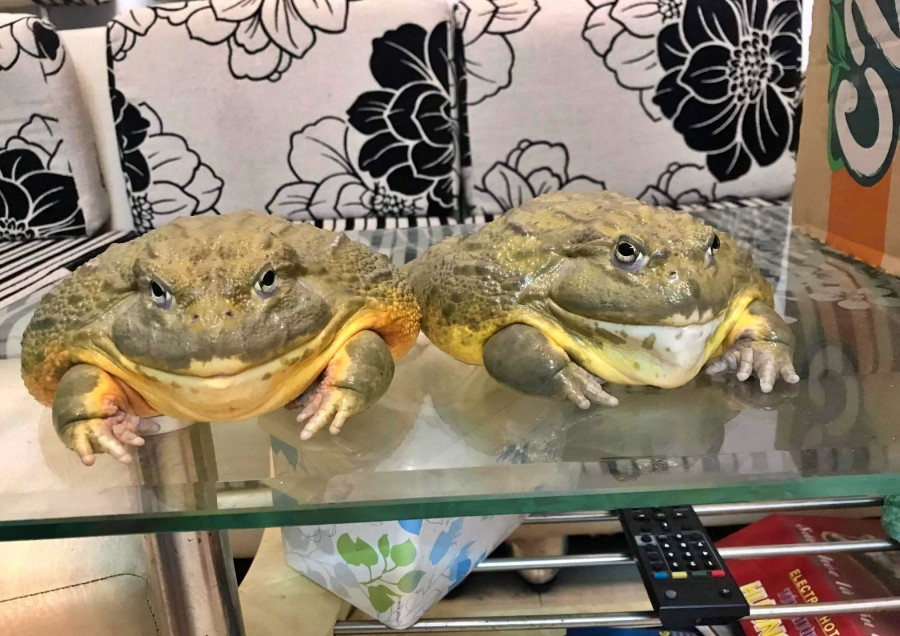 In particular, the Bullfrog and Bullget frog lines must be 2 years old to be able to reproduce. When the frog is old enough, the player puts the frog in a nest lined with coconut fiber and moist fern. After that, this nest must be brought into an air-conditioned room at a suitable temperature for the frog to sleep.
Depending on the individual, frogs have different long and short sleep times. Having children sleep for 2-3 months, they will pair up and do reproductive tasks. Currently, there are very few people in Vietnam who can naturally breed these ornamental frogs.
Mr. Hao said: "Foreign frogs do not harm the environment, so the authorities do not ban farming. They are suitable as pets for many ages. For example, students and young children often play Pacman frogs because they have many eye-catching colors and are small in size."
"Meanwhile, middle-aged and elderly people often raise Bullfrog and Bullget lines for many reasons such as: large size, easy care, appearance, majestic spirit, raised as a feng shui pet…" , he shared more.
However, feng shui experts say that the frog is not considered a mascot, has no meaning in terms of feng shui. If so, the player may mistake them for a potion, a common feng shui item.
Many feng shui masters even said that the fact that many people think that ornamental frogs are feng shui mascots is only for the purpose of selling frogs or pushing up the price of this type of pet.
Feng Shui expert Nguyen Manh Linh, deputy director of the World Institute of Feng Shui, said: "Frogs and feng shui have nothing to do with each other. Frogs are not feng shui mascots and raising ornamental frogs has no effect on feng shui. Water".
"I don't understand why the animal sitting "at the bottom of the well" is suddenly honored as a feng shui saint. Maybe this is the way of saying, the way of information of business people to be able to sell goods, "experts This adds.
Item: Ha Nguyen
Photo: Character provided
You are reading the article
Racing to raise lucky foreign frogs, experts say something unexpected

at
Blogtuan.info
– Source:
vietnamnet.vn
– Read the original article
here