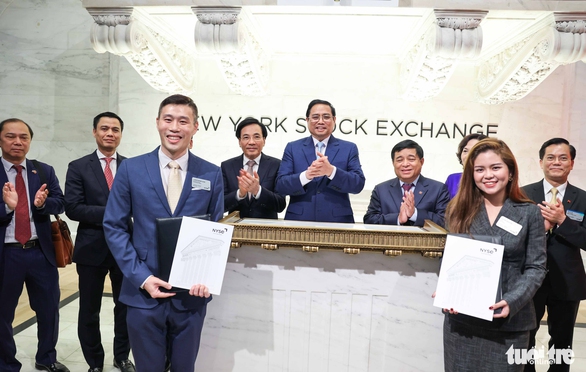 Prime Minister Pham Minh Chinh witnessed the transactions at the New York Stock Exchange (NYSE) – Photo: NGUYEN KHANH
Mr. Nguyen Van Toan (Vice Chairman of Association of Foreign Investment Enterprises in Vietnam):
Investment of American businesses are not worthy potential
Investment relations between Vietnam and the US are now much more favorable than before. The Prime Minister's meeting and working with leading US technology corporations showed positive signs. The meeting will increase the confidence of US investors in Vietnam.
In order to welcome large American technology enterprises to Vietnam to invest, it is necessary to build an environment for science and technology to develop.
Over the years, corporations like Microsoft and Intel have invested directly in Vietnam. Apple also indirectly brings Foxconn and Luxshare businesses in their supply chain to Vietnam. However, these enterprises have not yet expanded their investment in Vietnam to their full potential. This may stem from inadequate remuneration, the environment is not really attractive.
An important problem to overcome is that Vietnamese human resources have not yet met the requirements of large technology corporations.
For example, if they want to invest in a research and development (R&D) center, or a high-tech production facility in Vietnam, but they have to bring foreign technology engineers to Vietnam to work, they will not have many opportunities. meaning. We need training to have a team of domestic technology engineers ready to participate in high-tech FDI projects.
Currently, the Ministry of Planning and Investment is developing criteria for selecting FDI investments so that they can distinguish and create equal treatment for hi-tech FDI enterprises when they enter Vietnam. Accordingly, global high-tech enterprises investing in our country will enjoy more incentives.
In addition, there should be a mechanism to encourage domestic enterprises to participate in the production and supply chains of large technology corporations investing in Vietnam.
How can domestic enterprises shake hands with large technology corporations to jointly produce technology products in Vietnam, not just living off of FDI investment. Only then will we improve the quality of FDI investment, we will enjoy more added value.
Pham Hung Tien (Deputy Director of the Friedrich Naumann Foundation Institute) in Vietnam – FNF):
Opportunity from "policy China plus"
The Prime Minister's meeting with leading US technology corporations showed positive signs in the Government's selective FDI attraction. Most of the major US technology corporations have been investing in China, so it is difficult for these businesses to directly invest in Vietnam.
An advantage for Vietnam in the current context is that the countries with source technology in the G7 group are having a "China plus policy". This is the investment policy in China of the G7 countries after the trade war to reduce dependence on the supply chain and production in this country. The movement of these source technology enterprises can go to Vietnam, India, Indonesia, Mexico…
The ability of the US Big Tech enterprises plus Vietnam is currently not high and needs to be improved. The production and supply chains of American technology corporations always need domestic supporting businesses. While currently not many domestic ancillary businesses can participate in the supply and production chains of US high-tech corporations.
It is not easy for big US technology firms to move from China to Vietnam to invest because they have to consider the responsiveness of domestic ancillary businesses.
The story of Intel investing in Vietnam today is an example. They invest in high-tech projects, produce electronic chips in Vietnam, but we lack high-tech workers and engineers.
We have science and engineering graduates in the country, but Intel still has to retrain workers in Singapore to meet production requirements in high-tech factories. When Big Tech wants to invest in Vietnam, we must have the right human resources and infrastructure available. If they want to come to Vietnam to invest, they will have to conduct labor training first.
Invest in Vietnam, America ranked 11th
"If you look at the amount of direct investment FDI from the US into Vietnam today, it can be seen that it is still quite modest. FDI investment from the US ranks 11th out of more than 100 countries and territories investing in Vietnam. Many American investors do not directly invest in Vietnam, but choose to set up businesses in a third country like Singapore… to invest in Vietnam.
In 2020, US investors invest in ASEAN about 34.7 billion USD, while investment in Vietnam is less than 1 billion USD. This also shows that the investment environment in Vietnam is still not attractive enough for US investors, "said Nguyen Van Toan.
Prime Minister talks with leading technology corporations in the US
On the last working day of his business trip to the US on May 17, Prime Minister Pham Minh Chinh attended a seminar on innovation and entrepreneurship with major US technology enterprises such as Google, Meta, and Microsoft.
The Prime Minister also worked with a number of overseas Vietnamese businesses operating in the fields of finance and technology, and attended a tourism promotion seminar co-organized by Saigontourist.
On the same day, Prime Minister Pham Minh Chinh met with leaders of Microsoft Corporation, with Mr. David Entwistle, president of Stanford University School of Medicine and Hospitals, and with Ms. San Francisco Mayor London Breed. The Prime Minister also visited the headquarters of Microsoft, Intel and Apple corporations.
At the end of the day, the Prime Minister met with some representatives of overseas Vietnamese who have contributed to the country, especially during the recent COVID-19 epidemic, along with some typical international students.
NGUYEN KHANH (from Washington DC)