The grace period on the South Asian country's $78 million debt ends today. Accordingly, this is the first time Sri Lanka default bonds since independence in 1948. Sri Lankan government bonds have traded in the "default" zone, as investors braced for a loss of nearly 60 cents. Last month, the government said it would suspend foreign debt payments.
Sri Lanka's situation is said to be exceptional when compared to previous debt crises. In particular, the people of this country do not trust the government run by a family – the aftermath of a 30-year civil war, and intense protests have not been resolved. However, the story of this island nation is being considered as a warning bell for emerging markets. These economies are facing severe shortages due to the effects of inflation.
Guido Chamorro, co-head of emerging markets foreign currency debt at Pictet Asset Management, which holds Sri Lankan bonds, said: "The island nation's default is a worrying sign for the country. emerging economies. We expect the good times are over. Decelerating growth and tightening funding conditions will increase default risks, especially in frontier markets."
Sri Lanka's $81 billion economy has been mired in turmoil for weeks as inflation has soared to 30% and the local currency has plummeted. The economic crisis has made it difficult for the country to import food and fuel because of its weak currency. The frustration and anger of the people – due to the government's years of excessive debt to support state-owned enterprises and the introduction of expensive social benefits, ignited the "flame" of protests.
Sri Lanka currently does not have a finance minister. This further complicates efforts being made to weather the crisis, as the government struggles to restore security and receive a bailout from the IMF. At the same time, the island nation of 22 million people also needs to negotiate a restructuring with creditors including BlackRock and Ashmore.
Sri Lanka's USD bonds are among the world's worst performers this year, behind only Ukraine, Belarus and El Salvador. On April 18, the government failed to pay about $78 million in coupon bonds to bondholders holding debt that matured in 2023 and 2028.
Accordingly, S&P Global Ratings downgraded Sri Lanka to "partially defaulted". Fitch Ratings and Moody's Investors Service have yet to issue similar announcements despite the warnings.
After the grace period for the above debts ends on May 18, Sri Lanka will begin negotiations with creditors. This process is believed to be the key to the country receiving an aid package from the IMF. Earlier, Sri Lanka said it needed 3-4 billion USD this year to get out of the crisis.
However, securing such an agreement quickly is not easy. President Gotabaya Rajapaksa appointed one of his political opponents as Prime Minister because of his brother Mahinda Rajapaksa's resignation.
After that, the unrest persisted. Deep divisions following a 30-year civil war that ended in 2009 continued and the governor of the country's central bank announced he would step down if Sri Lanka failed to regain political stability.
Matthew Vogel, portfolio manager and head of research government bonds of FIM Partners, said: "Sri Lanka is in an extremely dangerous situation."

As Sri Lanka grapples with turmoil, its problems serve as a warning to other emerging markets where debt burdens are pressing along with economic problems and social unrest. other association. They face a bigger challenge as the Fed and other major central banks raise interest rates to control inflation, leading to higher borrowing costs.
"They are saddled with debt amid tight financial conditions," said Trang Nguyen, managing director of emerging markets strategy at JPMorgan.
Currently, at least 14 developing economies tracked by Bloomberg are yielding bonds 1,000 basis points above those of US Treasuries – this is considered the "default" threshold.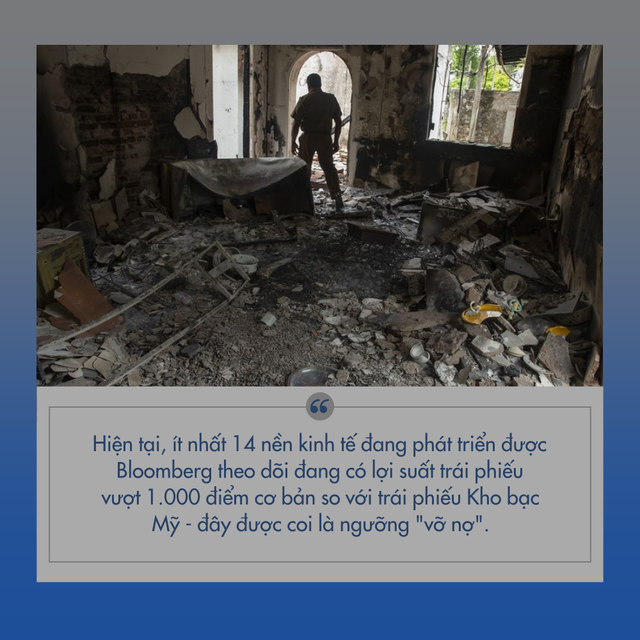 Besides Sri Lanka, other countries with balance of payments problems include Egypt and Tunisia. Pakistan has also seen high inflation and geopolitical tensions that have led to the overthrow of Prime Minister Imran Khan's government this month. In Pakistan, the government was forced to cut off electricity to households and industries because they could not afford coal and natural gas from abroad.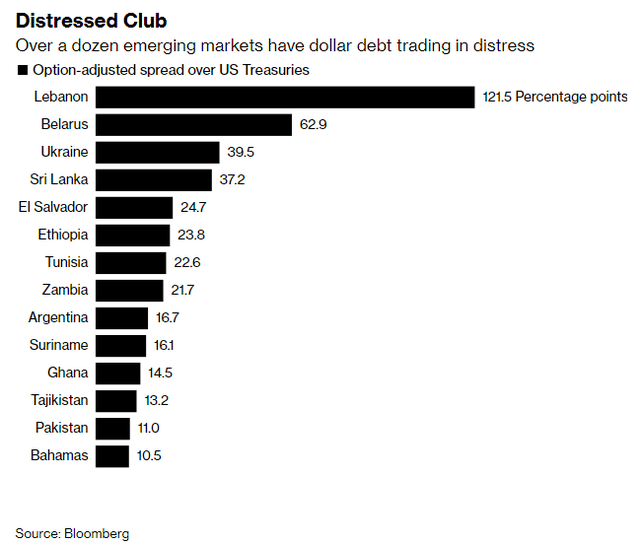 In Tunisia, the government is running out of cash, causing fuel prices to rise at least four times in the past 13 months. Tourism is exhausted and shortages are so widespread that market vendors joke that it's easier to buy stimulants than flour.
Meanwhile, the price of El Salvador government bonds dropped sharply in April to 15.1%, only lower than the decrease of Ukrainian government bonds due to being affected by the escalating conflict. The country's bonds maturing in 2023 currently yield 24% – a sign that investors are braced for the possibility of default.
With negotiations with the IMF at an impasse, the country's creditors are concerned that El Salvador won't be able to pay off its $800 million bond maturing next year.
Refer to Bloomberg
https://cafef.vn/quoc-dao-22-trieu-dan-lai-vo-no-loi-canh-tinh-dang-so-cho-nhung-nen-tinh-te-moi-noi-2022051811412731. chn
You are reading the article
Scary wake-up call for emerging economies

at
Blogtuan.info
– Source:
Soha.vn
– Read the original article
here