Chuyên đề
Spreading clips of school violence: How to teach students to behave on social networks?
After the cases of students fighting because of conflicts on social networks, or recording clips of beating classmates and posting them online, education experts say that it is necessary to teach children about how to behave with each other in cyberspace. .
On May 18, social networks shared a clip of a female student wearing the uniform of Dong Khoi Secondary School (Cau Ong Lanh Ward, District 1, Ho Chi Minh City) being beaten by many female friends in the toilet.
According to the clip, female student TM (student in grade 7/4) was pulled to the floor by the female student BT, then slapped several times on the head. TM then continued to have some other female students grab her hair and hit her head many times. The incident happened in the presence of many other female students, but no one intervened, some even cheered and thought that BT "hit too lightly".
Regarding the incident, Ms. Hoang My Thu Giang – Vice Principal of Dong Khoi Secondary School confirmed the incident as shown in the video clip. The school is currently reporting this incident to the District 1 Education and Training Department.
The school also invited the parents of the parties involved to work and make a record of the incident. TM still goes to school as usual, BT has reserved his study results and dropped out.
In another development, on May 17, the owner of a facebook account named VH posted a clip of a female student being beaten by a group of friends, making viewers angry.
On facebook, Ms. H. said that the girl who was beaten was her daughter in class 7A5, Luong The Vinh Middle School and High School (Bom Bo commune, Bu Dang district, Binh Phuoc province). This female parent also asked everyone to share the clip to condemn the act of a group of female students hitting her child.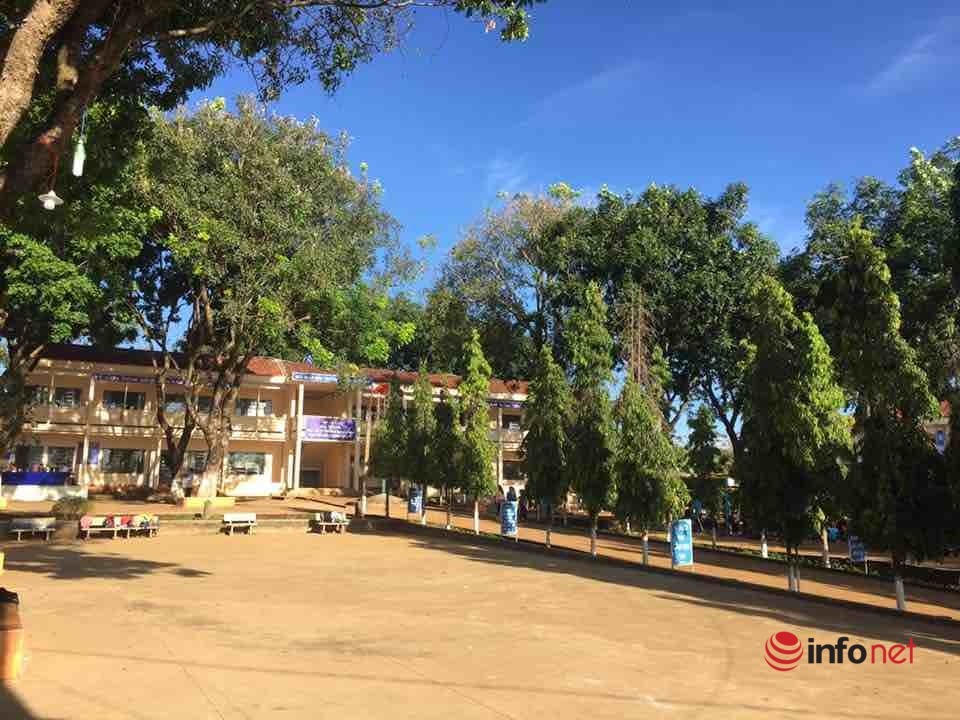 Luong The Vinh Middle School – High School
VH account owner wrote on facebook: "Today, May 17, my child in grade 7a5 was beaten by students in grade 8 and grade 9. My child is at Luong The Vinh school and in class, but the teachers don't pay attention to the students, so that the students can, everyone share strongly to help him."
The 1-minute and 10-second clip recorded a scene where a female student wearing slippers, black pants, white shirt, long hair was beaten by a group of female friends. Because the beating was so painful, the female student could only hold her head, kneel on the floor, cry, beg and suffer the battle. Meanwhile, the group of female students continuously punched and kicked, pulled their hair, and even one female student hit her head with what is suspected to be a sandal or a water bottle, causing the female student to cry.
The clip also shows that in the group of friends standing around, there was an incitement to hit people, although no one intervened.
Regarding this incident, teacher Huynh Van Thong – Principal of Luong The Vinh Middle School – High School confirmed that there was an incident at the school. The students involved in the incident have been asked to make a report. Today, May 18, the school administration will work with parents and related students to resolve the case.
Teaching students to interact with each other in cyberspace?
According to psychologist Ha Thai Huong – Hanoi National University of Education 2, at present, social networks have significant impacts on students' behavior, especially in the negative direction.
To limit this situation, many schools have introduced a topic on behavior in cyberspace as well as a topic on behavior and a set of school culture rules to educate students with the hope that they will use social networks. Smart and safe association.
"Special sessions with the above content provide students with skills in what to use social networks for, how large social networks are, sharing personal information securely, building a positive personal image, etc. and how to deal with conflicts in cyberspace.
I think that instructing students to use social networks in a safe and healthy way is a must and needs to be done immediately to avoid unfortunate consequences such as the cases of students being beaten by the council because of virtual conflicts. the consequences are real.
Along with that, in addition to knowledge education in textbooks, students also need to be equipped with skills to behave in school culture, at the same time, schools must also help students realize that they must live with real life, not spend all all joys, sorrows, ideals live on social networks.
I see that many young people today are living very unstable lives, they are lonely, lacking love, sharing… in their daily lives, they should look to social networks and be ready to attack each other when there is a conflict on the internet. virtual space.
To solve this situation, parents must regularly pay attention to their children's behavior, especially their children's behavior on social networks."
According to this expert, more than anyone else, parents must grasp the psychological development of their children every day, when their children have strange expressions, parents must know and soon coordinate with their homeroom teachers or friends. to intervene to solve and prevent.
After that, it is the role of orientation and education from the school to guide children about what actions are right and which actions are wrong.
"It is true that puberty has uncertainties in psychological development, but if families and schools have the right solutions, they will definitely guide them in the right direction and no longer have students who are victims of kidnappings. bullying in cyberspace," said expert Ha Thai Huong.
Hoang Thanh
You are reading the article
Spreading clips of school violence: How to teach students to behave on social networks?

at
Blogtuan.info
– Source:
infonet.vietnamnet.vn
– Read the original article
here