Business
20 million monthly salary still red eyes looking for people
Choosing a hot major is one of the factors students care about. Information on employment trends based on the percentage of graduates having jobs, Mr. Bui Van Linh – Director of the Center for Training Support and Human Resource Supply (Ministry of Education and Training) shared the 2020 statistics. , divided into 4 groups: Group 1 is the industry group with a high employment rate of graduates, over 85%. Group 2 is quite good, the percentage of students who have a job after 1 year of graduation is from 75-85%. Group 3 averages from 70 to less than 75%. Group 4 is at a low level of less than 70%.
In which, group 1 includes the transportation service industry with 89.2% of graduates having jobs, and the arts sector with 85.4%. Worth mentioning, the Veterinary sector reached 85.2%.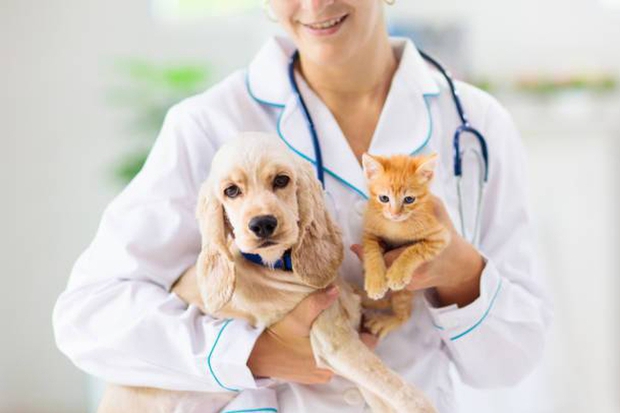 Veterinary medicine in Vietnam is an extremely promising industry in the next decade. Illustration
Also in the medical sector, however, Veterinary Medicine is a profession that receives much less attention than the rest. Most of the reasons come from society's occupational prejudices, typically the notions of industry outputs.
However, according to statistics, the veterinary industry in Vietnam is an extremely promising industry in the next decade. As of 2020, the Agro-Forestry-Fisheries sector will have a shortage of 3.2 million human resources, of which, the Veterinary sector will almost appear in most of the Agro-Forestry-Fisheries activities.
Veterinary Medicine – The discipline is encapsulated in 3 words: PROFESSIONAL
Veterinary Medicine (Veterinary Medicine) is a branch of veterinary medicine that specializes in the care and treatment of animals. This branch trains professional skills in veterinary medicine, diagnosis, prevention and treatment, manipulations in animal experiments. Help learners know how to use drugs, chemicals, pharmaceuticals, vaccines to prevent them.
Studying Veterinary Medicine, students will be equipped with knowledge and skills such as: Diagnosing common diseases, knowing how to use some pharmaceuticals, chemicals, vaccines to prevent and treat diseases for animals; develop veterinary programs for livestock farms; grasp the veterinary law, drug market, animal husbandry… In addition, studying veterinary medicine will understand a number of close and related fields such as cattle breeding, pet husbandry, cultivation, fisheries, etc. This is also an interesting point of this industry.
At the same time, studying Veterinary Medicine will have an in-depth understanding of pathology (diseases, epidemiology, clinical manifestations, specialized diagnostic, treatment and prevention techniques), surgery and pathology, and law. related to disease prevention, inspection of products of animal origin, inspection of slaughterhouses processing animal feed, processing livestock…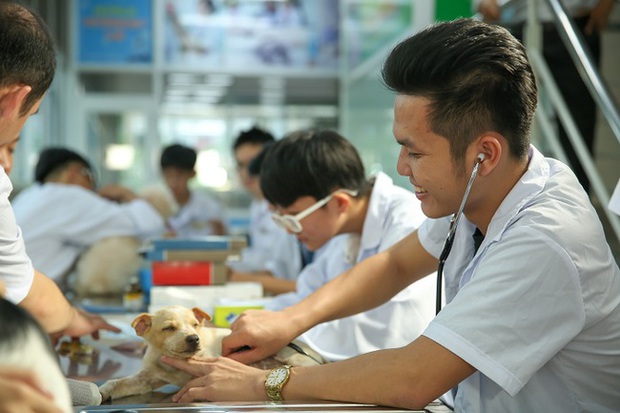 Veterinary Medicine is a profession specializing in the research and training of specialized human resources in the field of veterinary medicine. Illustration
Job opportunities with a decent salary are quite possible with the Veterinary industry
Chairman of the Board of Directors of a leading corporation in the field of production and trading of veterinary drugs, vaccines … once said: "We hire an accountant, pay 6-8 million to recruit excellent people, while recruiting a veterinary student, pay 20 million, still … precarious".
The starting salary of a Veterinary doctor or engineer who just graduated is 6-8 million VND/month, and increases with experience and skills. Because of the scarcity of training resources along with the demand for high-quality human resources, many veterinary enterprises are now willing to discuss a salary of over 20 million VND/month for the position of Veterinary engineer.
After completing the training program, students will be fully equipped with knowledge and professional capacity to take on jobs at the following units:
Drug companies, veterinary clinics, livestock and poultry farms, wildlife sanctuaries or zoos, veterinary laboratories, production and sales activities of veterinary drugs;
In veterinary clinics or clinics (or hospitals), veterinary laboratories;
Veterinary science and technology research and transfer agency;
Participating in the production and trading of veterinary drugs;
Eco-environment protection facilities;
Breeding establishments, food processing establishments, seafood processing establishments;
Specialists at state management companies, such as Departments, Departments of Agriculture, Departments, Research Institutes, Provincial Veterinary Sub-Departments, District Veterinary Stations, veterinary science and technology research and transfer agencies, breeding establishments, food processing establishments, seafood processing establishments, ecological environment protection establishments…
Participating in teaching and research at specialized schools and institutes;
Open your own veterinary medicine company, veterinary clinic or livestock farm.
Where to study Veterinary Medicine?
In our country, there are many universities that enroll and train Veterinary Medicine. If you want to become a Veterinarian, you can refer to the following schools: Forestry University; University of Agriculture – Thai Nguyen University; Ho Chi Minh City University of Agriculture and Forestry; Ho Chi Minh City University of Technology; Hung Vuong University… and a number of other universities and colleges.
Veterinary Medicine has a lot of training schools, so the number of blocks you can choose to enroll in this major is very diverse. Below are the combinations of subjects that candidates can refer to for admission: A00: Math – Physics – Chemistry; A01: Math – Physics – English; B00: Math – Chemistry – Biology; C02: Literature – Math – Chemistry; D01: Literature – Math – English; D07: Math – Chemistry – English; D08: Math – Biology – English; D90: Math – Natural Science – English…
https://afamily.vn/nganh-hoc-hot-voi-ti-le-sinh-vien-tot-nghiep-co-viec-lam-cao-ngat-nguong-ve-sau-rat-trien-vong- luong-thang-20-trieu-van-do-mat-tim-people-202205171309371.chn
You are reading the article
20 million monthly salary still red eyes looking for people

at
Blogtuan.info
– Source:
cafebiz.vn
– Read the original article
here