Having an easy body to gain weight, Ky Duyen revealed her figure many times when she appeared on television, but then it was all just "yesterday's story". Just planning to tighten the weight, in just a short time, Ky Duyen has regained her slim, toned waist without excess fat. Ky Duyen's successful weight loss 60% is in the daily diet.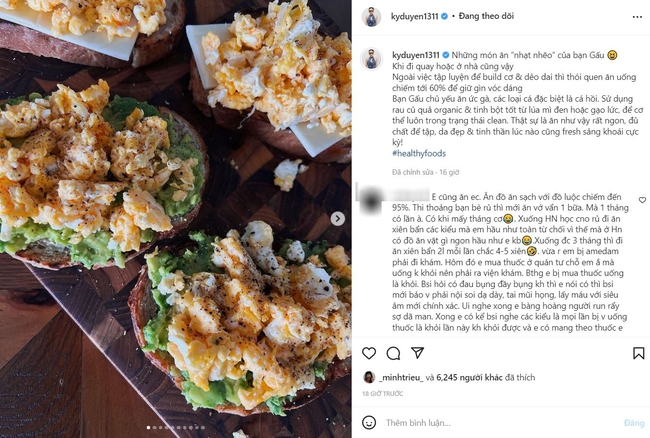 When eating according to a scientific diet, the body will not accumulate excess fat, the amount of fat that has been gradually consumed, maintaining a balanced and scientific diet combined with exercise, anyone can lose weight and regain it. slim waist flat belly. The main thing lies in the perseverance of each person.
Ky Duyen shared that she mainly eats chicken breast, fish, especially salmon, uses organic vegetables and good starch from black wheat or brown rice, to keep her body in a clean state. It is really delicious to eat like that, enough to practice, beautiful skin and spirit is always relaxed and refreshing.
Ky Duyen revealed a scientific way to lose weight: Beautiful skin – Beautiful body – Surprisingly slim waist.
It sounds "bland" but actually you can make a lot of attractive dishes from chicken breast and salmon to improve each of your meals. Just avoid fried foods, use olive oil, season with mild spices, you will have very good meals for your weight loss process.
Foods Ky Duyen eat to lose weight and keep fit:
* Brown rice: This is the first starch that you need to think about when starting to lose weight. Compared with white rice, brown rice is rich in nutrients, rich in fiber, so it creates a feeling of fullness for a long time, reducing cravings.
* Chicken breast: The white meat, located in front and around the chest of the chicken, this part does not contain as much fat as the skin or thigh meat, so when eating, it does not accumulate excess fat for the body.
The protein in chicken breast is quite high, so it helps to metabolize and burn fat tissue quite effectively. That's why gymers or bodybuilders choose chicken breast as the main protein source for their daily meals.
For example, if you are bored with boiled chicken breast, you can marinate and sauté it like Ky Duyen did, or shred it to cook soup, stir-fry with mushrooms, mix salad…
* Salmon: Omega-3 fatty acids and vitamins such as B3, B5, B7, B12 found in salmon will work to increase metabolism in the body and help you eliminate excess body fat. Overweight people who followed a fish-based diet every day lost 20% more weight than those on a fish-free diet.
The fat of salmon is rich in nutritious omega 3 without accumulating body fat, so it is best to sauté the salmon, then remove the melted fat to stir-fry vegetables or make other fried dishes to eat.
* Less sweet, less sour fruits: The most recommended fruits at this time are bananas and apples (red apples will have more sugar than green apples, so Ky Duyen recommends that you choose green apples to lose weight).
With vegetables and fruits, Ky Duyen favors organic foods, focusing on steaming, if stir-fried, she will use olive oil, not normal cooking oil.
It's a way to eat nutritiously and still lose weight, especially belly fat, so that you can be confident with your waistline.
https://afamily.vn/chieu-giam-mo-bung-cua-ky-duyen-60-hieu-qua-eo-thon-bung-phang-nam-het-o-buoc-nay-20220517125017249.chn
You are reading the article
60% of the effect of slim waist and flat stomach lies in this step!

at
Blogtuan.info
– Source:
Kenh14.Vn
– Read the original article
here