Business
7-month-old baby fell into the fire, burned 40% of the body, the doctor warned how to handle it incorrectly, many people get it
On May 16, the Emergency Department – Cao Bang Provincial General Hospital received treatment for 2 cases of children with severe burns.
The first case is 7-month-old Phung NH, Hmong ethnic group residing in Lung Push, Quoc Toan, Quang Hoa who was burned by falling into the fire while playing. I was diagnosed with second and third degree burns about 40% of the area.
The second case is baby Ly. T. D 26 months old, H'mong ethnic group residing in Tay Under, Thuong Thon, Ha Quang was also taken to the hospital because he fell into a pot of boiling water, causing him to suffer 3rd or 4th degree burns on his head, face, neck and chest. , 2 arms. Burn area is about 60%.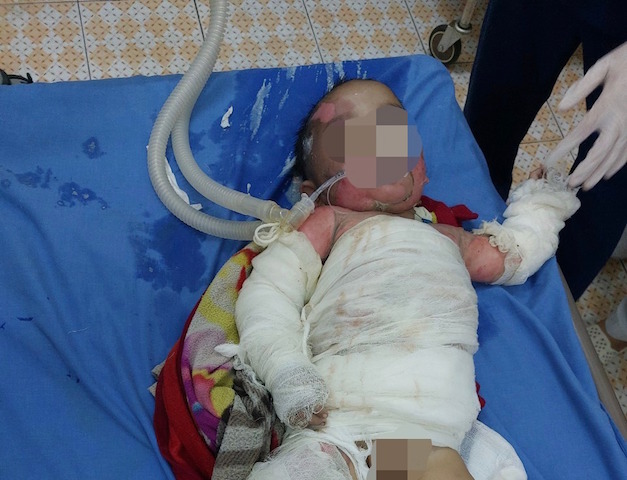 The patient suffered severe burns
2 children were given emergency treatment and were assigned by doctors to be transferred for further treatment. However, according to information from the hospital, both children's families are poor and cannot afford to pay for treatment. With the condition of two children requiring long-term treatment, the cost is huge beyond the family's ability to pay.
Through the above case, the doctors of Cao Bang Provincial General Hospital recommend:
First aid requires a child's guardian to be calm and properly handled. According to doctors, when a child is burned, it is necessary to quickly isolate the child from the cause of the burn.
For children with burns caused by boiling water, hot steam burns: as soon as the child is burned, soak the burned part (hands, feet) in clean, cool water (from 16 to 20 degrees Celsius, best for the first 30 minutes after the burn is done). Get a burn).
If the child is burned on the face, use a soft wet towel to cover the face, if the burn area is large, pay attention to keep the child warm in the areas that are not burned.
This has the effect of reducing the depth of the burn and reducing pain for the child, then quickly take the child to a medical facility that treats the burn for timely treatment. Absolutely do not arbitrarily apply medicine according to folk experience.
To prevent children, everyone needs to be vigilant, not neglectful when there are small children at home, and often pay attention to children while playing. Arrange dangerous items in the house neatly out of the reach of children. Parents should not let children play in the place where they are cooking or near power sources, electrical wires, electrical sockets, etc.
For children who are aware, parents need to equip them with basic knowledge and skills to protect themselves. In addition, parents and caregivers should also learn first aid techniques with some common injuries so that they can give first aid properly in unfortunate cases, in order to limit injuries. pity for children.
Burns are a common injury in children, children are very hyperactive, curious to explore the world, but do not fully understand the dangers of their actions. Burns are not only painful, leaving behind functional and aesthetic sequelae of the body, but can also lead to death if not treated promptly and properly.
You are reading the article
7-month-old baby fell into the fire, burned 40% of the body, the doctor warned how to handle it incorrectly, many people get it

at
Blogtuan.info
– Source:
cafebiz.vn
– Read the original article
here