Giáo dục
A series of Nghe An teachers were asked for debt in a 'gangster' style
Share with VietNamNetMr. Nguyen Trong Giap, Principal of Yen Thanh 2 High School (Yen Thanh district) said that although he did not borrow money, a week ago, he and many other teachers in the school were called by strange phone numbers to threaten him. threats, debt collection and pressure.
According to Mr. Giap, the reason is that a teacher at LXL school has a loan from a financial company but has not been able to pay by the due date.
"At first, they called Mr. L. to borrow some money, and asked me to direct Mr. L. to repay the debt. I said that the teachers' external debt was not related to the school, they kept calling and threatening. Make several calls a day with many different phone numbers, regardless of time.
Whenever I answer the phone, I yell and threaten. Their purpose is for me to pressure Mr. L. to pay their debt, but I don't have that function, it's a civil transaction," said Mr. Giap.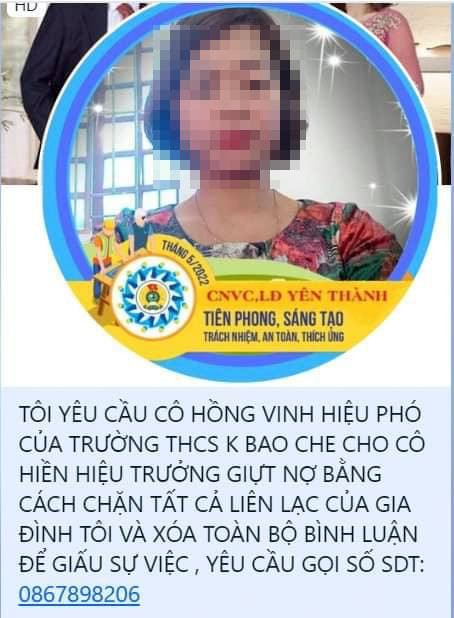 Next, the debt collection group used many phone numbers to text, call, threaten, and mentally terrorize many other teachers in Yen Thanh 2 High School. In addition, they also called Giap's former students, making up put the teacher Giap owed money.
"Many of my former students called me to tell me that a group of people called students to say that I owed money and refused to pay it," said Mr. Giap.
In addition to "attacking" Mr. L's colleagues, the debt collection team also called and texted the administrators and dozens of teachers of Phan Dang Luu Secondary School (Yen Thanh town), where his wife's school Mr. L is working.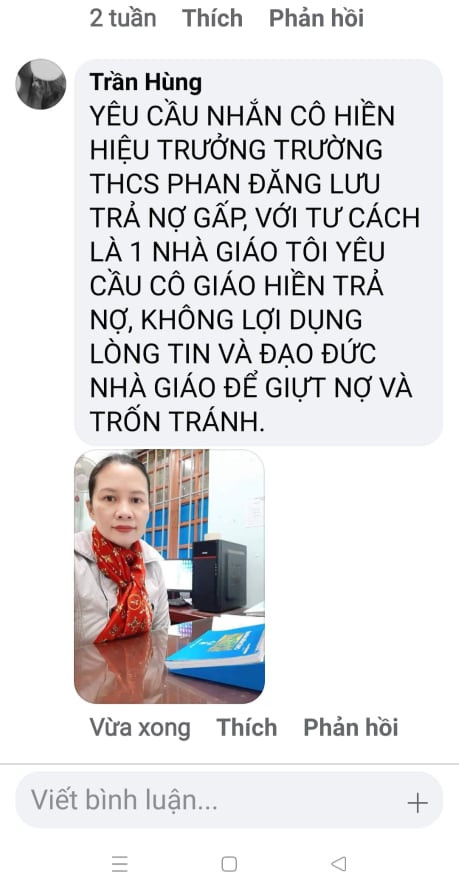 Ms. Ngo Thi Hien – Principal of Phan Dang Luu Secondary School said that from May 11 until now, she has received many debt collection calls every day, making herself very tired.
In addition, the debt collection group also posted information that Ms. Hien and the vice principal borrowed a loan on social networks with the content "ask Ms. Hien to pay the debt urgently", harassing dozens of teachers in the school.
After the incident, Phan Dang Luu Secondary School reported the incident to Yen Thanh District Police.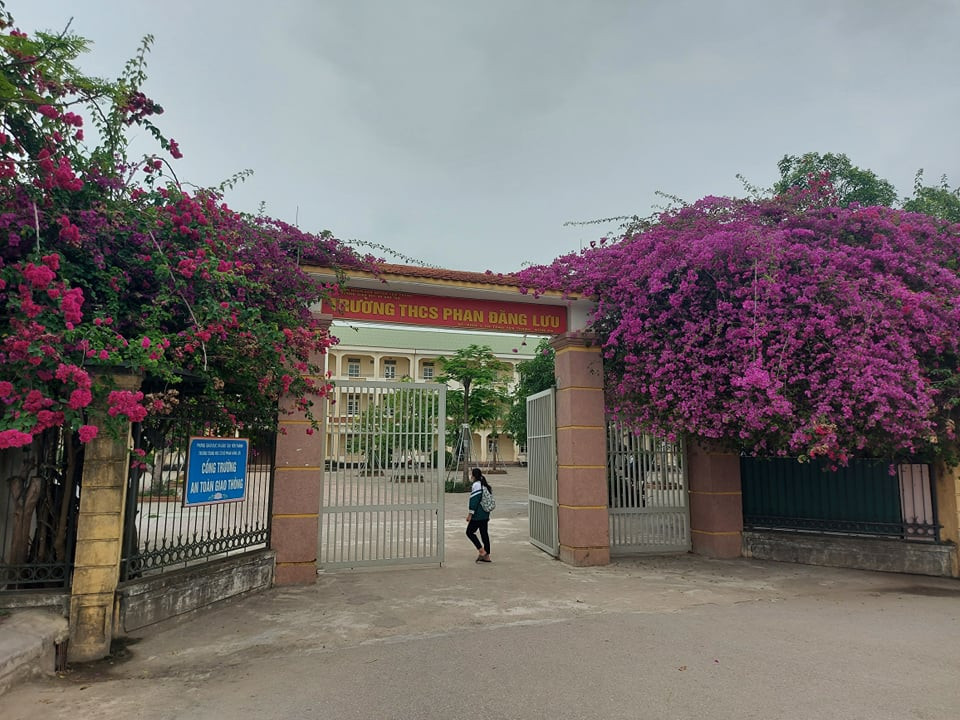 Mr. LXL said that in 2018, he had an unsecured loan of 32 million VND to treat herniated disc disease and they let the debt be paid in installments. Mr. L has been paying for 15 months, with about 22 million VND, then due to Covid-19 he stopped for a few months.
"I went back to pay in December and they said I had 26 million left, then I paid one installment of 3 million and another 1.5 million. Then in March I went down to pay again, on the system they said there was 27 million left. so I wonder, the numbers are not accurate.
Their staff called me the other day, but I was in class so I couldn't hear. They saw that I didn't answer the phone, so they thought I wouldn't pay, and then that afternoon they called everywhere to disturb the people around me, making me very shy," said Mr. L.
According to Mr. L., on the afternoon of May 17, he went to the bank to pay the remaining debt, which has now reached nearly 28 million VND.
In total, the debt of 32 million VND after nearly 4 years has reached 50 million VND. As soon as Mr. L. finished the debt, the other teachers were not bothered.
Thien Luong
You are reading the article
A series of Nghe An teachers were asked for debt in a 'gangster' style

at
Blogtuan.info
– Source:
vietnamnet.vn
– Read the original article
here