After pregnantA woman will have many changes both physically and mentally. For example, easy to cry, easy to be sad, the body gains more weight, the face and hands and feet are chubby, the skin is dark brown… But the most prominent and recognizable feature of pregnant mothers is the growing abdomen. grow with each month of pregnancy.
As a Vlogger who specializes in making clips to condemn and criticize the dark side of trends and phenomena that take place in society every day in a humorous way, Thanh Tran (real name Tran Ngoc Thanh Thanh, born in 1996) is loved by many people. Young people loved her and named her "Saint Cham". She even surpassed Son Tung M-TP in the list of people with the highest followers on social networks in Vietnam. In 2017, Thanh Tran suddenly got on a flower car with his college friend – Khanh Dang when he was 21 years old.
Getting on a flower car with a college friend – Khanh Dang from the age of 21, Thanh Tran has "profitable" 2 children with enough habits.
After 5 years of marriage, she and her husband have two children together: Benny (born in 2018) and Kelly (born in 2019). However, on the last "April Fools", this hotmom made people "fire" when she announced that she was pregnant with "episode 3" with ultrasound results: "The uterus has a gestational sac around 5 weeks."
However, because this announcement was posted on "April Fools' Day", everyone thought that the female vlogger was joking. Because last year was the same day she announced her pregnancy, but only later confessed "all just a trick". But this time, Thanh Tran has confirmed that she is having a 3rd baby. She even started to enter the stage of morning sickness.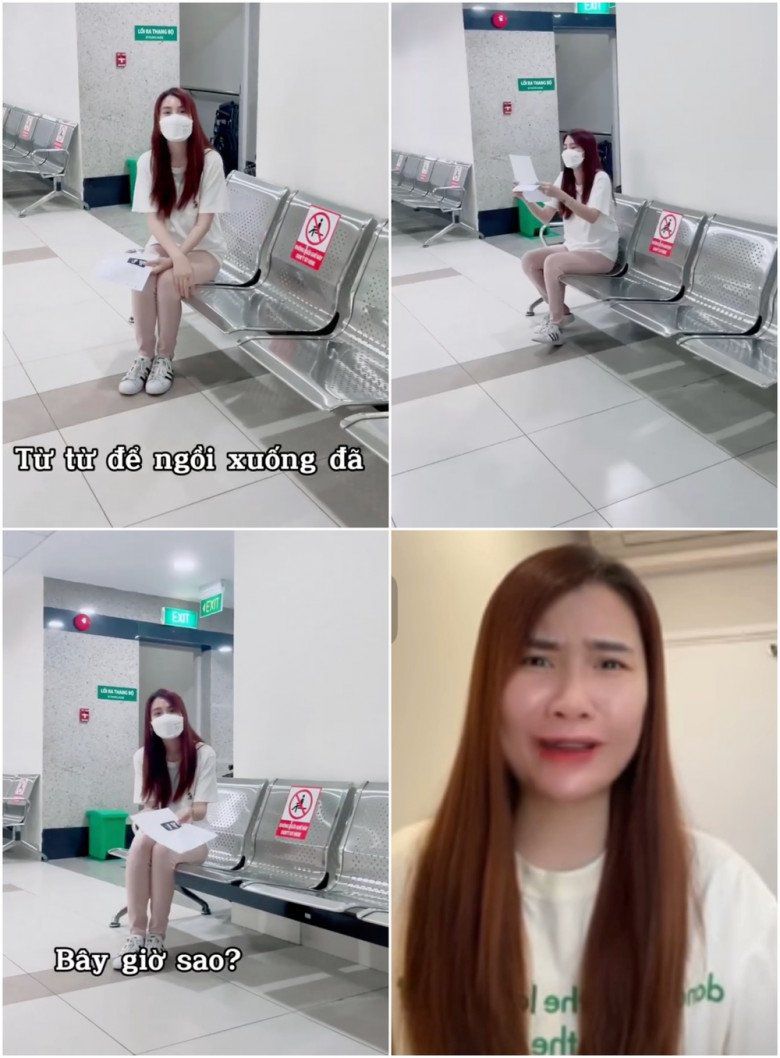 But on April 1, this hot mom suddenly announced her third pregnancy.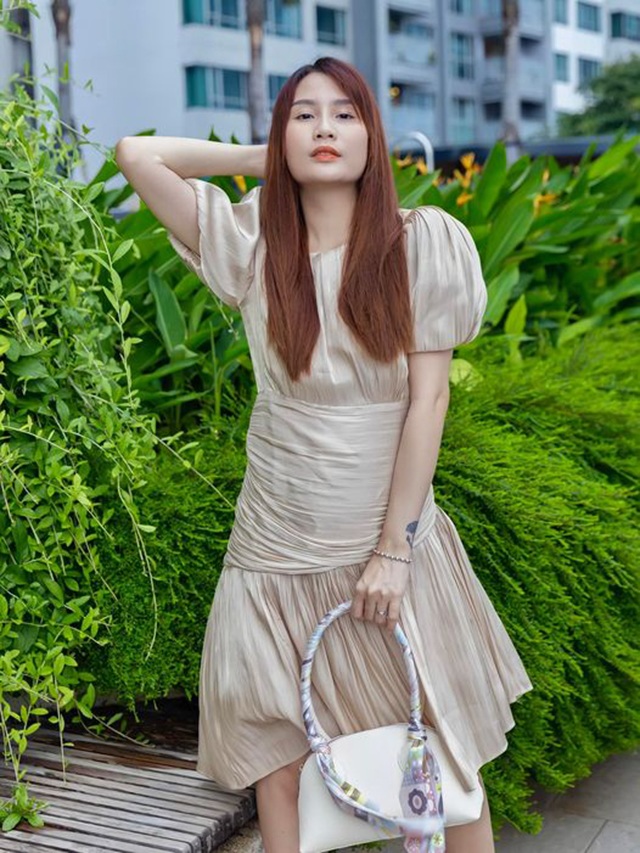 3 months pregnant, although the belly starts to round and slightly protrudes behind the shirt, Thanh Tran is still neat, beautiful and full of energy.
Recently, "Saint Cham" Thanh Tran posted on his personal page a very feminine and sweet photo with the caption: "3 parts of slim waist, 7 parts of pregnant belly" make everyone laugh. In the picture, wife Khanh Dang wears light makeup with long flowing hair and an elegant and discreet dress. However, if you look closely, everyone notices that she has a "mom" look when her round 2 is completely round, even slightly protruding.
As revealed to friends, Thanh Tran is currently 3 months pregnant. But, unlike other pregnant mothers who are struggling with morning sickness, the female vlogger is still beautiful, radiant and full of energy. In particular, her skin is still bright and smooth and her body is still neat, but there is no sign of much weight gain.
It is because of this beauty that immediately, other mothers rush in to beg for their stomachs: "I'm begging you to remove your belly", "Please give me a pregnant woman", "I'm sorry for this month, sister, I want you so much",…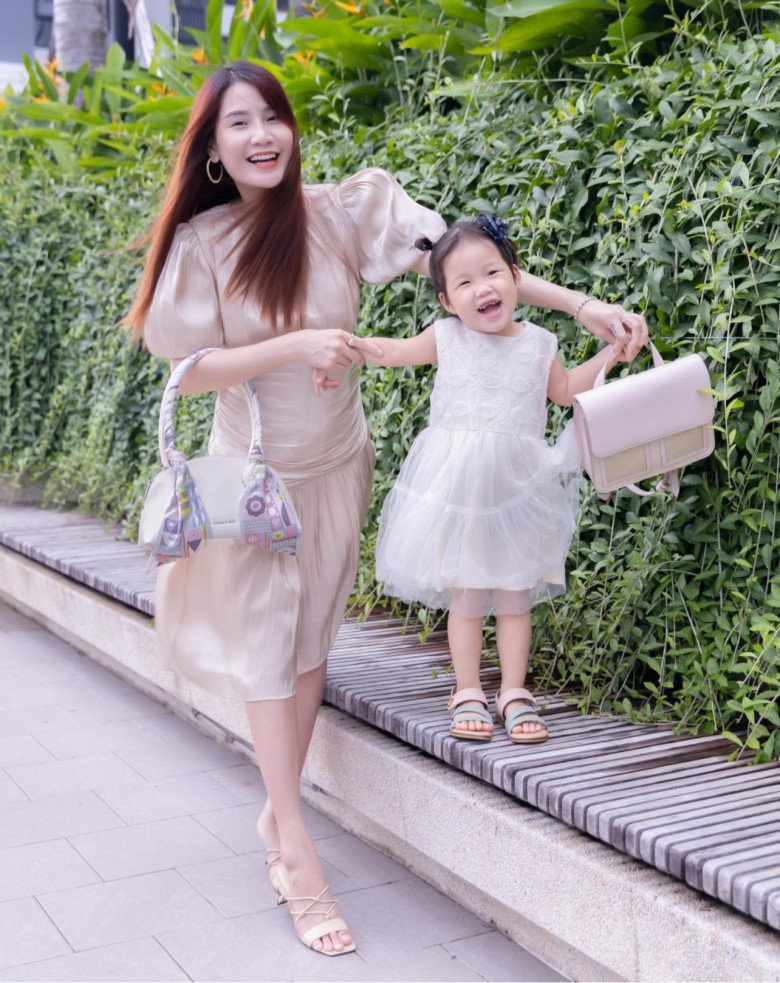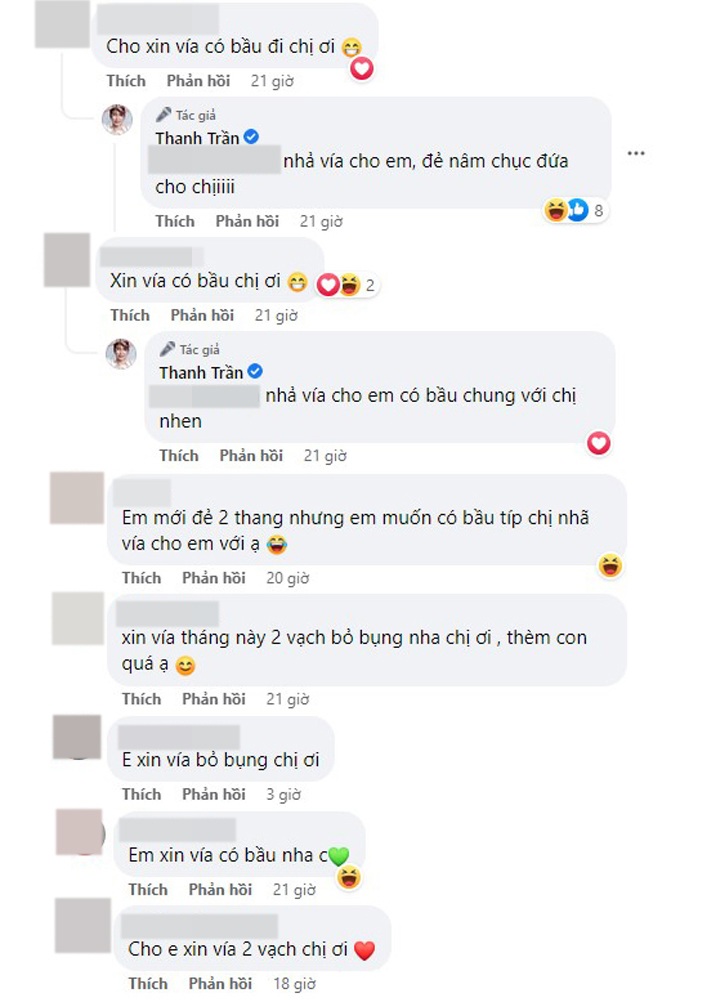 Other mothers competed to ask for Thanh Tran's pregnancy to leave her belly to pray for her child.
Not long ago, Thanh Tran also made other mothers laugh while filming a clip of Thai teaching for their children. In the clip, instead of playing Thai teacher music with genres such as symphony, Mozart, Beethoven, etc., this pregnant mother took out two SJC gold trees, and used it as an instrument, while typing and singing to her baby. to listen.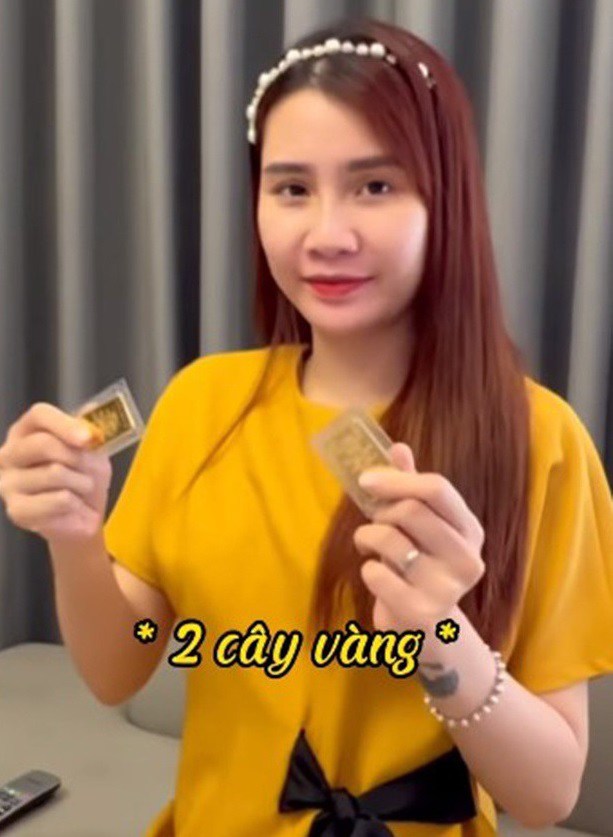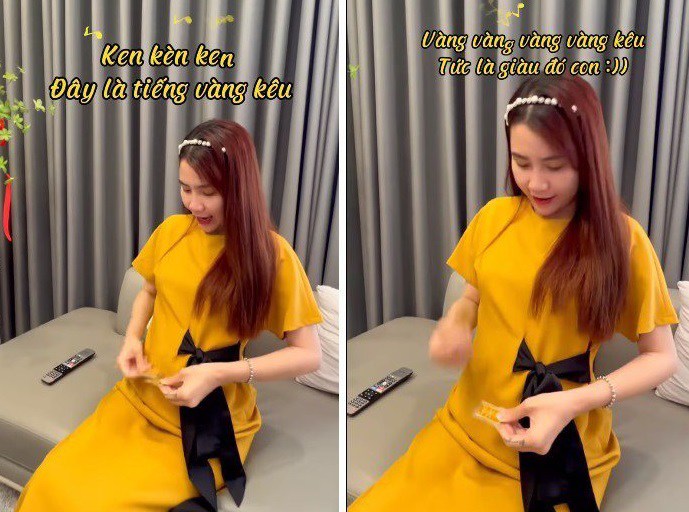 Thanh Tran used to "muddy" use 2 gold trees as a teaching instrument for his children, making everyone laugh.
Needless to say, the online community suddenly "wasted up" when mothers rushed to comment: "So the music for the fetus to listen to is this music?", "The most realistic music for the fetus", "So when I was pregnant, I let my baby listen to the wrong music", "Smooth music for the fetus: Tiny Golden Team"… Everyone also competes to "lightly tag" the names of their lovers and friends on: "If you're pregnant, you must listen to this "golden" music", "Dad sponsor me two gold trees. Mom let me hear"…
Although in all 3 pregnancies, Thanh Tran rarely shares about her pregnancy situation. Instead, she is always funny and happy to make the pregnancy journey lighter, and her spirit is also more comfortable. As a result, the baby in the womb will develop better.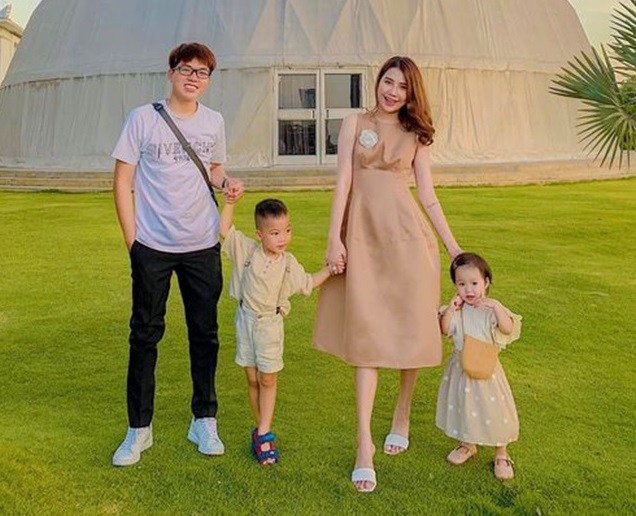 Thanh Tran – Khanh Dang's family is eagerly waiting for the 5th member to come to the family.
Pregnant mothers who are often sad or cry will affect the baby?
During pregnancy, due to hormonal changes, pregnant women are easily emotional such as easily sad, easy to cry, easily irritable… However, according to doctors, in order to avoid affecting the development of the baby, Pregnant mothers need to learn how to regulate their moods and always have to keep themselves in a happy and optimistic spirit to avoid affecting the development of the fetus.
Because according to clinical observation, in the second month of pregnancy, the baby's palate and upper jaw will begin to form. During this process, the mother's crying, excessive anxiety or sudden increase in emotions can cause cleft lip and cleft palate complications in the baby.
In the last months, if the pregnant mother often has unstable mood, depression, fear … will cause poor blood circulation, thereby not providing enough oxygen and nutrients to the fetus. Research shows that in these cases, babies will be born with a weight less than 0.5-1kg according to the standard. In addition, the baby is also less intelligent, slower in development than his peers.
You are reading the article
After learning that she is pregnant, Thanh Tran is now fresh and showing off 3 thin waists

at
Blogtuan.info
– Source:
Eva.vn
– Read the original article
here