The largest sports festival in Southeast Asia – SEA Games 31 is getting a lot of attention. In addition to the achievements of the participating teams, SEA Games 31 It also gives fans emotional stories of athletes. Most especially, there are admirable love stories when fighting together, setting expectations together with the "golden rain".
Nguyen Tien Minh – Vu Thi Trang
Both Nguyen Tien Minh and Vu Thi Trang are outstanding badminton players of Vietnamese sports. At the 2011 SEA Games, Vu Thi Trang is a young talent, while Tien Minh plays the role of a teacher, instructing her in every curve. The two competed together that year and the badminton language brought them closer together.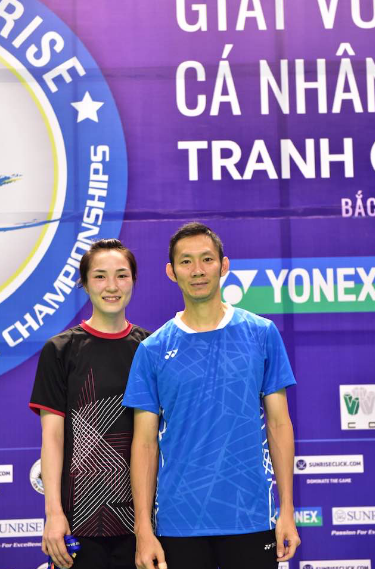 Then, Tien Minh decided to conquer his teammates in the team. What's interesting is that regular dates don't yield any results. Only when on the training ground do Minh and Trang really feel like they belong together.
Up to now, the couple has been together for nearly a decade, owning countless awards big and small. At the 31st SEA Games, Nguyen Tien Minh and Vu Thi Trang once again held hands, becoming the top hope of Vietnamese badminton.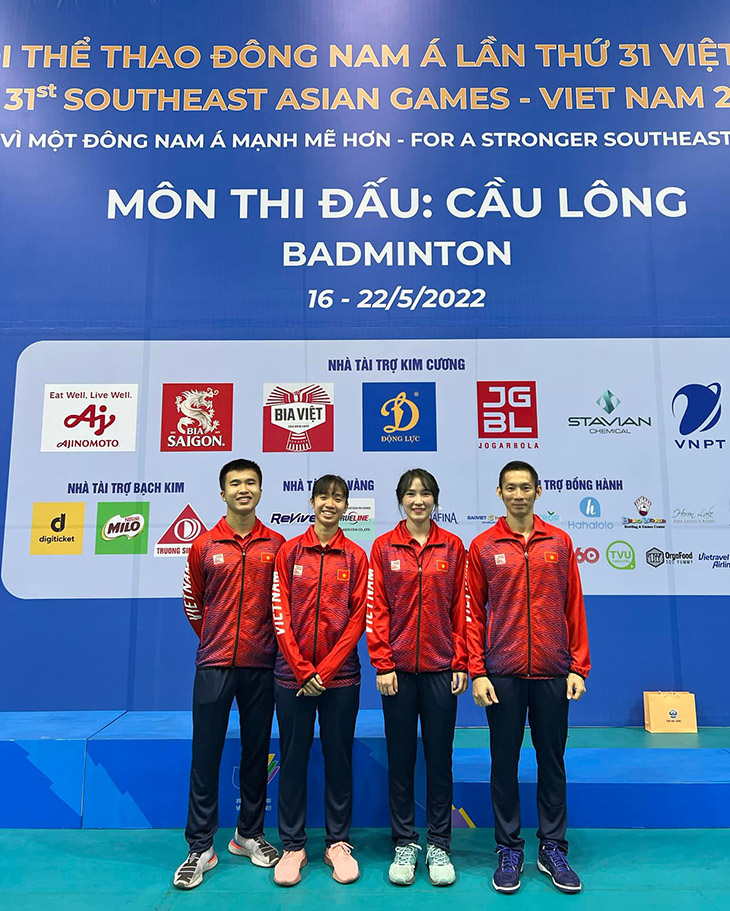 The couple (on the right) always accompanies, together reap many achievements in tournaments
Nguyen Ngoc Truong Son – Pham Le Thao Nguyen
In the men's singles individual fast chess final at the 31st SEA Games, chess player Truong Son overcame Singaporean opponent Tin Jingyao to win the Gold Medal. At the same time, Truong Son's wife, Thao Nguyen, also defeated chess player Gong Qianyun (Singapore) to win the Gold Medal.
The above result helps Truong Son and Thao Nguyen become the first Vietnamese sports couple to win the Gold Medal at the same time at the 31st SEA Games but with two different contents.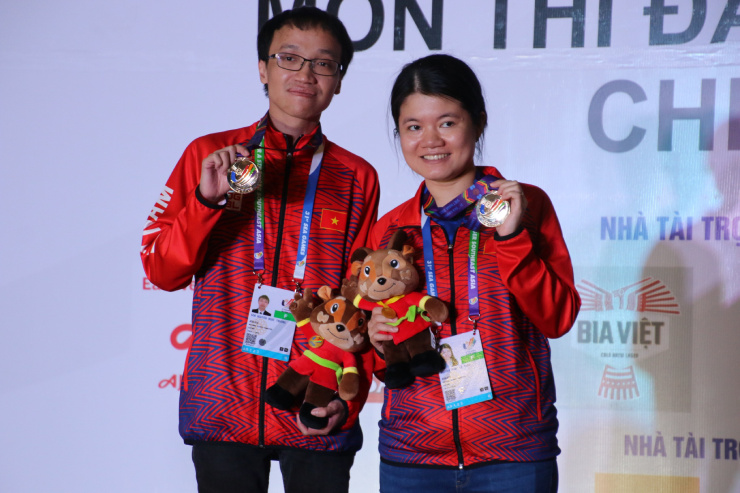 The couple won the Gold Medal at the 31st SEA Games
It is known that Truong Son is 3 years younger than his wife. When they both attended the SEA Games in 2013, they were just in love. In 2019, as a husband and wife, after 6 years of chess re-appearing at the Southeast Asian Games, Truong Son – Thao Nguyen went together in the goal of competing for gold. However, it was not until this year that this pair of "fairies and pearls" reaped worthy results.
Khanh Thi – Phan Hien
The two Dancesport grandmasters Khanh Thi – Phan Hien are familiar faces to the audience. BILLIONAt this year's SEA Games, Khanh Thi holds the role of head coach of the Vietnamese dancesport team next to Grandmaster Chi Anh. In order to best prepare for this Southeast Asian Games, Khanh Thi took the two athletes she is in charge of, her husband Phan Hien and Dang Thu Huong, to train and fight in the international arena.
On her personal page, Khanh Thi posted an emotional clip next to her husband when she witnessed Phan Hien win the gold medal with her dance partner. She shared: "Congratulations to my husband and dance partner for creating new history for Vietnamese dancesport. Phan Hien – Thu Huong won 3 gold medals in 3 categories participating in 5 Latin almighty dances, Paso single and Jive single".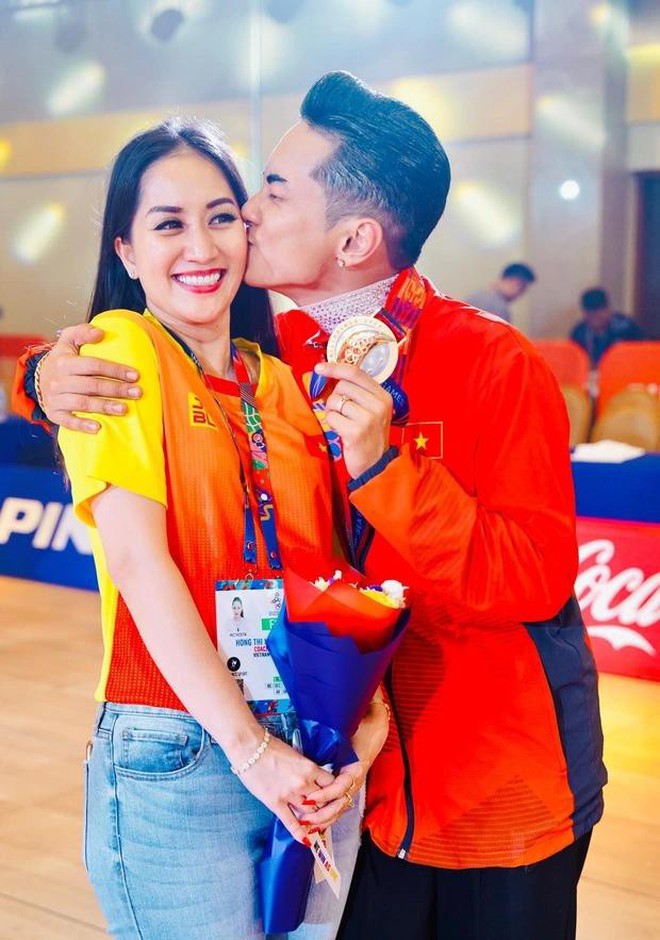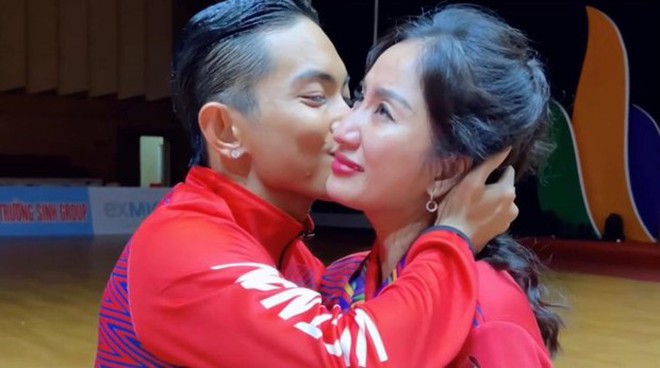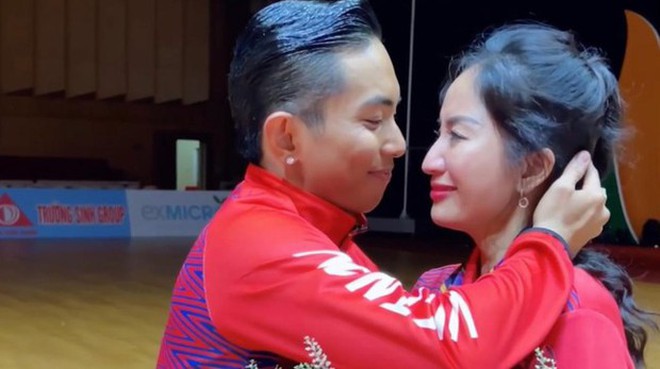 Not only have outstanding artistic achievements, the couple is also admired by many people sister love story 11 years younger than each other. Although they have received many mixed opinions, until now, Khanh Thi – Phan Hien still give each other the sweetness and happiness with 2 children full of habits, enough boredom.
Nguyen Thu Ha – Truong Minh Sang
No longer a competitive athlete, the couple Thu Ha – Minh Sang attended the 31st SEA Games as a coach. Thu Ha is the female coach of the Gymnastics team, and Minh Sang is the coach of the Gymnastics team. It is known that the couple has more than 10 years of love and 6 years of marriage.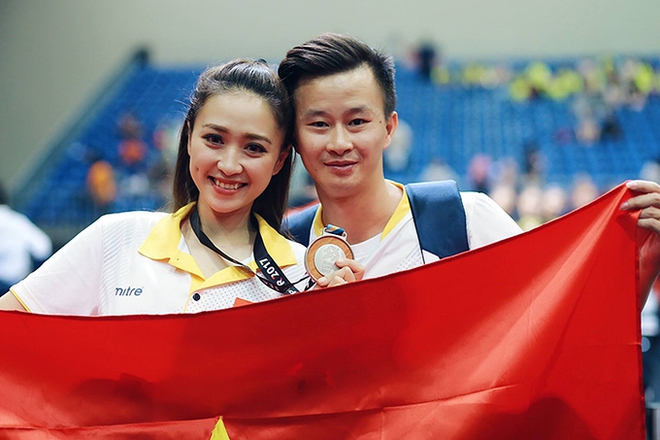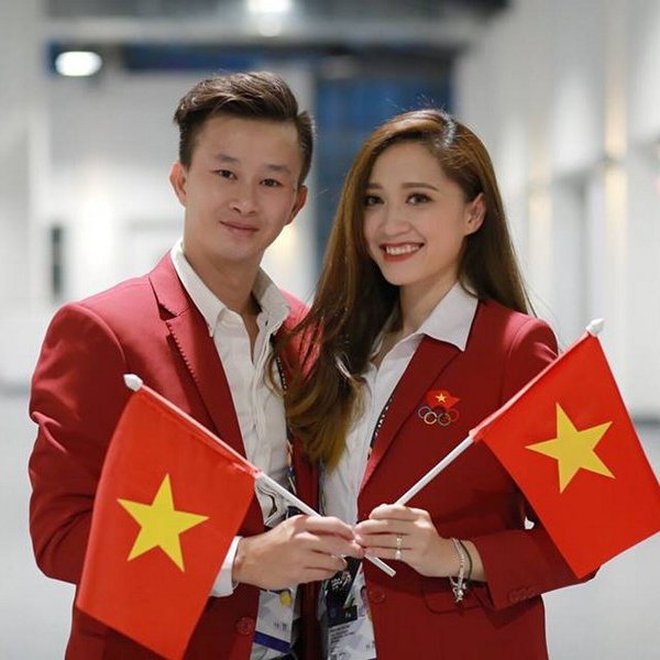 Together as athletes, the couple's love story also began on the practice floor. They not only understand and support each other at work, but also are companions, confiding all joys and sorrows in life. Currently, the small family of this coach couple has a smart and beautiful baby boy.
As coaches, Thu Ha and Minh Sang both join hands to "sharpen pearls" and develop young talents for the country's sports. The couple both set goals and expectations for the "golden rain" at this meaningful congress.
Nguyen Tien Trong – Nguyen Thi Phuong Trinh
On May 15, the audience witnessed a very "sweet" marriage proposal worthy of being recorded in the history of the SEA Games. Accordingly, athlete Nguyen Tien Trong excellently won the gold medal in the long jump with a record of 7m80. And right after bringing joy to Vietnamese sports, Tien Trong approached his girlfriend to make an unfussy but very romantic marriage proposal. More specifically, that happy girl is Nguyen Thi Phuong Trinh of the Vietnam rattan bridge team.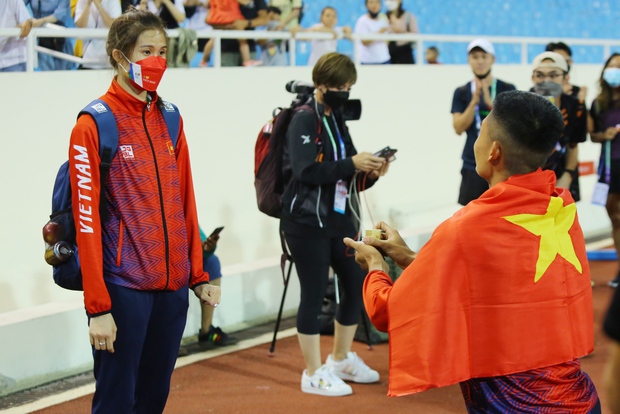 Tien Trong proposed to his girlfriend Phuong Trinh (Photo: Minh Ngoc)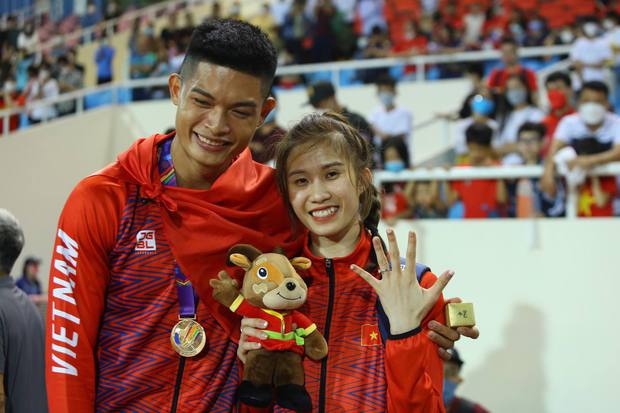 The moment of the emotional proposal in the stadium, Phuong Trinh nodded in agreement (Photo: Minh Ngoc)
It is known that this marriage proposal was prepared by Trong in advance. Entering the competition, the athlete born in 1997 set high determination and competed well to be able to complete his own plan. After completing their duties at the 31st SEA Games, the two plan to ask the coaching staff to visit home, travel, and spend more time together to make up for their feelings.
Source: Compilation
You are reading the article
Couples fighting together at SEA Games 31

at
Blogtuan.info
– Source:
Afamily.vn
– Read the original article
here