Gia đình
Dang Khoi – Thuy Anh: "Experience activities help our family bond more"
Before the April 30 holiday, Dang Khoi's family had a trip to experience a future living space as beautiful as Europe at Aqua City. According to the pair of stars, after each trip, the whole family has more positive energy and is more connected.
"Raising a child is a shared responsibility"
The couple believes that taking care of children is a common responsibility, both take turns to support each other, when the wife is busy, the husband will do it and vice versa. Dang Khoi is not afraid to go to the market, cook, clean the house, pick up the children or do small things. Thuy Anh says: "Overall, I spend more time with my children and take care of the house, but Mr. Khoi is always willing to support, never considering it as a duty that his wife has to do alone.". After the wedding in 2013, Thuy Anh stopped working as a photo model to manage her husband's work and opened an entertainment company. They have two sons, Dang Khang (11 years old) and Dang Anh (8 years old).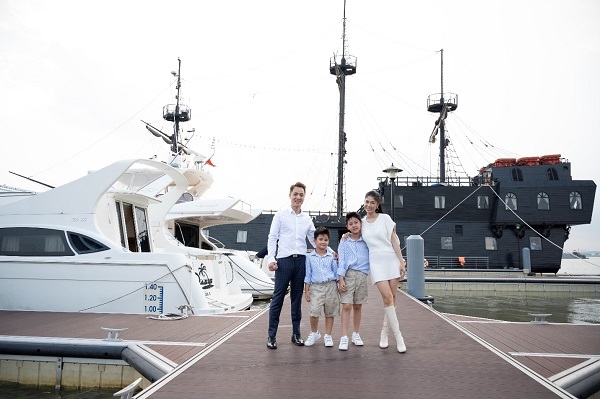 Dang Khoi – Thuy Anh focuses on investing in their children's future, prioritizing education and physical development activities and learning from real experiences.
To keep the marriage "fire", every weekend, the star couple takes their children to the movies, the park or participate in outdoor activities… The whole family loves to travel, enjoy relaxing moments at resorts near the city. HCM. Dang Khoi's wife likes to explore new, not too crowded places to help members rest comfortably. Sometimes the two will "hide children" to date separately.
Passion for real estate accumulation
Besides family and music, real estate is Dang Khoi's great passion. In the early days of entering the South, the singer determined that "must settle down to have a career" and strive to have a spacious house for his wife and children to be comfortable.
They owned their first house 10 years ago, with an area of ​​only 20 square meters. The simple home marked many memories, where they welcomed their first son, witnessed the baby learn to talk, limp his first steps… A few years later, Dang Khoi gathered all his savings to buy an apartment. The apartment is more spacious, with a garden. Seeing the children running around the house, his wife having space to rest, he gradually thought further: investing, accumulating real estate early.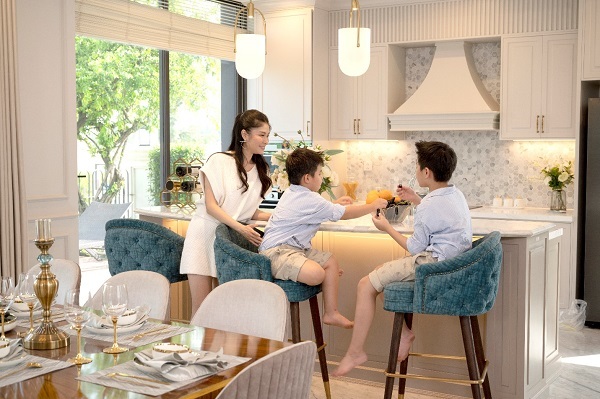 "I dream of owning real estate in many places so that I can bring my family to live, play and enjoy," Dang Khoi said.
After more than 10 years, the number of real estate Dang Khoi – Thuy Anh owns has exceeded two hands, stretching from North to South. Although in different locations, Dang Khoi only invests in places that ensure the following criteria: good location, green space, many utilities. The singer explained: "Only when meeting the needs of a classy, ​​civilized and experienced life, will that real estate have value and grow in the future." And the male singer said, that is also the reason why he has just decided to own another villa in Aqua City just east of Ho Chi Minh City as a future living space for his family.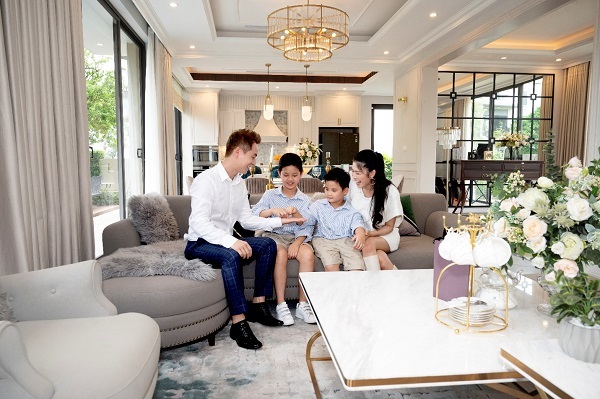 The star couple especially loves the spacious living room, connected to the dining table, and the kitchen to increase the connection of the members
Dang Khoi took his wife and children to experience the tour to visit Aqua City by river. The whole family enjoys the cool air, admiring the picturesque scenery. Near the Aqua Marina marina, the whole family was more surprised when the green complex with the luxurious architecture of the project gradually appeared.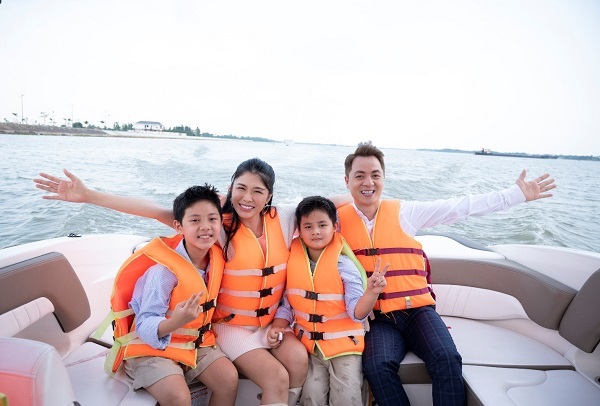 Starting from Saigon South Marina (Phu My Hung, District 7), the four members first had the opportunity to see the green patches of the most beautiful river in the east of Ho Chi Minh City.
"I was impressed with the luxurious marina, leading to the big square. I immediately thought of taking my children in the afternoon to have fun." Before that, the singer spent a lot of time learning about Aqua City, invested and developed by Novaland Group according to the smart ecological urban model. On a scale of 1,000 hectares with the advantage of surrounded by rivers, the project spends up to 70% of the area for green space, transportation infrastructure and complete internal utilities from healthcare, education, entertainment, entertainment, vacation. nursing.
The whole family visited European-style shophouses, Garden Palace light mansion, modern clubhouse chain, tree-lined model street, riverside park… According to Thuy Anh, the plus point is the green area and the large river. Bringing a source of cool air, housing projects focus on open design, optimizing large glass windows to receive natural light, thereby increasing the connection between people and nature. The couple is also interested in the utility system and smart technology application in project operation management. Seeing firsthand the large-scale security center with a system of advanced operating equipment and application of modern technology, singer Dang Khoi admired: "What could be better than living in a modern, convenient, safe and secure multi-utility environment like Aqua City."
The singer and his wife also visited the Aqua Security Center with a scale of 7,000m2.
The singer explained that when the land fund in Ho Chi Minh City is increasingly depleted, owning a smart eco-real estate right next to the city center is an inevitable trend in the future. Not to mention, Aqua City is located at a central location, conveniently connecting traffic by road, waterway and air. "The review is not one-sided, a lot of my friends also want to experience, 'check in' this place"Dang Khoi said.
Aqua City is applying many incentive programs such as: receiving a voucher worth 100 million VND when visiting Novaland Gallery and checking-in the Nova FnB restaurant system; Novaland shareholder incentives up to 1.2 billion dong; VIP travel packages up to 800 million VND; NovaLoyalty up to 5%; 2% for businesses; 10% for bank loan schedules; 24 month interest rate support…
From May 14, investors will also receive a voucher of 300 million VND (conditional offer) when participating in the event "Fashionable real estate investment privileges" at Novaland Gallery – 2Bis Nguyen Thi Minh Khai, ward Da Kao, District 1.
Readers register to visit and experience Aqua City at aquacity.com.vn or contact hotline 0943797979.
Thi Quan
You are reading the article
Dang Khoi – Thuy Anh: "Experience activities help our family bond more"

at
Blogtuan.info
– Source:
infonet.vietnamnet.vn
– Read the original article
here