Chuyện lạ
Double rainbow appears in the sky after a thunderstorm
A beautiful view of a double rainbow in the sky over Montgomery, New York, USA after a thunderstorm.
Beth Hyman, a woman from Montgomery, New York, USA captured a beautiful moment in the sky while passing by the farm.
A double rainbow appears after a thunderstorm
The video shows the cow Momma Rose standing alone while other cows are eating hay around. The once peaceful farm scene became even more magical when the sky turned red with the appearance of a rainbow after the storm.
Beth Hyman shared the video on her personal Twitter page and quickly gained a lot of attention.
"Double rainbow, red sky, beautiful scenery, I feel very peaceful", "It's wonderful", "I have never seen a double rainbow with my own eyes. You are so lucky" … Netizens commented.
Sidnee D. Holland, a resident of Port Leyden, New York was also fortunate to see two colorful bands of light in the sky. "I'm very happy. When we went out, we saw two bright bands of color in the sky against the backdrop of a red sunset. I have never seen it with my own eyes."
Although rainbows are not uncommon, there are a few special, once-in-a-lifetime elements such as double rainbows that attract a lot of attention.
Not only in the New York area, some other cities in the US, locals also have the opportunity to see the double rainbow and share on social networks.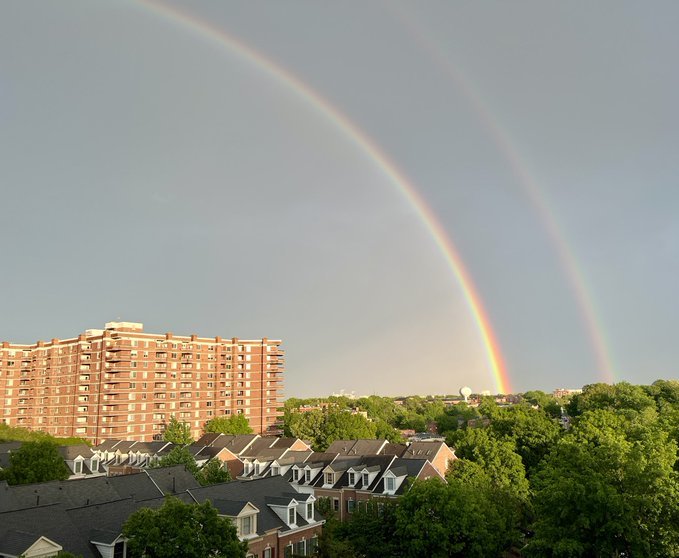 Double rainbow appeared in some US cities shared by locals on social media
Rainbow phenomenon is essentially the dispersion of sunlight when refracted and reflected through water droplets in the air. When the sun's rays meet water droplets in the air, the light is bent or bounced back. Rainbow has many colors, of which 7 outstanding colors are red, orange, yellow, green, blue, indigo, purple.
A double rainbow forms when sunlight is reflected twice through a drop of water in the air. The second rainbow is dimmer and has a lighter tone than the primary rainbow.
The second rainbow scatters over a wider area of ​​the sky, often almost twice as wide as the main arc. The main feature of a double rainbow is that the color sequence in the second rainbow is reversed, instead of red, orange, yellow, green, blue, indigo and violet, the colors appear in reverse order.
Hoang Dung (synopsis)
You are reading the article
Double rainbow appears in the sky after a thunderstorm

at
Blogtuan.info
– Source:
infonet.vietnamnet.vn
– Read the original article
here