Giải trí
Miss Phuong Le knelt down to wash her husband's feet, never received flowers from her husband over 20 years old
VIEW VIDEO: Miss Phuong Le grows vegetables, raises chickens and ducks in a thousand square meter villa.
As Miss World Peace 2017, Phuong Le was noticed by many people by her statements expressing her views around hot events, not only in the entertainment industry but also in society. She once expressed an angry attitude, wanting to claim justice for an 8-year-old girl who was abused to death by her father's lover.
In addition, Phuong Le has also repeatedly praised the media for her happy marriage with a rich husband, posting a picture of "lip lock" of her partner.
Phuong Le was born in 1979. She was noticed when she was crowned runner-up Vietnamese Entrepreneur of the World 2016, Miss Lady Peace World 2017.
However, recently, many people were surprised when Miss Phuong Le announced her divorce, assert not because "3rd person". Talking about her decision to end 13 years of "living in bed" with her businessman husband, she said:Although we are no longer husband and wife, we still take care of 3 children together, so that they can have a full life. I have always been self-controlled in my life, this will not affect my psyche.".
Phuong Le said the reason the two broke up was because they no longer had a common voice at work, thereby affecting their marriage. She and her husband divorced peacefully, will still take care of the children.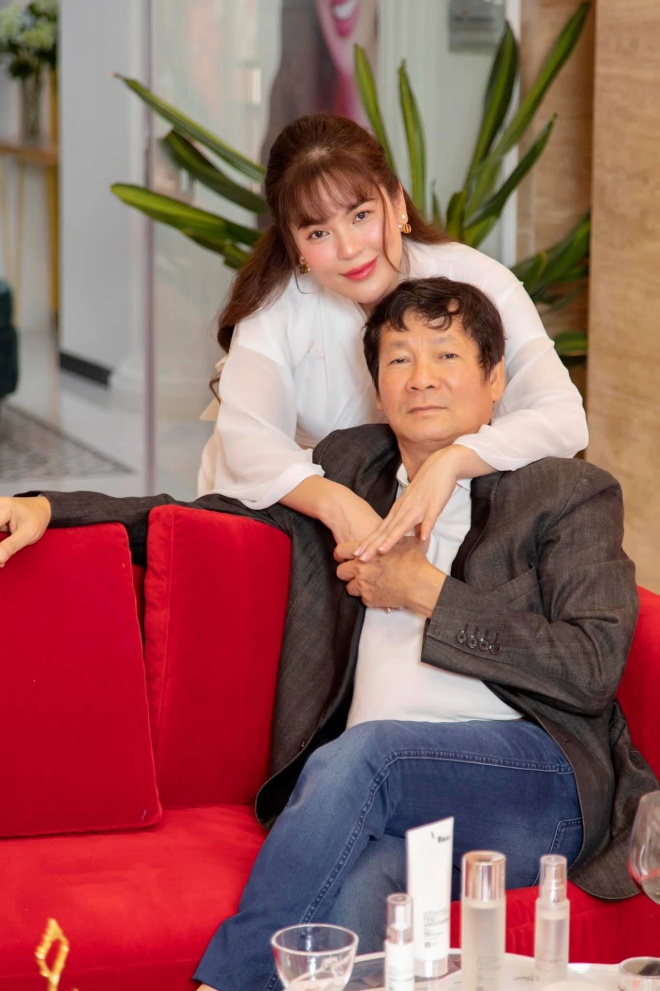 Miss Phuong Le has just announced that she has divorced her husband of more than 20 years after 13 years of marriage.
In the past, Phuong Le used to have a controversial action when kneeling to wash her husband's feet. At that time, many opinions said that this image was not beautiful, "degrading the image of women". Before this comment, Phuong Le explained: "As for me, taking care of my husband and children is happiness. My husband is not only a life partner but also a teacher, my big brother. So, it's normal for small things like washing your feet when you're sick."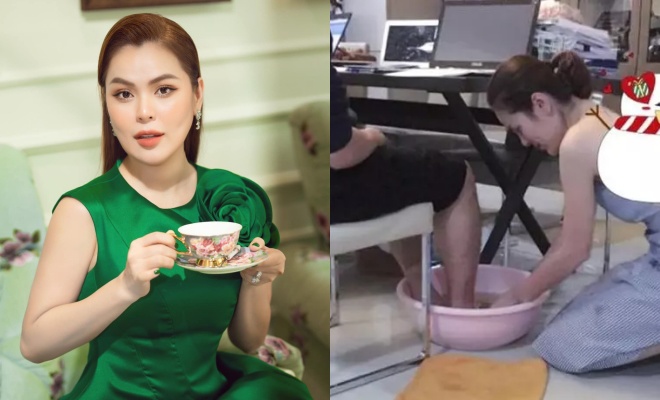 The image of Phuong Le kneeling to wash the feet of her husband was controversial.
Phuong Le once said that despite the age difference of 20 years, she and her husband do not see age as an obstacle in their marriage. "My husband and I often care and live responsibly. In particular, we have never been romantic but used sincerity to treat each other every day.
My husband is a man who has never been gallant to me and has never given me a beautiful bouquet of flowers. He always forgets the holidays that women look forward to like February 14 or March 8. In general, I can live with such a man because he is a very caring person. Outside of work, he goes home with his children, takes good care of them, and doesn't hang out with friends or play.
People like that are fine, but sometimes we women want to be 'marshal', considerate, sweet-talking, and so on. But if you accept it, ignore the unnecessary beauties, then it is clear that a man who knows how to take care of his wife and children, not play around, be kind to himself is enough, and slowly get used to living together.she confided.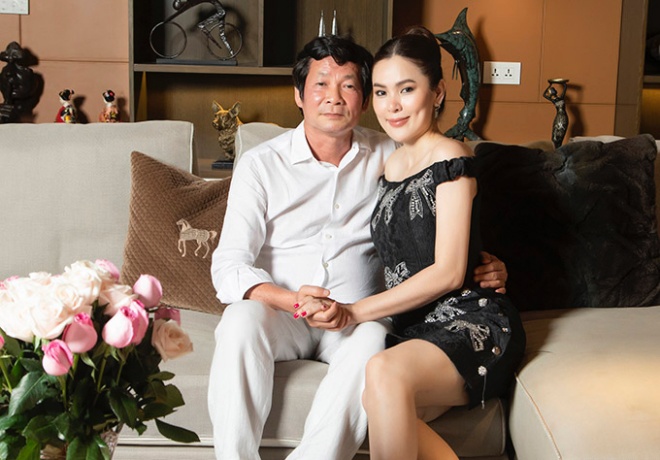 Over the past decade, Phuong Le has lived a happy married life with her rich husband and 3 daughters. They live in a majestic villa of more than 1,200 m2 in Ho Chi Minh City.
Phuong Le admitted that she married not because of love, but because she respected and idolized him: "I loved a lot of people but didn't marry, and ended up marrying my husband, someone I idolized very much. My husband is a person who treats his surroundings very sincerely and kindly. Even he treats his ex-wife very well, he is very clear that he has broken up but that person is still the mother of his child. So a girl who wants to have a long-term marriage should not be greedy for appearances such as gallantry or sweet talk.
In the past, I loved my lover very much, everyone was gallant, but I couldn't marry them because I only loved but didn't respect. When I got married, I admired my husband very much and when I saw that everyone also admired and respected him."
When she was still happy, Phuong Le said that her rich husband was different from most other men because he always wanted his wife to be outgoing and create her own position in society. "Many husbands just want their wives to stay at home and take care of their children. My husband is different, often advises me to go out, contact and interact with many people… Love is the easiest thing to change, once trust is shaken, it is difficult to continue living together. I taught my daughter to get married later, find someone to look at who can help her learn. I learned many things from my husband, especially kindness", "mother of three" confided.
In addition, Miss Hau also once showed her husband a "hot bonus" of 6 billion for successfully losing 6 kg.
Phuong Le also once had a "shocked" statement when sharing the secret of keeping her husband: "The bedroom is an important part of keeping the husband at home. That's why a wise woman always attaches great importance to this. Men are inherently sensitive. When the wife is indifferent or By avoiding sex, the husband may think that this is due to the fact that his wife is no longer in love or satisfied with him.In that case, it is easier for men to find another 'partner' in exchange for comfort and comfort. his feeling.
To have a happy time together, the wife should arrange the space completely just for the two of you, no children, no work. With that, the room is the place to remember, and dress as sexy as possible."
You are reading the article
Miss Phuong Le knelt down to wash her husband's feet, never received flowers from her husband over 20 years old

at
Blogtuan.info
– Source:
Eva.vn
– Read the original article
here