Giải trí
More than 100 thousand have a delicious dinner, crunchy and delicious food
Crispy fried chicken cartilage with salt and pepper, fried basa fish heart with attractive pickles… guaranteed to make your dinner delicious like never before.
Suggested dinner this afternoon will have the following dishes:
– Roasted chicken cartilage with salt and pepper: 70,000 VND
– Boiled gourd: 10,000 VND
– Pan fried basa stomach with pickles: 35,000 VND
– Water spinach salad: 10,000 VND
Total: 125,000 VND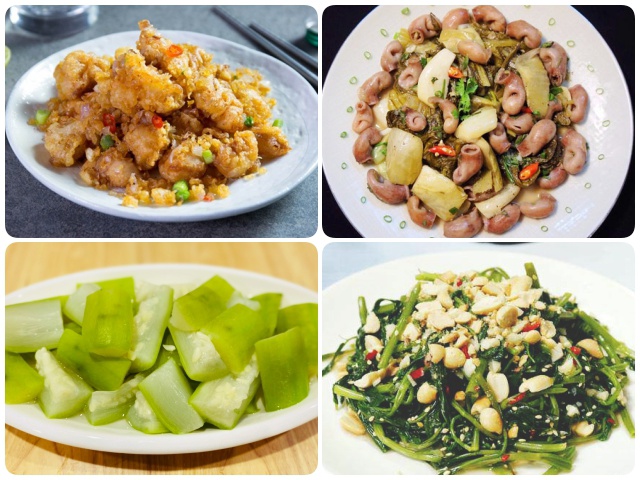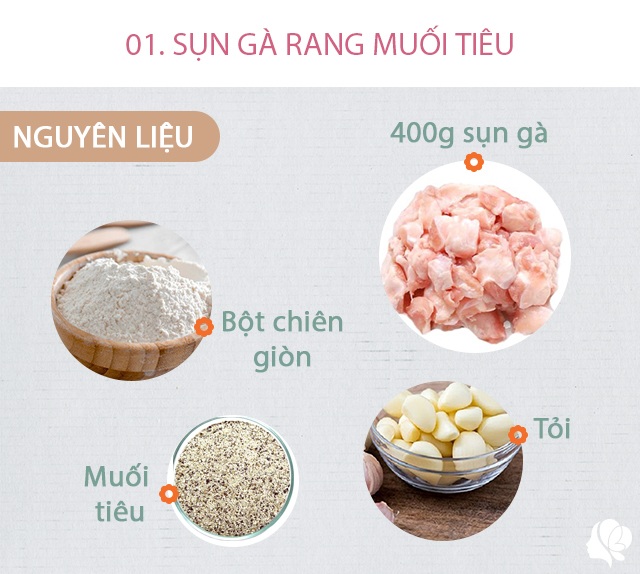 Ingredients: – 400g of chicken cartilage – 2 red onions; 3 cloves of garlic; 2 chili peppers; 2 tablespoons salt and pepper; Scallion. Seasoning: 1 tablespoon rice wine; 1 tablespoon soy sauce; 1 tablespoon sesame oil; 1 teaspoon sugar; pepper. Fried dough mix: 1 egg; 100g deep fried dough; 150ml cold beer; salt and pepper to taste
Chopped onions, garlic, and chili peppers. Add wine to chicken with soy sauce; Sesame oil; sugar, pepper and marinate for 20 minutes. Prepare a bowl, add eggs, crisps, beer, mix well and let stand for 15 minutes. Then pour the chicken cartilage into the bowl of the fried flour mixture.
Heat cooking oil in a pan, fry the chicken cartilage until golden brown, remove and place on absorbent paper. In another pan, add a little oil, saute onions, garlic, and chili peppers. Add fried chicken cartilage, with a little salt and pepper just enough, stir well, sprinkle finely chopped scallions and turn off the heat. Put salt and pepper roasted chicken cartilage on a plate and enjoy while it's still hot!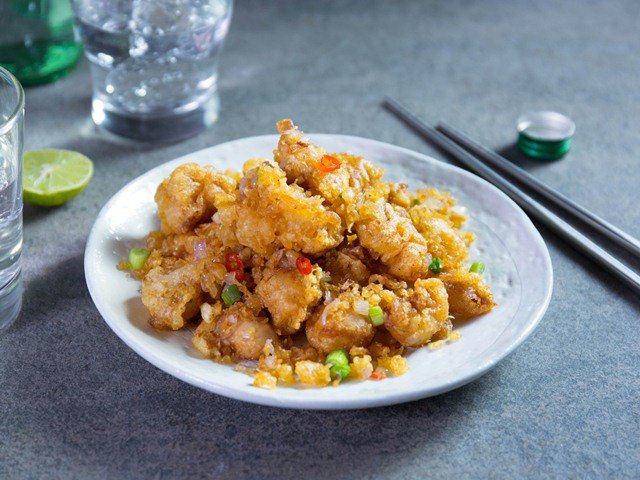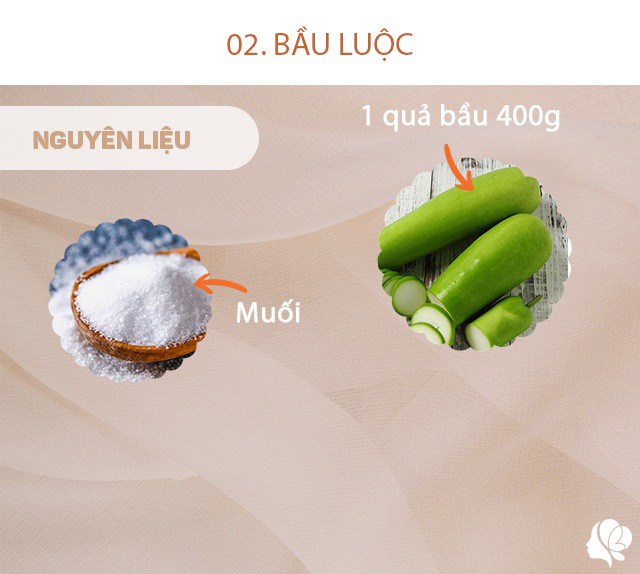 Ingredients: 1 gourd 400g, salt.
Gourds peeled, washed, and cut into bite-sized pieces. Boil 1 pot of water, add salt, drop the gourd in and boil until the white core of the gourd starts to turn clear, then take it out immediately, boiling time is about 3 minutes to 3.5 minutes or depending on the size of the pieces. elected. Boiled water for soup.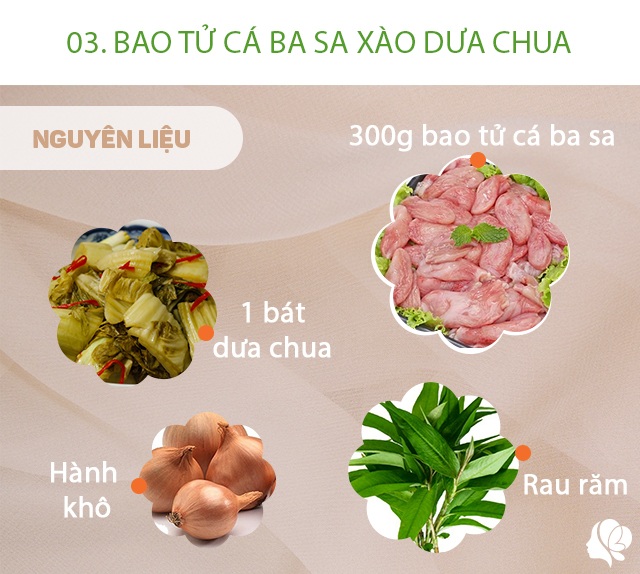 Ingredients: – Basa fish stomach: 300 gr. Pickled sauerkraut: 1 large bowl – Spring onion (or purple onion or garlic), chili, ginger, scallions, laksa leaves, salt, pepper, seasoning powder, vinegar, white wine.
The stomach of the basa fish is cleaned, squeezed with a little salt, vinegar, and white wine for it to be clean. Then, wash it, put it in a basket to drain. Pickled sauerkraut choose the part with more stalks will be crispy, more delicious. Wash the cucumbers, drain the water. Onions are peeled, washed and smashed. Ginger peeled, washed, smashed, minced. Spring onions pick roots, wilt leaves, wash. Pickled laksa leaves, remove the root, the old part, and wash it. Green onions, laksa leaves, after being washed, chopped. Chilli washed, sliced.
Put the pan on the stove, when the oil is hot, add the onion and saute until fragrant. Onions are fragrant, add fish stomachs and stir-fry. When the stomach of the fish is hunted, season it with some seasoning, then put the fish stomach on a separate plate. Add a spoonful of cooking oil, add sauerkraut to stir-fry, season with a little seasoning. When the melons are cooked and seasoned, return the basa fish to the pan, stir, and season to taste.
Finally, add ginger, chili, scallions, laksa leaves above and stir well. Turn off the heat, put a little pepper on a plate.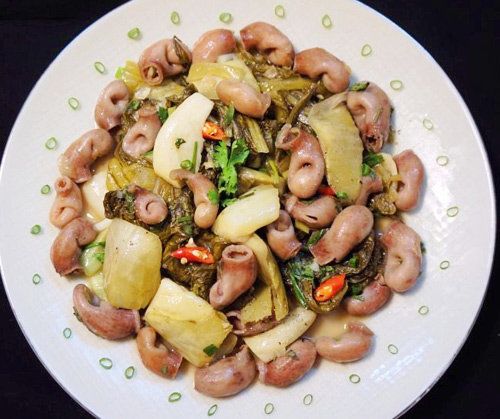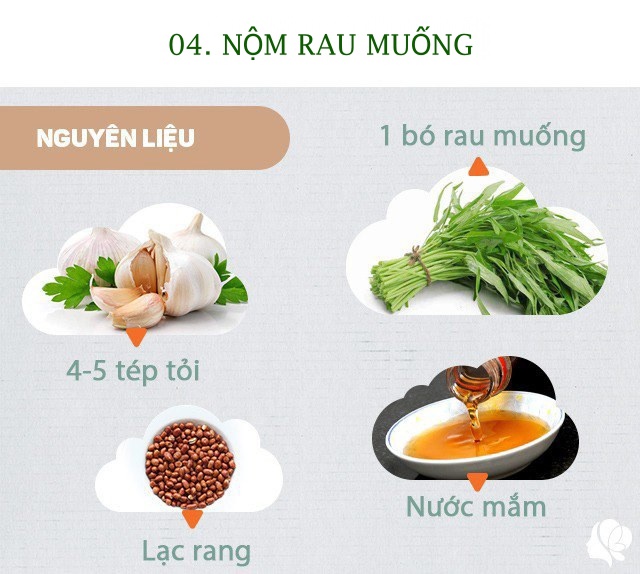 Preparation: – 1 bunch of young water spinach – 50g of crushed roasted peanuts – 1 bunch of oregano – 1 lemon, 1 garlic, 1 chili, 3 teaspoons of sesame salt – Other seasonings: Sugar, fish sauce, main noodles (optional), soup powder, salt
Water spinach picks up leaves and picks up young tops, cuts them into chunks with a knife if they are too long, and then washes them. Put the pot of water to boil until it boils, then put the water spinach in to boil. Adding ¼ teaspoon of salt will help green vegetables. Boil briefly and then take out the basket (Do not boil too much, it will make the vegetables no longer crispy). Soaking vegetables in a bowl of cold water for about 5 minutes will help vegetables have a nice green color and crispier taste.
Peel the garlic, wash it and chop it finely. Cut chili peppers into pieces. Follow the recipe for chili, garlic and a teaspoon of sugar in a small bowl, mix with 1 tablespoon of water, 3 tablespoons of fish sauce and lemon juice and stir until the sugar dissolves.
Mix the salad dressing with water spinach and 3 tablespoons of sesame salt before eating for about 30-35 minutes. Sprinkle oregano and peanuts on top and enjoy.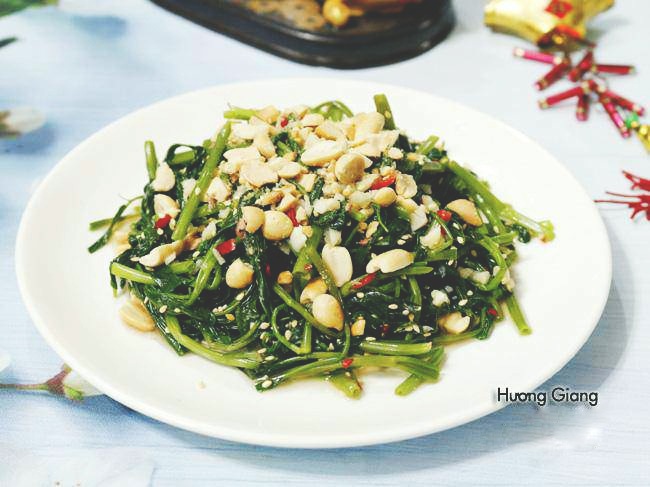 Good luck!
You are reading the article
More than 100 thousand have a delicious dinner, crunchy and delicious food

at
Blogtuan.info
– Source:
24h.com.vn
– Read the original article
here