Business
"New wind" in public cooperation
Opportunities to access international training programs

On May 18, 2022, in Hanoi, the signing ceremony of a Memorandum of Understanding between EQuest Education Group and the Center for Training Support and Manpower Supply, Ministry of Education and Training (MOET- ) took place in Hanoi. TSC). This Memorandum of Understanding is effective from the date of signing until the end of 2026.
The goal of cooperation is to help pupils, students, educational administrators and teachers improve their English skills and increase opportunities to access international diploma/certificate training programs; support students, students have an early orientation to choose appropriate majors and future careers; promote the strengths of enterprises in building solutions and applying information technology in teaching to improve training quality. At the same time, contributing to concretizing the policy of the Government and the Ministry of Education and Training in public and private cooperation to perform tasks in the assigned fields.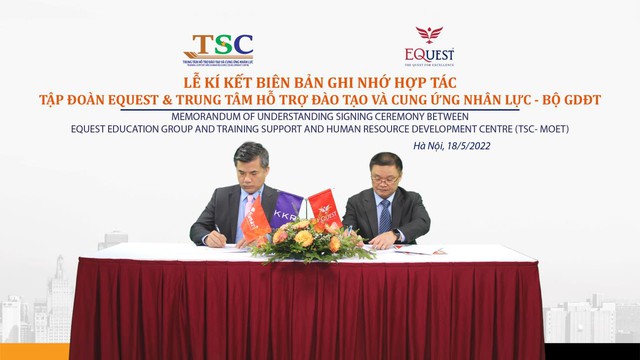 The representative signed the cooperation agreement between the two sides on the morning of May 18, 2022 in Hanoi
Sharing specifics about the cooperation content at the signing ceremony, Mr. Bach Ngoc Chien – Vice Chairman of EQuest Education Group said that according to the Memorandum of Understanding, the two sides will conduct advanced training and retraining courses. English ability, increasing opportunities to access international training programs for pupils, students, teachers, educational administrators at educational institutions. At the same time, coordinate to develop programs, organize training and retraining to grant pedagogical certificates in English, and connect and introduce jobs for foreign teachers wishing to work in Vietnam. In particular, coordinate and support pedagogical students to practice at EQuest's education systems, find part-time jobs, and get jobs after graduation.
"We will also coordinate to organize contests and competitions to create an English exchange playground for students; competitions for entrepreneurship, innovation, digital skills, English ability…; activities to nurture talents of students and students, summer camps to honor outstanding students and outstanding students, refresher summer camps, thematic training for teachers to meet the requirements of the global radical innovation. education and training" – Mr. Bach Ngoc Chien emphasized.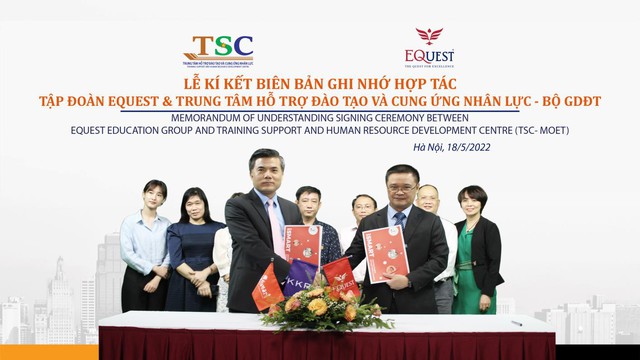 Strengthen public-private cooperation, improve the quality of comprehensive education, foreign language ability for students
Mr. Bui Van Linh – Training Support Center and Human Resource Supply, Ministry of Education and Training shared, foreign languages ​​and information technology are two tools that, if done well, will promote Vietnamese education to thrive. and ensure a higher quality of human resources. Recently, the Education sector has made many efforts to improve the quality of foreign language teaching and learning, but the task of continuing to improve the quality of foreign language teaching and foreign language use skills for students is still very important. .
"Improving the quality of foreign language teaching and learning, especially English, is both an immediate and long-term task, especially in the context of international integration, globalization, and labor mobility. We hope that the cooperation of the two sides will contribute to the process of forming a more complete foundation in comprehensive education of essential skills for students, improving the quality of human resources. High-quality force for society. The cooperation with EQuest help the Center for Human Resources Supply and Training to expand the ecosystem, have more good capacity to serve the Education sector and society better" – Mr. Bui Van Linh – Training and Supply Support Center Human Resources said, at the same time, it is necessary to promote public-private cooperation in this field, taking advantage of the resources and strengths of each party to improve the quality of training.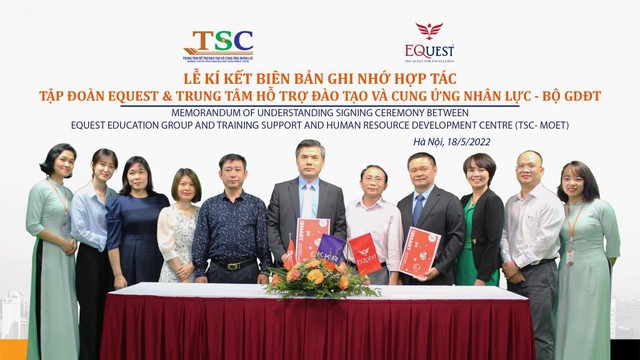 As an English training institution with the largest number of students studying in Vietnam today, Mr. Bach Ngoc Chien informed that, in the face of the trend of integration and globalization, English is considered the most commonly used language. The world when there are nearly 60 countries using English as the main language, besides the mother tongue and nearly 100 countries using English as a second language.
To train English with quality, teachers' resources need to be enhanced in both quantity and quality, training quality management needs to be consistent and rigorous, skills and teaching methods need to be updated regularly. The curriculum needs to follow international standards, in addition, it is also necessary to promote the application of information technology in training, effectively applying and accessing open learning materials.
https://cafebiz.vn/luong-gio-moi-trong-hop-tac-cong-tu-nang-cao-chat-luong-Giao-duc-20220519181417144.chn
You are reading the article
"New wind" in public cooperation

at
Blogtuan.info
– Source:
cafebiz.vn
– Read the original article
here